Abstract
Web design has come a long way since Tim Berners-Lee published the world's first website in 1991, which is reproduced in Figure
3.1
below. Almost twenty years later, American blogger Matt Langer posted a screengrab of the site, and joked: '[a] lovely proof of concept, but it could really use a couple of overlaid transparent Flash ads, some Snapshots on all those links, a pop-up dictionary triggered by text clicks' (Langer, 2009). With these words, Langer pointed to the simplicity of web design in its earliest days and the giant leaps that have been taken since, resulting in an array of technical and visual possibilities: animations, transparencies, pop-ups and more.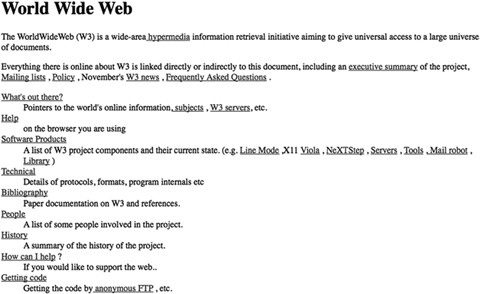 Keywords
Style Sheet 
Agile Development 
Cascade Style Sheet 
Open Source Movement 
Agile Manifesto 
These keywords were added by machine and not by the authors. This process is experimental and the keywords may be updated as the learning algorithm improves.