Abstract
We examine differences in resident perceptions of neighborhood quality of life, as well as expressed positive and negative sentiment while accounting for changes in population among cities between 1970 and 2010. We find no evidence that population loss leads to a lower evaluation of life satisfaction. Additionally, we find while tweets are a source for consistently determining the positive and negative affect of individuals on a geographic basis and that people generally have a positive feeling about their neighborhood, there are no significant relationships between the Twitter data sets and traditional ones. Thus, planners or policy makers should not presume that a singular measure will provide a complete picture of well-being.
Keywords
American Housing Survey

Quality of life

Neighborhood attitudes

Population decline

Shrinking cities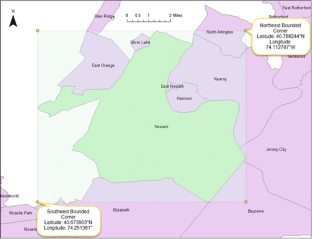 References
Abrahams, A. S., Coupey, E., Zhong, E. X., Barkhi, R., & Manasantivong, P. S. (2013). Audience targeting by B2B advertisement classification: A neural network approach. Expert Systems with Applications, 40(8), 2777–2791.

Balduini, M., Della Valle, E., Dell'Aglio, D., Tsytsarau, M., Palpanas, T., & Confalonieri, C. (2013). Social listening of city scale events using the streaming linked data framework. In The semantic web–ISWC 2013 (pp. 1–16). Berlin/Heidelberg: Springer.

Brooks, B. (2014). Using Twitter data to identify geographic clustering of anti-vaccination sentiments. University of Washington. https://digital.lib.washington.edu/researchworks/bitstream/handle/1773/26187/Brooks_washington_0250O_13777.pdf

Delken, E. (2008). Happiness in shrinking cities: A research note. Journal of Happiness Studies, 9(2), 213–218.

Gayo-Avello, D. (2011). Limits of electoral predictions using Twitter. In Proceedings of the Fifth International AAAI Conference on Weblogs and Social Media, AAAI, 490–493.

Hollander, J. (2011). Sunburnt cities: The great recession, depopulation and urban planning in the American Sunbelt. London/New York: Routledge.

Jin, F., Self, N., Saraf, P., Butler, P., Wang, W., & Ramakrishnan, N. (2013, August 11–14). Forex-foreteller: Currency trend modeling using news articles. In Proceedings of the 19th ACM SIGKDD International Conference on Knowledge Discovery and Data Mining, Chicago, 1470–1473.

Mullen, T., & Malouf, R. (2006). A preliminary investigation into sentiment analysis of informal political discourse. In Proceedings of the AAAI-2006 Spring Symposium on Computational Approaches to Analyzing Weblogs, 159–162.

Taboada, M., Brooke, J., Tofiloski, M., Voll, K., & Stede, M. (2011). Lexicon-based methods for sentiment analysis. Computational Linguistics, 37(2), 267–307.

Van Dalen, H. P., & Henkens, K. (2011). Who fears and who welcomes population decline? Demographic Research, 25(13), 437–464.
About this chapter
Cite this chapter
Hollander, J.B., Graves, E., Renski, H., Foster-Karim, C., Wiley, A., Das, D. (2016). A National Comparison: Twitter versus the American Housing Survey. In: Urban Social Listening. Palgrave Macmillan, London. https://doi.org/10.1057/978-1-137-59491-4_5
DOI: https://doi.org/10.1057/978-1-137-59491-4_5

Published:

Publisher Name: Palgrave Macmillan, London

Print ISBN: 978-1-137-59490-7

Online ISBN: 978-1-137-59491-4