Abstract

Breaking down a large and complex task into smaller and simpler tasks has been associated with much of the last century's progress in industrial productivity (Maier 1970). This breaking down of tasks enabled adjustments in resource allocation to each of the new subtasks, as well as the capability to manage the new simpler tasks more closely, measuring productivity, and eventually paving the road for the development of "scientific management" in the daily operations of organizations (Kelly 1982). This approximation to organizing work successfully resonated not just with industrial organizations but also with other process-intensive organizations which gained in simplicity, effectiveness, and efficiency by adopting it. At some point, when internal resources were observed to be less efficient than external alternatives, the distribution of tasks and work crossed the boundaries of the organization, giving shape to the idea of outsourcing noncore activities to other organizations.
Keywords
Venture Capitalist

Innovation Management

Financial Capital

Nascent Entrepreneur

Equity Stake
These keywords were added by machine and not by the authors. This process is experimental and the keywords may be updated as the learning algorithm improves.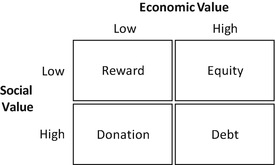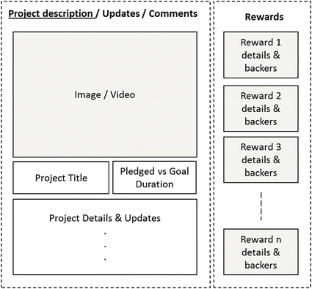 References
Ahlers, Gerrit K.C., Douglas Cumming, Christina Günther, and Denis Schweizer. 2015. Signaling in Equity Crowdfunding. Entrepreneurship Theory and Practice 39(4): 955–980. doi:10.1111/etap.12157.

Bilgram, Volker, Alexander Brem, and Kai-Ingo Voigt. 2008. User-Centric Innovations in New Product Development—Systematic Identification of Lead Users Harnessing Interactive and Collaborative Online-Tools. International Journal of Innovation Management 12(03): 419–458. doi:10.1142/S1363919608002096.

Brem, Alexander. 2011. Linking Innovation and Entrepreneurship—Literature Overview and Introduction of a Process-Oriented Framework. International Journal of Entrepreneurship and Innovation Management 14(1): 6. doi:10.1504/IJEIM.2011.040820.

Brem, Alexander, and Volker Bilgram. 2015. The Search for Innovative Partners in Co-Creation: Identifying Lead Users in Social Media through Netnography and Crowdsourcing. Journal of Engineering and Technology Management 37: 40–51. doi:10.1016/j.jengtecman.2015.08.004.

Brem, Alexander, and Niklas Wassong. 2014. Wer Investiert Warum? Eine Analyse von Investmententscheidungen Bei Crowdfunding-Projekten. ZfKE – Zeitschrift Für KMU Und Entrepreneurship 62(1): 31–56.

Clifford, Catherine. 2014. Crowdfunding Generates More Than $60,000 an Hour. Entrepreneur. http://www.entrepreneur.com/article/234051

Colombo, Massimo G., Chiara Franzoni, and Cristina Rossi-Lamastra. 2015. Internal Social Capital and the Attraction of Early Contributions in Crowdfunding. Entrepreneurship Theory and Practice 39(1): 75–100. doi:10.1111/etap.12118.

Cumming, Douglas J., Gaal Leboeuf, and Armin Schwienbacher. 2015. Crowdfunding Models: Keep-It-All vs. All-or-Nothing. SSRN Electronic Journal 1–41. doi:10.2139/ssrn.2447567.

Davies, Rodrigo. 2014. Three Provocations for Civic Crowdfunding. Information, Communication & Society 18(3): 342–355. doi:10.1080/1369118X.2014.989878.

Gatautis, Rimantas, and Elena Vitkauskaite. 2014. Crowdsourcing Application in Marketing Activities. Procedia – Social and Behavioral Sciences 110: 1243–1250. doi:10.1016/j.sbspro.2013.12.971.

Hippel Von, Eric, and Georg Von Krogh. 2003. Open Source Software and the 'Private-Collective' Innovation Model: Issues for Organization Science. Organization Science 14(2): 209–223. doi:10.1287/orsc.14.2.209.14992.

Howe, Jeff. 2006. Crowdsourcing: A Definition. http://www.crowdsourcing.com/cs/2006/06/index.html

———. 2008. Crowdsourcing: Why the Power of the Crowd Is Driving the Future of Business. New York, NY: Crown Publishing Group.

Howkins, John. 2013. The Creative Economy: How People Make Money from Ideas, 2nd edn. London: Penguin UK.

Kelly, John E. 1982. Scientific Management, Job Redesign, and Work Performance. London, UK: Academic Press..

Laursen, Keld, and Ammon Salter. 2006. Open for Innovation: The Role of Openness in Explaining Innovation Performance Among U.K. Manufacturing Firms. Strategic Management Journal 27(2): 131–150. doi:10.1002/smj.507.

Maier, Charles S. 1970. Between Taylorism and Technocracy: European Ideologies and the Vision of Industrial Productivity in the 1920s. Journal of Contemporary History 5(2): 27–61. doi:10.2307/259743.

Majchrzak, Ann, and Arvind Malhotra. 2013. Towards an Information Systems Perspective and Research Agenda on Crowdsourcing for Innovation. The Journal of Strategic Information Systems 22(4): 257–268. doi:10.1016/j.jsis.2013.07.004.

Meyskens, Moriah, and Lacy Bird. 2015. Crowdfunding and Value Creation. Entrepreneurship Research Journal 5(2): 155–166. doi:10.1515/erj-2015-0007.

Mollick, Ethan. 2014. The Dynamics of Crowdfunding: An Exploratory Study. Journal of Business Venturing 29(1): 1–16.

Mollick, Ethan, and Venkat Kuppuswamy. 2014a. When Firms Are Potemkin Villages: Entrepreneurs and Formal Organizations. SSRN Electronic Journal. doi:10.2139/ssrn.2377020.

———. 2014b. After the Campaign: Outcomes of Crowdfunding. SSRN Electronic Journal, doi:10.2139/ssrn.2376997.

Murray, Alex, Suresh Kotha, and Greg Fisher. 2015. Persuading Crowds: Mindset, Learning and Influence Mechanisms in Crowdfunding Campaigns. In Academy of Management 75th Annual Meeting, 45. Vancouver.

Ordanini, Andrea, Lucia Miceli, Marta Pizzetti, and A. Parasuraman. 2011. Crowd-Funding: Transforming Customers into Investors Through Innovative Service Platforms. Edited by Raymond P. Fisk. Journal of Service Management 22(4): 443–470. doi:10.1108/09564231111155079.

Perks, Helen, Thorsten Gruber, and Bo Edvardsson. 2012. Co-Creation in Radical Service Innovation: A Systematic Analysis of Microlevel Processes. Journal of Product Innovation Management 29(6): 935–951. doi:10.1111/j.1540-5885.2012.00971.x.

Poetz, Marion K., and Martin Schreier. 2012. The Value of Crowdsourcing: Can Users Really Compete with Professionals in Generating New Product Ideas? Journal of Product Innovation Management 29(2): 245–256. doi:10.1111/j.1540-5885.2011.00893.x.

Prpić, John, Prashant P. Shukla, Jan H. Kietzmann, and Ian P. McCarthy. 2015. How to Work a Crowd: Developing Crowd Capital Through Crowdsourcing. Business Horizons 58(1): 77–85. doi:10.1016/j.bushor.2014.09.005.

Quinn, James Brian. 1999. Strategic Outsourcing: Leveraging Knowledge Capabilities. Sloan Management Review 40(4): 9–21.

Samanci, Murat, and Gabor Kiss. 2014. Exploratory Study on Technology Related Successfully Funded Crowdfunding Projects' Post Online Market Presence. Master thesis, Lund University.

Seltzer, Ethan, and Dillon Mahmoudi. 2013. Citizen Participation, Open Innovation, and Crowdsourcing: Challenges and Opportunities for Planning. Journal of Planning Literature 28(1): 3–18. doi:10.1177/0885412212469112.

Stemler, Abbey R. 2013. The JOBS Act and Crowdfunding: Harnessing the Power—and Money—of the Masses. Business Horizons 56(3): 271–275. doi:10.1016/j.bushor.2013.01.007.

Surowiecki, James. 2004. Wisdom of Crowds: The Wisdom of Crowds, 1st edn. New York, NY: Anchor Books.

Tomczak, Alan, and Alexander Brem. 2013. A Conceptualized Investment Model of Crowdfunding. Venture Capital: An International Journal of Entrepreneurial Finance 15(4): 335–359. doi:10.1080/13691066.2013.847614.

Zhao, Yuxiang, and Qinghua Zhu. 2014. Evaluation on Crowdsourcing Research: Current Status and Future Direction. Information Systems Frontiers 16(3): 417–434. doi:10.1007/s10796-012-9350-4.

Zheng, Haichao, Dahui Li, and Wenhua Hou. 2011. Task Design, Motivation, and Participation in Crowdsourcing Contests. International Journal of Electronic Commerce 15(4): 57–88. doi:10.2753/JEC1086-4415150402.
Copyright information

© 2017 The Editor(s) (if applicable) and the Author(s)
About this chapter
Cite this chapter
Giones, F., Oo, P. (2017). How Crowdsourcing and Crowdfunding Are Redefining Innovation Management. In: Brem, A., Viardot, E. (eds) Revolution of Innovation Management. Palgrave Macmillan, London. https://doi.org/10.1057/978-1-137-57475-6_3