Abstract
Historically, in Indian comics culture, a corporate model of production has predominated that is predicated upon a division of labor. As Mark Rogers (2011) notes, such a mode of production requires writers, pencillers, inkers, and others to perform their step in the creative process with limited interaction with other steps or the people behind them.1 While such an approach has helped certain companies flourish, the obvious cost has been the inability of creators to make a living from their work. Furthermore, there is little space for an active and critical community in corporate production. Accordingly, contemporary comics creators, editors, publishers, and many of their readers have recently begun to take a different approach toward creativity.
Keywords
Creative Process

Comic Medium

Comic Community

Comic Culture

Comic Creator
These keywords were added by machine and not by the authors. This process is experimental and the keywords may be updated as the learning algorithm improves.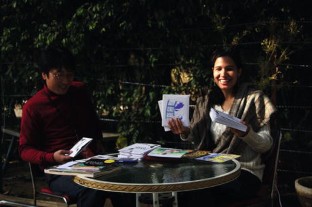 References
An Interview with Pratheek Thomas from Manta Ray Comics. 2011. Dial-a-Book's Facebook Page, February 17. https://www.facebook.com/notes/dial-a-book/id-always-wanted-to-tell-my-own-stories-an-interview-with-pratheek-thomas-from-m/10150389128715012

Banerjee, Sarnath. 2004. Corridor. New Delhi: Penguin Books India.

Beaty, Bart. 2012. Comics Versus Art. Toronto: University of Toronto Press.

Blaft Publications. 2013. The Obliterary Journal, Volume 2. Chennai: Blaft Publications.

Captain Bijli Comics Facebook Page. 2014. Accessed December 2, 2014. https://www.facebook.com/captainbijli

Cashman, Ray. 2008. Storytelling on the Northern Irish Border: Characters and Community. Bloomington: Indiana University Press.

Hatfield, Charles. 2005. Alternative Comics: An Emerging Literature. Jackson: University Press of Mississippi.

Iyer, Kailash. 2014. Indie Spotlight: Vidyun Sabhaney. Pulp Quarterly, March 25. https://pulpquarterly.wordpress.com/2014/03/25/indie-spotlight-vidyun-sabhaney

Jenkins, Henry. 2006. Convergence Culture: Where Old and New Media Collide. New York: NYU Press.

Noyes, Dorothy. 2003. Group. In Eight Words for the Study of Expressive Culture, ed. Burt Feintuch, 7–41. Chicago: University of Illinois Press.

Pustz, Matthew J. 1999. Comic Book Culture: Fanboys and True Believers. Jackson: University Press of Mississippi.

Rogers, Mark. 2011. Political Economy: Manipulating Demand and 'The Death of Superman'. In Critical Approaches to Comics: Theories and Methods, eds. Matthew J. Smith and Randy Duncan, 145–156. New York: Routledge.

Sabhaney, Vidyun, and Shohei Emura. 2012. Mice Will Be Mice. Delhi: Captain Bijli.

Sabhaney, Vidyun, and Jeremy Stoll, eds. 2014. Dogs! An Anthology. Delhi: Captain Bijli.

———. 2012. A Place in Punjab. The Pao Collective (blog), July 28. Accessed December 10, 2014. https://paocollective.wordpress.com/2012/07/28/a-place-in-punjab/

Spiegelman, Art. 2003. The Complete Maus. New York: Penguin.

Stoll, Jeremy. 2013. Bread and Comics: A History of the Pao Collective. International Journal of Comic Art 15(2): 363–382.

Studio Kokaachi. Studio Kokaachi's Facebook Page. 2014. Accessed December 15, 2014. http://www.kokaachi.com

The Pao Collective. 2012. PAO: The Anthology of Comics, Volume 1. New Delhi: Penguin Books India.

Turner, Victor Witter. 1982. Liminal to Liminoid in Play, Flow, and Ritual: An Essay in Comparative Symbology. In From Ritual to Theatre: the Human Seriousness of Play, 20–60. New York, NY: PAJ Publications.
About this chapter
Cite this chapter
Stoll, J. (2016). Between Art and the Underground: From Corporate to Collaborative Comics in India. In: Brienza, C., Johnston, P. (eds) Cultures of Comics Work. Palgrave Studies in Comics and Graphic Novels. Palgrave Macmillan, New York. https://doi.org/10.1057/978-1-137-55090-3_3
DOI: https://doi.org/10.1057/978-1-137-55090-3_3

Published:

Publisher Name: Palgrave Macmillan, New York

Print ISBN: 978-1-137-55477-2

Online ISBN: 978-1-137-55090-3