Abstract
This chapter demonstrates the evolution of relationships between sound design and music in cinematic representations of the interstellar space vacuum. Mera provides a framework for understanding how audiences believe they are physically present in the represented environment and argues that, in the late 2000s, we move towards three-dimensional (3-D) sound, an aesthetic and technical extension of the superfield and the ultrafield as defined by Chion and Kerins, respectively. 3-D Sound's primary characteristic is the emancipation of music from a fixed sound-stage spatialization, resulting in greater fluidity between sound design and music. This chapter examines the relationship between two types of spatial presence, articulating both the audience's suspension of disbelief within a film's narrative world and the spatial presence of sound and music within a multichannel cinema environment.
Keywords
Sound Effect

Interstellar Space

Sound Channel

Space Vacuum

Sound Design
These keywords were added by machine and not by the authors. This process is experimental and the keywords may be updated as the learning algorithm improves.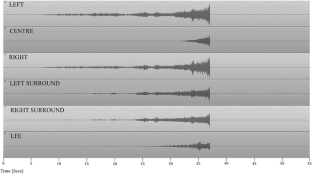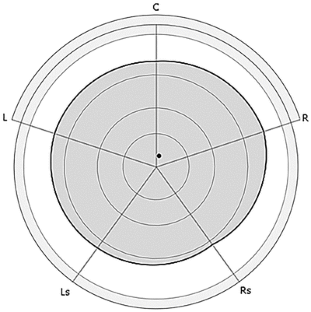 References
Bender, S. (2014) 'There is Nothing to Carry Sound: Defamiliarisation and Reported Realism in Gravity', Senses of Cinema, 71 (July), http://sensesofcinema.com/2014/feature-articles/there-is-nothing-to-carry-sound-defamiliarization-and-reported-realism-in-gravity/, date accessed 12th December 2014.

Bracken, C. C. and P. D. Skalski (eds) (2010) Immersed in Media: Telepresence in Everyday Life (London and New York: Routledge).

Brown, R. S. (1994) Overtones and Undertones: Reading Film Music (Berkeley: University of California Press).

Chion, M. (1994) Audio-Vision: Sound on Screen (New York: Columbia University Press).

Chion, M. (2001) Kubrick's Cinema Odyssey (London: Palgrave Macmillan).

Coleman, M. (2013) 'SoundWorks Collection: The Sound of Gravity', http://vimeo.com/76123849, date accessed November 24th 2014.

Deleon, C. M. (2009) 'A Familiar Sound in a New Place: The Use of the Musical Score Within the Science Fiction Film' in M.J. Bartkowiak (ed) Sounds of the Future: Essays on Music in Science Fiction Film (Jefferson, North Carolina: McFarland and Company).

Dolby (2014) Dolby Atmos: Next-Generation Audio for Cinema, White Paper, Dolby Laboratories.

Ebert, R. (1997) '2001: A Space Odyssey', http://www.rogerebert.com/reviews/great-movie-2001-a-space-odyssey-1968, date accessed 12th December 2014.

Gorbman, C. (2006) 'Ears Wide Open: Kubrick's Music' in P. Powrie and R. Stilwell (eds) Changing Tunes: The Use of Pre-Existing Music in Film (Aldershot: Ashgate).

Grimshaw, M. (2007) 'Sound and Immersion in the First-Person Shooter' in Q. Mehdi, P. Estraillier and M. Eboueya (eds) Proceedings of CGAMES'2007. 11th International Conference on Computer Games: AI, Animation, Mobile, Educational and Serious Games, Université de La Rochelle, France, 21–3 November.

Holmberg, J. (2003) 'Ideals of Immersion in Early Cinema', Cinémas: revue d'études cinématographiques/Cinemas: Journal of Film Studies, Vol. 14, No. 1, 129–147.

Holston, K. R. (2013) Movie Roadshows: A History and Filmography of Reserved Seat Limited Showings 1911–1973 (Jefferson, North Carolina: McFarland & Company).

Kassabian, A. (2013) 'The End of Diegesis as We Know It?' in J. Richardson, C. Gorbman, and C. Vernallis (eds) Oxford Handbook of New Audiovisual Aesthetics (New York: Oxford University Press).

Kerins, M. (2011) Beyond Dolby (Stereo): Cinema in the Digital Sound Age (Bloomington and Indianapolis: Indiana University Press).

Kermode, M. (2009) 'Come in Number 3D, your time is up', http://www.bbc.co.uk/blogs/legacy/markkermode/2009/12/come_in_number_3d_your_time_is.html, date accessed 12th December 2014.

Kirby, D. A. (2013) Lab Coats in Hollywood: Science, Scientists, and Cinema (Cambridge, MA: MIT Press).

Kolker, R. (ed.) (2006) Stanley Kubrick's 2001: A Space Odyssey New Essays (Oxford: Oxford University Press).

Lipscomb, S. D. and S. M. Zehnder (2004) 'Immersion in the Virtual Environment: The Effect of a Musical Score on the Video Gaming Experience', Journal of Physiological Anthropology and Applied Human Scienc e, 23, 337–343.

Lombard, M. and T. Ditton (1997) 'At the Heart of it All: The Concept of Presence', Journal of Computer-Mediated Communication, Vol. 3, No. 2, http://onlinelibrary.wiley.com/doi/10.1111/j.1083-6101.1997.tb00072.x/full, date accessed 12th December 2014.

Mantovani, G. and G. Riva (1999) 'Real presence: How different ontologies generate different criteria for presence, telepresence and virtual presence', Presence: Teleoperators and Virtual Environments, Vol. 8, No. 5, 538–548.

McMahan, A. (2003) 'Immersion, Engagement, and Presence: A Method for Analyzing 3-D Video Games' in M. Wolf and B. Perron (eds) The Video Game, Theory Reader (New York: Routledge).

Mera, M. (2014) 'Interview with Christopher Benstead', Unpublished. Pinewood Studios. 29th August.

Neuendorf, K. A. and E. A. Lieberman (2010) 'Film: The Original Immersive Medium' in C.C. Bracken and P.D. Skalski (eds) Immersed in Media: Telepresence in Everyday Life (New York: Routledge).

Recuber, T. (2007) 'Immersion Cinema: The Rationalization and Reenchantment of Cinematic Space', Space and Culture, Vol. 10, No. 3, 315–330.

Schweiger, D. (2013) 'Interview with Steven Price', http://www.filmmusicmag.com/?p=11881, date accessed 12th December 2014.

Sergi, G. (2004) The Dolby Era: Film Sound in Contemporary Hollywood (Manchester: University of Manchester Press).

Sergi, G. (2010) 'Tales of the Silent Blast: Star War s and Sound', Journal of Popular Film, Vol. 26, No. 1, 12–22.

Slater, M. and S. Wilbur (1997) 'A Framework for Immersive Virtual Environments (FIVE): Speculations on the Role of Presence in Virtual Environments', Presence—Teleoperators and Virtual Environments Vol. 6, No. 6, 603–616.

Smalley, D. (1986) 'Spectro-morphology and Structuring Processes' in S. Emmerson (ed.) The Language of Electroacoustic Music (London: Macmillan).

Smalley, D. (1997) 'Spectromorphology: Explaining sound-shapes', Organised Sound Vol. 2, No. 2, 107–126.

Sonnenschein, D. (2001) Sound Design: The Expressive Power of Music, Voice and Sound Effects in Cinema (New York: Michael Wiese Productions).

Wirth, W., T. Hartmann, S. Böcking, P. Vorderer, C. Klimmt, H. Schramm, T. Saari, J. Laarni, N. Ravaja, F. Ribeiro Gouveia, F. Biocca, A. Sacau, L. Jäncke, T. Baumgartner and P. Jancke (2007) 'A Process Model of the Formation of Spatial Presence Experiences', Media Psychology, Vol. 9, No. 3, 493–525.

Whittington, W. (2007) Sound Design and Science Fiction (Austin: University of Texas Press).

Winters, B. (2010) 'The Non-diegetic Fallacy: Film, Music, and Narrative Space', Music and Letters, Vol. 91, No. 2, 224–244.
About this chapter
Cite this chapter
Mera, M. (2016). Towards 3-D Sound: Spatial Presence and the Space Vacuum. In: Greene, L., Kulezic-Wilson, D. (eds) The Palgrave Handbook of Sound Design and Music in Screen Media. Palgrave Macmillan, London. https://doi.org/10.1057/978-1-137-51680-0_7
DOI: https://doi.org/10.1057/978-1-137-51680-0_7

Published:

Publisher Name: Palgrave Macmillan, London

Print ISBN: 978-1-137-51679-4

Online ISBN: 978-1-137-51680-0