Abstract
Most of us who access healthcare in the USA expect to receive a pile of forms when we check in at the front desks of our doctors' offices. As patients, we often do not give a second thought to the type of contractual and transactional relationship with our doctors, nurses, with the entire healthcare industry that we are consenting to when we seek out healthcare. Do we enter into an equitable relationship or is it, by nature of the institution, always asymmetrical? We walk into the clinic and we know the drill; we are very familiar with the rituals in which we are required to participate. This humble detective is no different.
Keywords
Electronic Health Record

Health Insurer

Protect Health Information

Privacy Rule

Security Rule
These keywords were added by machine and not by the authors. This process is experimental and the keywords may be updated as the learning algorithm improves.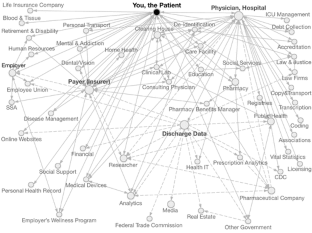 References
104th Congress. 1996. Health Insurance Portability and Accountability Act of 1996. 110 STAT. Vol. 1936.

111th Congress. 2010. Patient Protection and Affordable Care Act (ACA). 42 USC 18001.

Ali Pabrai, Uday O. 2003. Getting Started with HIPAA. Boston, MA: Primer Press.

Allen, Anita L. 2011. Unpopular Privacy: What Must We Hide? Oxford: Oxford University Press.

Berman, Elizabeth Popp. 2012. Creating the Market University: How Academic Science Became an Economic Engine. Princeton, NJ: Princeton University Press.

Breese, Peter, and William Burman. 2005. "Readability of Notice of Privacy Forms Used by Major Health Care Institutions." Journal of the American Medical Association (JAMA) 293 (13): 1593–94.

Cohen, Lizabeth. 2003. A Consumer's Republic: The Politics of Mass Consumption in Postwar America. New York: Vintage.

Conklin, Thomas P. 2002. "Health Care in the United States: An Evolving System." Michigan Family Review 7 (1): 5–17.

Dean, Mitchell. 2012. "The Signature of Power." Journal of Political Power 5 (1): 101–17.

Ebeling, Mary. 2011. "'Get with the Program!': Pharmaceutical Marketing, Symptom Checklists and Self-Diagnosis." Sociology of Diagnosis 73 (6): 825–32.

Etzioni, Amitai. 1999. The Limits of Privacy. New York: Basic Books.

Federal Trade Commission. 2002. "In Brief: The Financial Privacy Requirements of the Gramm-Leach-Bliley Act." Policy Brief BUS53. Washington, DC: Federal Trade Commission. https://www.ftc.gov/tips-advice/business-center/guidance/brief-financial-privacy-requirements-gramm-leach-bliley-act.

Fei, Deanna. 2015. Girl in Glass: How My "Distressed Baby" Defied the Odds, Shamed a CEO, and Taught Me the Essence of Love, Heartbreak, and Miracles. New York: Bloomsbury.

Graeber, David. 2012. "Dead Zones of the Imagination: On Violence, Bureaucracy, and Interpretive Labor." HAU: Journal of Ethnographic Theory 2 (2): 105–28.

HHS Press Office. 2013. "New Rule Protects Patient Privacy, Secures Health Information." Department of Health and Human Services, January 17. Accessed January 9, 2016. http://www.hhs.gov/news/press/2013res/01/20130117b.html.

Kafka, Ben. 2009. "Paperwork: The State of the Discipline." Book History 12: 340–53.

Konow, James. 2014. "Coercion and Consent." Journal of Institutional and Theoretical Economics 170 (1): 49–70.

Lewis, Al. 2015. "It's Official: Employee Wellness Is a 'Scam.'" Huffington Post, April 17. Accessed January 9, 2016. http://www.huffingtonpost.com/al-lewis/its-official-employee-wel_b_7046652.html.

Libert, Timothy. 2015. "Privacy Implications of Health Information Seeking on the Web." Communications of the ACM 58 (3): 68–77.

Lutz, William. 1989. "Notes Toward a Definition of Doublespeak." In Beyond Nineteen Eighty-Four: Doublespeak in a Post-Orwellian Age, edited by William Lutz, 1–11. Urbana, IL: National Council of Teachers of English.

Menachemi, Nir, and Taleah H Collum. 2011. "Benefits and Drawbacks of Electronic Health Record Systems." Risk Management and Healthcare Policy 4: 47–55.

Nass, Sharyl J., Laura Levit, and Lawrence O. Gostin, eds. 2009. Beyond the HIPAA Privacy Rule: Enhancing Privacy, Improving Health Through Research. Washington, DC: Institute of Medicine, Nation Academies Press.

Noble, David. 1977. America by Design: Science, Technology, and the Rise of Corporate Capitalism. Oxford: Oxford University Press.

Obama, Barack. 2011. "Remarks by the President in State of Union Address." State of the Union Address transcript. Washington, DC: White House. https://www.whitehouse.gov/the-press-office/2011/01/25/remarks-president-state-union-address.

Office of Civil Rights (OCR), Department of Health and Human Services. 2003. Health Insurance Reform: Security Standards; Final Rule. HIPAA. Vol. 45 CFR Parts 160, 162, and 164.

———. 2013. Modifications to the HIPAA Privacy, Security, Enforcement, and Breach Notification Rules Under the Health Information Technology for Economic and Clinical Health Act and the Genetic Information Nondiscrimination Act; Other Modifications to the HIPAA Rules. 45 CFR. Vol. Parts 160 and 164.

O'Neill, Onora. 2003. "Some Limits of Informed Consent." Journal of Medical Ethics 29 (1): 4–7.

Plsek, Paul E., and Trisha Greenhalgh. 2001. "The Challenge of Complexity in Health Care." BMJ 323 (7313): 625–28.

Rose, Diana S., Til H. Wykes, Jonathan P. Bindman, and Pete S. Fleischmann. 2005. "Information, Consent and Perceived Coercion: Patients' Perspectives on Electroconvulsive Therapy." British Journal of Psychiatry 186 (1): 54–59.

Rothman, David. 1991. Strangers at the Bedside: A History of How Law and Bioethics Transformed Medical Decision. New York: Basic Books.

Scott, James C. 1999. Seeing Like a State: How Certain Schemes to Improve the Human Condition Have Failed. New Haven, CT: Yale University Press.

Singer, Natasha. 2013a. "On Campus, a Faculty Uprising over Personal Data." New York Times, September 15. Accessed January 9, 2016. http://www.nytimes.com/2013/09/15/business/on-campus-a-faculty-uprising-over-personal-data.html.

———. 2013b. "Health Plan Penalty Ends at Penn State." New York Times, September 19. Accessed January 9, 2016. http://www.nytimes.com/2013/09/19/business/after-uproar-penn-state-suspends-penalty-fee-in-wellness-plan.html.

———. 2013c. "Rules Sought for Workplace Wellness Questionnaires." New York Times, September 25. Accessed January 9, 2016. http://www.nytimes.com/2013/09/25/business/rules-sought-for-workplace-wellness-questionnaires.html.

Smith, Dorothy E. 2001. "Texts and the Ontology of Organizations and Institutions." Studies in Cultures, Organizations and Societies 7 (2): 159–98.

———. 2005. Institutional Ethnography. A Sociology for People. Lanham, MD: AltaMira Press.

Sobel, Richard. 2007. "The HIPAA Paradox: The Privacy Rule That's Not." Hastings Center Report 37 (4): 40–50.

Spade, Dean. 2011. Normal Life: Administrative Violence, Critical Trans Politics and the Limits of the Law. Brooklyn, NY: South End Press.

Stebner, Beth. 2013. "Kim Kardashian Baby: Six People Fired for 'Improperly Accessing' Medical Records at L.A. Hospital Where Reality Star Gave Birth." New York Daily News, July 13. Accessed January 10, 2016. http://www.nydailynews.com/entertainment/gossip/hospital-workers-fired-accessing-kim-kardashians-medical-records-report-article-1.1398107.

Sweeney, Latanya. 2016. "Personal Health Data." Research. The Data Map. http://thedatamap.org/index.php.

US Department of Health and Human Services. 2003a. Summary of the HIPAA Privacy Rule: Business Associates. OCR Privacy Brief. Washington, DC: US Department of Health and Human Services, Office of Civil Rights.

———. 2003b. Summary of the HIPAA Privacy Rule. OCR Privacy Brief. Washington, DC: US Department of Health and Human Services, Office of Civil Rights.

US Department of Labor. 2012. Incentives for Nondiscriminatory Wellness Programs in Group Health Plans. Federal Rules—ACA 2010. Vol. FR Doc No: 2012–28361. http://webapps.dol.gov/FederalRegister/HtmlDisplay.aspx?DocId=26492&AgencyId=8&DocumentType=1.
About this chapter
Cite this chapter
Ebeling, M.F.E. (2016). Coercive Consent and Digital Health Information. In: Healthcare and Big Data. Palgrave Macmillan, New York. https://doi.org/10.1057/978-1-137-50221-6_4
DOI: https://doi.org/10.1057/978-1-137-50221-6_4

Published:

Publisher Name: Palgrave Macmillan, New York

Print ISBN: 978-1-137-50220-9

Online ISBN: 978-1-137-50221-6

eBook Packages: Social SciencesSocial Sciences (R0)