Abstract

Audio Secret Sharing (ASS) can be used to provide security to audio channels by dividing the audio into smaller units called shares. With the advancement of technology and the availability of ubiquitous devices, a lot of audio platforms came into the picture that provides speeches, music, and other audio files which are usually guarded by a paywall. In cases where the low quality of the audio is provided for free and high-quality audio is guarded by a paywall, in that scenario the vendor stores two separate copies of the audio, one low and one high which certainly acquire twice space. The proposed scheme offers to store low-quality audio which can generate high quality with help of a share, this comes out to be space-efficient and we also don't need to maintain two separate copies of the same audio. In the proposed scheme, an audio quality control method has been defined that can be used in modern audio platforms.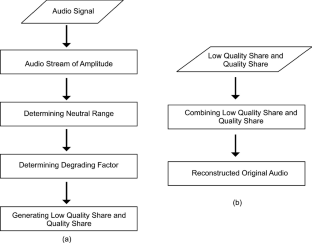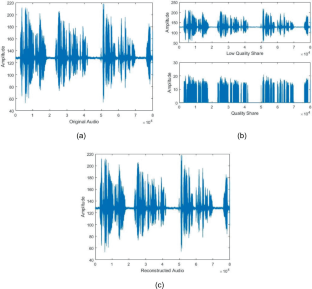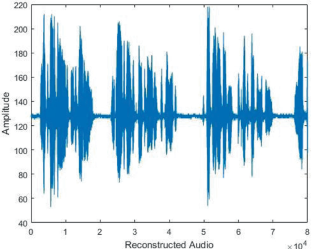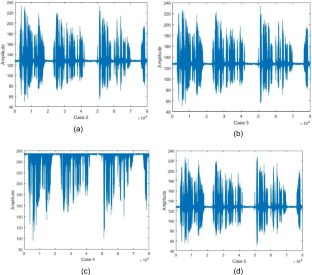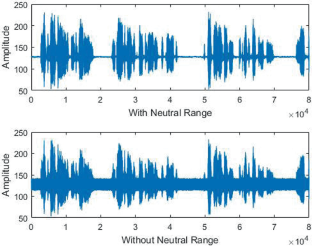 References
Shamir A (1979) How to share a secret. Commun ACM 22(11):612–613

Baby A, Thomas AL, Nishanthi NL, Consortium T (2016) Resources for Indian languages. In: CBBLR—community based building of language resources, Sep 2016, pp 37–43, Brno, Czech Republic: Tribun EU (Online). Available: https://www.iitm.ac.in/donlab/tts/index.php

Blakley GR (1979) Safeguarding cryptographic keys. In: Proceedings of American federation of information processing societies national computer conference, (AFIPS'79), California, pp 313–317

Desmedt Y, Hou S, Quisquater J-J (1998) Audio and optical cryptography. In: ASIACRYPT'98, LNCS, vol 1514, pp 392–404

Lin C-C, Laih C-S, Yang C-N (2003) New audio secret sharing schemes with time division technique. J Inf Sci Eng 19(4):605–614

Yang CN (2002) Improvements on audio and optical cryptography. J Inf Sci Eng 18(3):381–391

Ehdaie M, Eghlidos T, Aref MR (2008) A novel secret sharing scheme from audio perspective. In: Proceedings of international symposium on telecommunications (IST2008). IEEE, pp 13–18

Mohammad E, Taraneh E, Reza AM (2008) Some new issues on secret sharing schemes. International Conference on Telecommunications (ICT'08), June. St. Petersburg, Russia, pp 16–19

Wang JZ, Wu TX, Sun TY (2015) An audio secret sharing system based on fractal encoding. In: Proceedings of 49th, international Carnahan conference on security technology (ICCST), pp 211–216

Vyavahare S, Patil S (2016) Analysing secret sharing schemes for audio sharing. Int J Comput Appl 137(11):39–42

Bharti SS, Gupta M, Agarwal S (2018) A novel approach for verifiable (n, n) audio secret sharing scheme. Multimed Tools Appl 77:25629–25657

Naor M (1994) Visual cryptography. In: De Santis A (ed) EUROCRYPT. LNCS, vol 950, pp 1–12. Springer, Heidelberg (1995) Author F (2016) Article title. Journal 2(5):99–110

Naskar PK, Khan HN, Roy U, Chaudhuri A, Chaudhuri A (1996) Shared cryptography with embedded session key for secret audio., International Journal of Computer Applications (0975 – 8887) Volume 26– No.8, July 2011 ITU-T, Subjective performance assessment of telephone band and wide-band digital codecs, ITU-T Recommendation, p 830 (1996)

International Telecommunication Union—Radiocommunication Sector (1990) Recommendation BS. 562-3, Subjective assessment of sound quality

ITU (2000) Perceptual evaluation of speech quality (PESQ), and objective method for end-to-end speech quality assessment of narrowband telephone networks and speech codecs. ITU-T Recommendation, p 862

Singh SK, Yadav M (2020) A (k, n) Audio secret sharing with share authentication. Int J Comput Digital Syst
Copyright information

© 2021 The Author(s), under exclusive license to Springer Nature Singapore Pte Ltd.
About this paper
Cite this paper
Singh, S.K., Yadav, M. (2021). Audio Quality Control Method Based on ASS (Audio Secret Sharing). In: Biswas, A., Wennekes, E., Hong, TP., Wieczorkowska, A. (eds) Advances in Speech and Music Technology. Advances in Intelligent Systems and Computing, vol 1320. Springer, Singapore. https://doi.org/10.1007/978-981-33-6881-1_3
DOI: https://doi.org/10.1007/978-981-33-6881-1_3

Published:

Publisher Name: Springer, Singapore

Print ISBN: 978-981-33-6880-4

Online ISBN: 978-981-33-6881-1