Abstract

The usage of electronic bills in Vietnam become more popular in recent years. As required by law, the e-bills need to be signed digitally. Deploying the digital signature services in practice raised new issues in security and usability. In this paper we describe some open practical problems in deploying digital signature service in Vietnam. We discuss the research directions that address the issues. We draw the research plan to resolve the problems in the industry.
Keywords
Digital signature

Security

Load balancing
M.- T. Truong and Q.- V. Dang—Authors contributed equally to this work.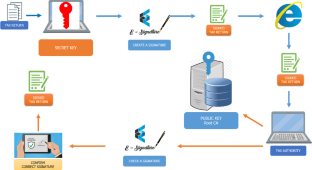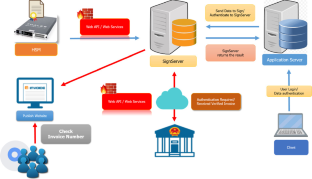 Notes
1.

Named as the "decree prescribing electronic invoices for sale of goods and provision of services.", issued on 12-September-2018.
References
Aufa, F.J., Affandi, A., et al.: Security system analysis in combination method: RSA encryption and digital signature algorithm. In: 2018 4th International Conference on Science and Technology (ICST), pp. 1–5. IEEE (2018)

Chittenden, F., Kauser, S., Poutziouris, P.: Tax regulation and small business in the USA, UK, Australia and New Zealand. Int. Small Bus. J. 21(1), 93–115 (2003)

Dang, Q.-V.: Studying machine learning techniques for intrusion detection systems. In: Dang, T.K., Küng, J., Takizawa, M., Bui, S.H. (eds.) FDSE 2019. LNCS, vol. 11814, pp. 411–426. Springer, Cham (2019). https://doi.org/10.1007/978-3-030-35653-8_28

Dang, Q., Ignat, C.: Link-sign prediction in dynamic signed directed networks. In: CIC, pp. 36–45. IEEE Computer Society (2018)

Diffie, W., Hellman, M.: New directions in cryptography. IEEE Trans. Inf. Theory 22(6), 644–654 (1976)

Dolin, R.H., et al.: The HL7 clinical document architecture. J. Am. Med. Inform. Assoc. 8(6), 552–569 (2001)

Feng, D.: Trusted Computing: Principles and Applications, vol. 2. Walter de Gruyter GmbH & Co KG (2017)

Hyndman, R.J., Athanasopoulos, G.: Forecasting: Principles and Practice. OTexts (2018)

Kang, N., Ruland, C.: DiffSig: differentiated digital signature for real-time multicast packet flows. In: Katsikas, S., Lopez, J., Pernul, G. (eds.) TrustBus 2004. LNCS, vol. 3184, pp. 251–260. Springer, Heidelberg (2004). https://doi.org/10.1007/978-3-540-30079-3_26

Katz, J., Lindell, Y.: Introduction to Modern Cryptography. CRC Press, Cambridge (2014)

Lamport, L.: Constructing digital signatures from a one-way function. Technical Report CSL-98, SRI International (1979)

Nesterov, Y.: Lectures on Convex Optimization. SOIA, vol. 137. Springer, Cham (2018). https://doi.org/10.1007/978-3-319-91578-4

Pinedo, M., Hadavi, K.: Scheduling: Theory, Algorithms and Systems Development, 4 edn. Springer, Berlin (2012). https://doi.org/10.1007/978-3-642-46773-8_5

Rivest, R.L., Shamir, A., Adleman, L.: A method for obtaining digital signatures and public-key cryptosystems. Commun. ACM 21(2), 120–126 (1978)

Sghaier, A., Medien, Z., Machhout, M.: Fast hardware implementation of ECDSA signature scheme. In: ISIVC, pp. 343–348. IEEE (2016)

Shamsoshoara, A., Korenda, A., Afghah, F., Zeadally, S.: A survey on hardware-based security mechanisms for internet of things. arXiv:1907.12525 (2019)

Times, F.: Electronic receipts help reducing the cost for enterprises (in vietnamese) (2018). http://thoibaotaichinhvietnam.vn/pages/thue-voi-cuoc-song/2018-10-08/ap-dung-hoa-don-dien-tu-giam-chi-phi-tuan-thu-nghia-vu-thue-cho-doanh-nghiep-62863.aspx

Wadsworth, K.T., Guido, M.T., Griffin, J.F., Mandil, A.: An innovation in paper receipts: the electronic receipt management system. In: 2010 IEEE Systems and Information Engineering Design Symposium, pp. 88–93. IEEE (2010)

Yavuz, A.A., Mudgerikar, A., Singla, A., Papapanagiotou, I., Bertino, E.: Real-time digital signatures for time-critical networks. IEEE Trans. Inf. Forensics Secur. 12(11), 2627–2639 (2017)
Copyright information

© 2020 Springer Nature Singapore Pte Ltd.
About this paper
Cite this paper
Truong, MT., Dang, QV. (2020). Digital Signatures Using Hardware Security Modules for Electronic Bills in Vietnam: Open Problems and Research Directions. In: Dang, T.K., Küng, J., Takizawa, M., Chung, T.M. (eds) Future Data and Security Engineering. Big Data, Security and Privacy, Smart City and Industry 4.0 Applications. FDSE 2020. Communications in Computer and Information Science, vol 1306. Springer, Singapore. https://doi.org/10.1007/978-981-33-4370-2_35
DOI: https://doi.org/10.1007/978-981-33-4370-2_35

Published:

Publisher Name: Springer, Singapore

Print ISBN: 978-981-33-4369-6

Online ISBN: 978-981-33-4370-2

eBook Packages: Computer ScienceComputer Science (R0)