Abstract

The arrangement of soil particles and inter-particle contacts constitutes the basis of the soil fabric, which influences the behavior of sandy and clayey soils and can lead to anisotropic soil properties and behavior. Experimental studies have quantified soil fabric using non-destructive methods, such as X-ray computed tomography, which require specialized equipment and complex analysis techniques. Such studies have reported the effect of soil fabric on the small strain shear modulus (Gmax) and shear strength and dilative behavior of coarse- and fine-grained soils. The purpose of this study is to develop an indirect measure of coarse-grained soil fabric using shear wave velocity (Vs) measurements for coarse-grained materials with different particle shapes. Vs is obtained in different directions using a multi-bender element system consisting of five bender element pairs. The test results are presented as polar distributions of Vs, indicating that particle shape and sample preparation methods influence the stiffness anisotropy. The results highlight the potential of using Vs measurements in different orientations to obtain an indirect estimation of a soil specimen's fabric.
Keywords
Granular materials

Fabric anisotropy

Shear wave velocity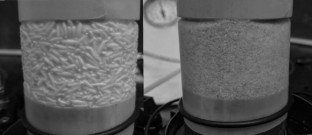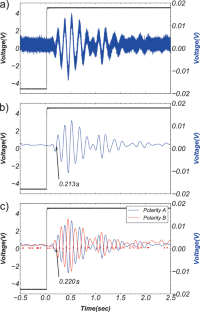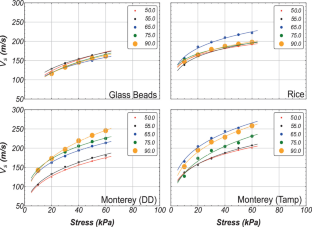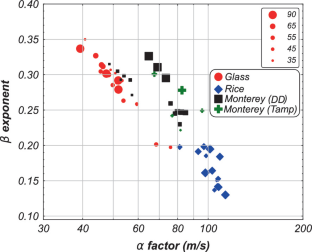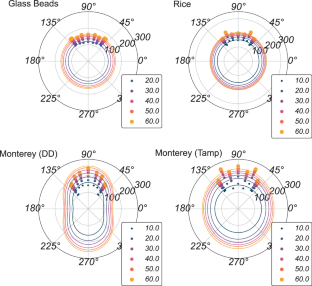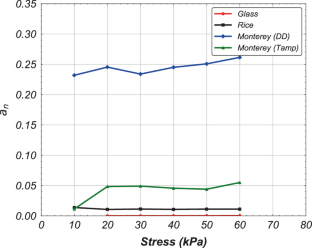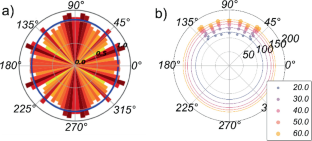 References
Basson MS, Martinez A (2020) A DEM study of the evolution of fabric of coarse grained materials during oedometric and isotropic compression. In: Proceedings, geo-congress 2020, Minneapolis, Minnesota, USA

Cha M, Santamarina JC, Kim H-S, Cho G-C (2014) Small-strain stiffness, shear-wave velocity, and soil compressibility. J Geotech Geoenviron Eng 140:06014011

Fu P, Dafalias YF (2015) Relationship between void- and contact normal-based fabric tensors for 2D idealized granular materials. Int J Solids Struct 63:68–81

Kuhn MR, Sun W, Wang Q (2015) Stress-induced anisotropy in granular materials: fabric, stiffness, and permeability. Acta Geotech. 10:399–419. https://doi.org/10.1007/s11440-015-0397-5

Li B, Zeng X (2014) Effects of fabric anisotropy on elastic shear modulus of granular soils. Earthq Eng Eng Vibr 13:269–278

Payan M, Khoshghalb A, Senetakis K, Khalili N (2016) Small-strain stiffness of sand subjected to stress anisotropy. Soil Dyn Earthq Eng 88:143–151

Rothenburg L, Bathurst RJ (1989) Analytical study of induced anisotropy in idealized granular materials. Geotechnique 39(4):601–614

Wang YH, Mok CM (2008) Mechanisms of small-strain shear-modulus anisotropy in soils. J Geotech Geoenviron Eng 134:1516–1530

Yang J, Gu XQ (2013) Shear stiffness of granular material at small strains: does it depend on grain size? Géotechnique 63:165–179

Yimsiri S, Soga K (2001) Effects of soil fabric on undrained behavior of sands. In: International conferences on recent advances in geotechnical earthquake engineering and soil dynamics, pp 7

Bartake PP, Singh DN (2007) Studies on the determination of shear wave velocity in sands. Geomech Geoeng 2:41–49

Blewett J, Blewett IJ, Woodward PK (2000) Phase and amplitude responses associated with the measurement of shear-wave velocity in sand by bender elements. Can Geotech J 37:10

Stokoe KH, Santamarina JC (2000) Seismic wave based testing in geotechnical engineering. In: International conference on geotechnical and geological engineering, pp 1490–1536

Stokoe KH, Wright SG, Bay JA, Roesset JM (1994) Characterization of geotechical sites by SASW method. Geophys Charact Sites

Cho G-C, Dodds J, Santamarina JC (2006) Particle shape effects on packing density, stiffness, and strength: natural and crushed sands. J Geotech Geoenviron Eng 132:591–602

Sharifipour M, Dano C, Hicher P-Y (2004) Wave velocities in assemblies of glass beads using bender-extender elements. In: 7th ASCE engineering mechanics conference, Newark, DE, United States

Cascante G, Santamarina JC (1996) Interparticle contact behavior and wave propagation. J Geotech Eng 122:831–839

Mital U, Kawamoto R, Andrade JE (2019) Effect of fabric on shear wave velocity in granular soils. Acta Geotechnica

Roesler SK (1979) Anisotropic shear modulus due to stress anisotropy. J Geotech Eng Div ASCE. https://doi.org/10.1016/0148-9062(79)90065-2

Arulnathan R, Boulanger RW, Riemer MF (1998) Analysis of bender element tests. Geotech Test J GTJODJ 21(2):120–131

Lee J-S, Santamarina JC (2005) Bender elements: performance and signal interpretation. J Geotech Geoenviron Eng 131:1063–1070

Leong EC, Cahyadi J, Rahardjo H (2009) Measuring shear and compression wave velocities of soil using bender–extender elements. Can Geotech J 46:792–812. https://doi.org/10.1139/T09-026

O'Donovan J, Ibraim E, O'Sullivan C, Hamlin S, Muir Wood D, Marketos G (2016) Micromechanics of seismic wave propagation in granular materials. Granular Matter 18

Viggiani G, Atkinson JH (1995) Interpretation of bender element tests. Geotechnique. https://doi.org/10.1680/geot.1995.45.1.149

Yang ZX, Li XS, Yang J (2008) Quantifying and modelling fabric anisotropy of granular soils. Géotechnique 58:237–248. https://doi.org/10.1680/geot.2008.58.4.237

Aloufi M, Santamarina JC (1995) Low and high strain macrobehavior of grain masses: the effect of particle eccentricity. Trans ASAE 38:877–887

Ogino T, Kawaguchi T, Yamashita S, Kawajiri S (2015) Measurement deviations for shear wave velocity of bender element test using time domain, cross-correlation, and frequency domain approaches. Soils Found 55:329–342

Hardin B, Richart F (1963) Elastic wave velocities in granular soils. J Soil Mech Found Div

Liu X, Yang J (2018) Shear wave velocity in sand: effect of grain shape. Géotechnique 68:742–748

Kang X, Bate B, Ge L (2014) Characterization of shear wave velocity and its anisotropy in uniform granular materials. In: Geo-congress 2014 technical papers. American Society of Civil Engineers, Atlanta, Georgia, pp 2029–2041

Kuwano R, Jardine RJ (2002) On the applicability of cross-anisotropic elasticity to granular materials at very small strains. Géotechnique 52:727–749. https://doi.org/10.1680/geot.2002.52.10.727
Copyright information

© 2021 The Author(s), under exclusive license to Springer Nature Singapore Pte Ltd.
About this paper
Cite this paper
Basson, M.S., Miller, J., Martinez, A. (2021). Experimental Estimation of Fabric in Granular Materials Using Shear Wave Velocity Measurements. In: Sitharam, T.G., Dinesh, S.V., Jakka, R. (eds) Soil Dynamics. Lecture Notes in Civil Engineering, vol 119. Springer, Singapore. https://doi.org/10.1007/978-981-33-4001-5_28
DOI: https://doi.org/10.1007/978-981-33-4001-5_28

Published:

Publisher Name: Springer, Singapore

Print ISBN: 978-981-33-4000-8

Online ISBN: 978-981-33-4001-5

eBook Packages: EngineeringEngineering (R0)