Abstract

Coastal land pressures due to urban population growth have seen various cities embrace the use of floating structures to extend their cities into their surrounding ocean space. Simultaneously, the need to go further into deeper waters to extract resources has also driven the development of innovative floating structures. This chapter introduces the developments in the area of predominantly static large scale floating structures. It begins with a review of the advantages of employing floating structures over traditional land reclamation technologies in availing habitable space; and the basic technical elements that underpin the technology. A brief history of the evolution of floating structures is then presented, before a survey of the examples of floating structures in a variety of uses and sites is ventured. Finally, the authors conclude with the ambitious and possible future uses of these large-scale floating structures in meeting our coming urban needs.
Keywords
Wave Force

Mooring Line

Mooring System

Floating Structure

Oscillate Water Column
These keywords were added by machine and not by the authors. This process is experimental and the keywords may be updated as the learning algorithm improves.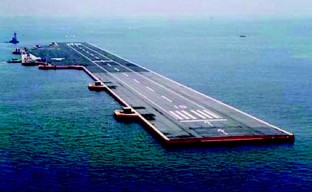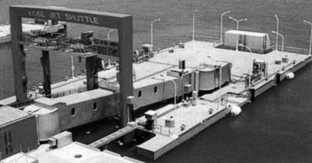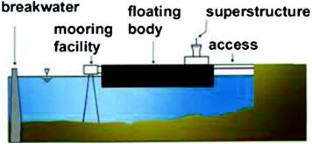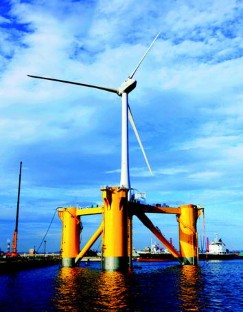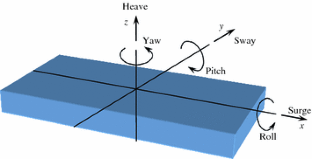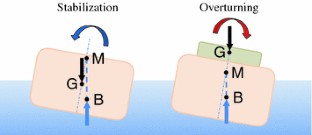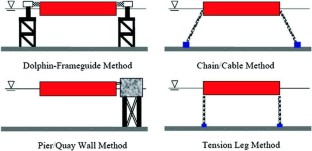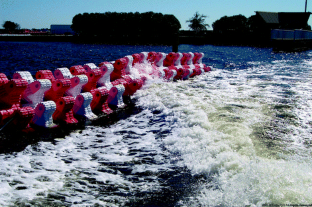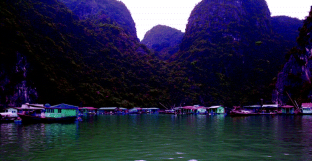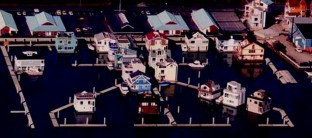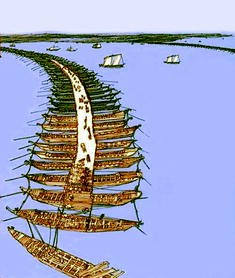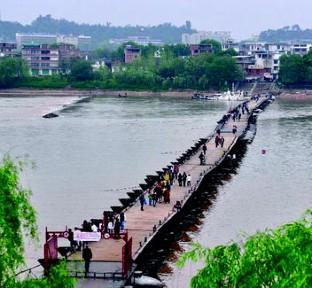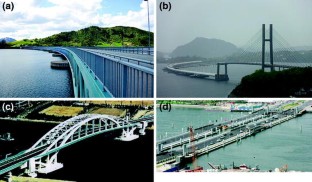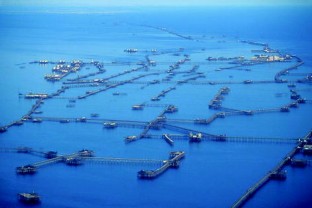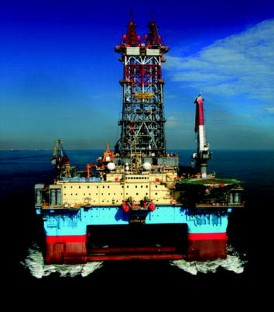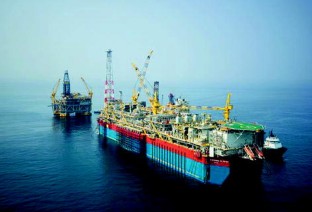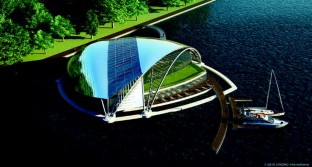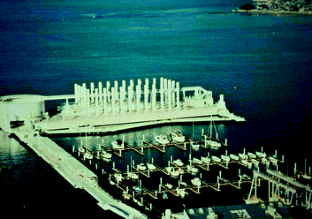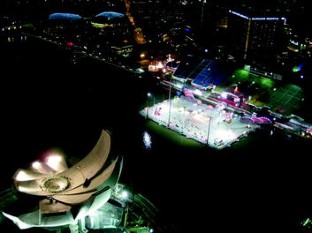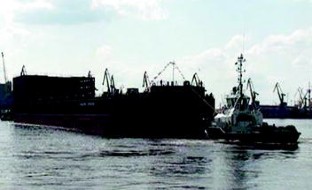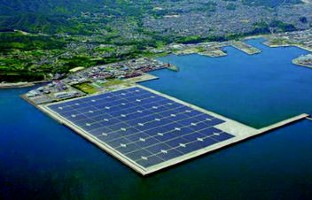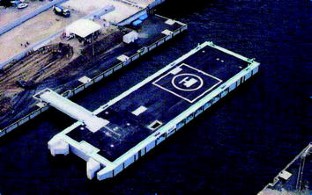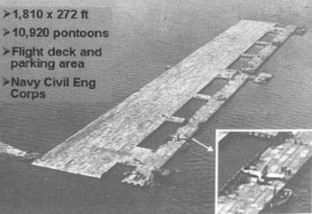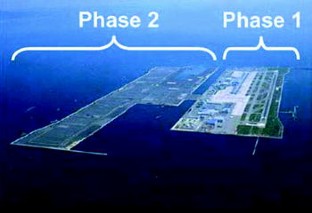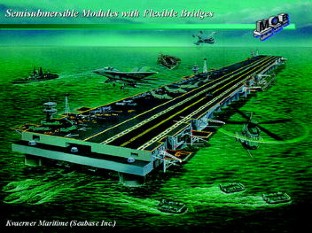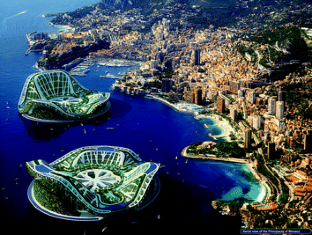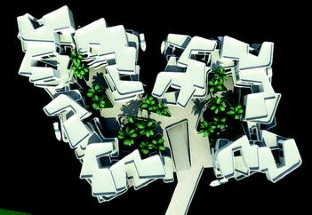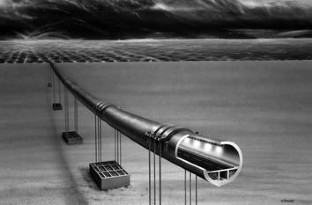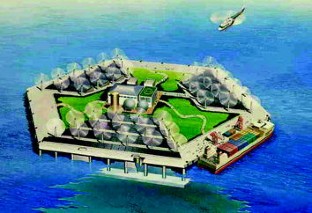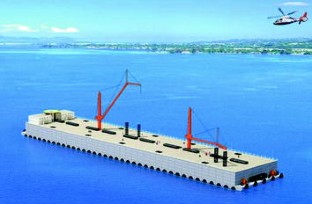 Notes
1.

The authors in this book use 'ocean space' in a broad manner to encompass the surface of large water bodies adjacent to urban centres.

2.

"Riau sand exports take toll on environment", Haidir Anwar, The Jakarta Post, July 3, 2001.

3.

"Flood threat from Singapore alleged", The Straits Times, March 21, 2002.

4.

"Singapore reclamation works 'hurt Johor fishing", The Straits Times, July 9, 2003.

5.

"Local media absorbed by land reclamation issue", The Straits Times, Singapore, March 13, 2002.

6.

7.

"Floating Concrete Container Terminal at Valdez, Alaska", Concrete Construction, February 1, 1983.

8.

"Stalin's Atlantis: This Is What's Left Of The Former Soviet Union's Floating Oil Town", Becket A., November 16, 2012, www.theblaze.com.

9.

10.

11.

"Seoul Floating Islands", Haeahn Architecture, H Architecture, ArchDaily.com, July 12, 2012.

12.

"Akademik Lomonosov Floating Nuclear Co-generation Plant, Russian Federation", power-technology.com.

13.

"Fukushima Floating Offshore Wind Farm Demonstration Project (Fukushima FORWARD)",Prof Takeshi Ishihara, University of Tokyo, Retrieved from: www.japan.ahk.de.
References
Bureau of Yards and Docks (1947). The continental bases, building the Navy's bases in world war II. Chapter 9—floating Drydocks, Vol. I, part II, history of the bureau of yards and docks and the civil engineer corps 1940–1946. Retrieved from www.history.navy.mil.

Clauss, G., Lehmann, E., & Ostergaard, C. (1992). Conceptual design and hydromechanics. Offshore structures (Vol. 1). Berlin: Springer-Verlag. (Translated by M.J. Shields).

Fraenkel, P. (2000). Renewable option 5: Marine power—harvesting the power of the sea. PeopleandPlanet.net. Retrieved June 2004, from (http://www.peopleandplanet.net/doc.php?id=452).

Hara, S., Yamakawa, K., Hoshino, K., & Yukawa, K. (2004). At-sea towing of a mega-float unit. Journal of Marine Science and Technology, 8(3), 138–146.

Hosam El-Din, H. S., Alaa, M. R, Basil, A. S. (2010). Durability and strength evaluation of high-performance concrete in marine structures. Journal of Construction and Building Materials, 24(6), 878–884.

Koekoek, M. (2010). Connecting modular floating structures—general survey and structural design of a modular floating pavilion. Master thesis. The Netherlands: T.U. Delft and Engineering Company Public Works, Rotterdam.

Koh, H. S., & Lim, Y. B. (2008). The mega floating platform at Marina Bay. Proceedings of the Conference on Iconic Structures in Singapore and Asia (pp. 145–160). Singapore: IStructE Singapore Regional Group.

Maeda, H., Rheem, C. K., Washio, Y., Osawa, H., Nagata, Y., Ikoma, T., & et al. (2001). Reduction effects of hydroelastic responses on a very large floating structure with wave energy absorption devices using OWC system. Proceedings of 20th Offshore Mechanics and Arctic Engineering Conference. Rio de Janeiro, Brazil.

Main(e) International Consulting LLC (2013, May). Floating offshore wind foundations: Industry consortia and projects in the United States, Europe and Japan: An overview. Retrieved from www.maine-intl-consulting.com.

Mazzolani, F. M., et al. (2008). Structural analysis of the submerged floating tunnel prototype in Qiandao Lake (PR of China). Journal of Advances in Structural Engineering, 11(4), 439–454.

Merchant, A. A. (2010). Keppel mega semi-submersibles. Proceedings of the Conference on Structural Marvels (pp. 81–110). Singapore: IStructE Singapore Regional Group.

Moan, T. (2004, September 12–17). Safety of floating offshore structures. Proceedings of 9th PRADS Conference. Germany: Luebeck-Travemuende.

Suzuki, H., Yoshida, K., & Iijima K. (1996a). A consideration of the structural design of a large-scale floating structure. Journal of Marine Science and Technology, 1(5), 255–267.

Suzuki, H., & Yoshida, K. (1996b). Design flow and strategy for safety of very large floating structures. Proceedings of International Workshop on Very Large Floating Structures. Hayama, Japan.

Suzuki, H. (2005). Overview of Megafloat: Concept, design criteria, analysis and design. Marine Structures, 18, 111–132.

Takahashi, S. (1996). Design of vertical breakwaters. Reference document No. 34. Japan: Port and Harbour Research Institute, Ministry of Transport.

The Hetch Co. (1945, May). Miracle harbor—we'll take our harbors with us. British information services. Retrieved from www.history.navy.mil.

Wang, C. M., Utsunomiya, T., Wee, S. C., & Choo, Y. S. (2010). Research on floating wind turbines: a literature survey. IES Journal Part A: Civil and Structural Engineering, 3(4), 267–277.

Wang, C. M., Yee, A. A., Krock, H., & Tay, Z. Y. (2011). Research and developments on ocean thermal energy conversion. IES Journal Part A: Civil and Structural Engineering, 4(1), 41–52.

Watanabe, E., Wang, C. M., Utsunomiya, T., & Moan, T. (2004). Very large floating structures: Applications, analysis and design. CORE Report No. 2004–02. Singapore: National University of Singapore.

Wong, L. H., Tan, H. S., Wang, C. L., Lim, H., Ho, H. C., Wang, C. M., et al. (2013). Floating wetlands at Punggol. The IES Journal Part A: Civil and Structural Engineering, 6(4), 249–257.
Copyright information

© 2015 Springer Science+Business Media Singapore
About this chapter
Cite this chapter
Wang, C.M., Wang, B.T. (2015). Great Ideas Float to the Top. In: Wang, C., Wang, B. (eds) Large Floating Structures. Ocean Engineering & Oceanography, vol 3. Springer, Singapore. https://doi.org/10.1007/978-981-287-137-4_1
DOI: https://doi.org/10.1007/978-981-287-137-4_1

Published:

Publisher Name: Springer, Singapore

Print ISBN: 978-981-287-136-7

Online ISBN: 978-981-287-137-4

eBook Packages: EngineeringEngineering (R0)