Abstract

Analysis of vortices is very important from the aspects of marine environment and disaster prevention. With the development of supercomputers, three-dimensional simulations of large-scale objects such as the ocean have been conducted. In ocean current simulations, multi-scale unstructured grids have been employed to precisely reproduce the topography of the seafloor and coastal areas. However, calculating vortices from unstructured grid data using the derivative of the flow velocity requires time-consuming data interpolation. Therefore, in this study, we calculate the covariance matrix using the velocity of each triangular column in the local region. The eigenvalues are used to define vorticity. In order to visualize the obtained vortices, the unstructured grid data are converted into point cloud data. In addition, the point density is adjusted according to the obtained vortices, and the opacity is changed. With the proposed method, we could visualize vortex regions with ambiguous boundaries correctly. During the visualization, we analyzed the causal relationship between the vortices and physical quantities such as flow velocity and salinity obtained from simulation by merging them into the visualization.
Keywords
Visualization

Vortex

Opacity gradation

Ocean simulation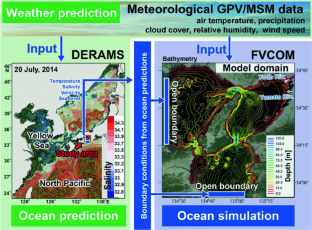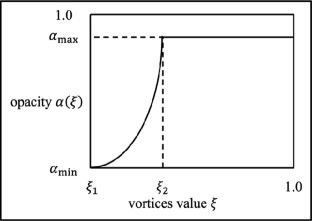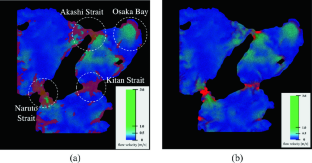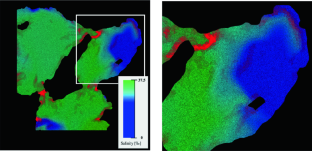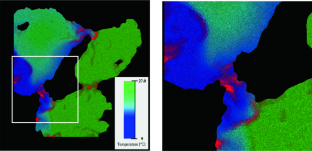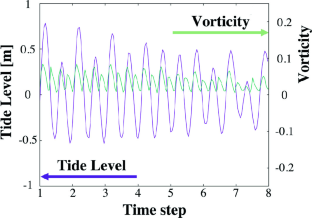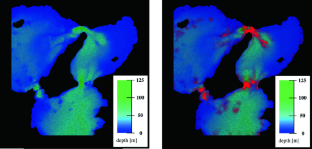 References
Tanaka, S., et al.: Particle-based transparent rendering of implicit surfaces and its application to fused visualization. In: EuroVis 2012 (Short Paper), Vienna, pp. 25–29 (2012)

Tanaka, S., et al.: See-thorough imaging of laser-scanned 3D cultural heritage objects based on stochastic rendering of large-scale point clouds. In: ISPRS 2016 (Full Paper, Oral), Prague (2016)

Nakada, S., Morimoto, I., Hasegawa, K., Tanaka, S.: Visualization of riverine water and vortex dynamics around the Naruto Strait based on high-resolution ocean simulation and satellite images. J. Adv. Simul. Sci. Eng. 7(1), 214–225 (2020)

Nakada, S., Hayashi, M., Koshimura, S.: Transportation of sediment and heavy metals resuspended by a giant tsunami based on coupled three-dimensional tsunami, ocean, and particle-tracking simulations. J. Water Environ. Technol. 16(4), 161–174 (2018)

Nkada, S., Hayashi, M., Koshimura, S.: Salinization by a tsunami in a semi-enclosed bay: tsunami-ocean three-dimensional simulation based on a great earthquake scenario along the Nankai Trough. JSST 3(2), 206–214 (2016)

Kawakami, K., et al.: opacity-based edge highlighting for transparent visualization of 3D scanned point clouds. ISPRS Ann. Photogramm. Remote Sens. Spat. Inf. Sci. 5, 373–380 (2020)

Miyachi, H., Kawahara, S.: Development of VR visualization framework with game engine. JSST 12(2), 59–67 (2020)
Copyright information

© 2022 The Author(s), under exclusive license to Springer Nature Singapore Pte Ltd.
About this paper
Cite this paper
Kamisaka, S. et al. (2022). Opacity-Gradation-Based Visualization of Vortices for Large-Scale Ocean Simulation. In: Fan, W., Zhang, L., Li, N., Song, X. (eds) Methods and Applications for Modeling and Simulation of Complex Systems. AsiaSim 2022. Communications in Computer and Information Science, vol 1712. Springer, Singapore. https://doi.org/10.1007/978-981-19-9198-1_18
DOI: https://doi.org/10.1007/978-981-19-9198-1_18

Published:

Publisher Name: Springer, Singapore

Print ISBN: 978-981-19-9197-4

Online ISBN: 978-981-19-9198-1

eBook Packages: Computer ScienceComputer Science (R0)