Abstract

Sustainability of the building sector necessitates application of energy efficiency measures and renewable energy technologies.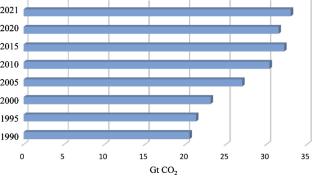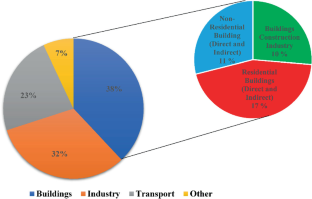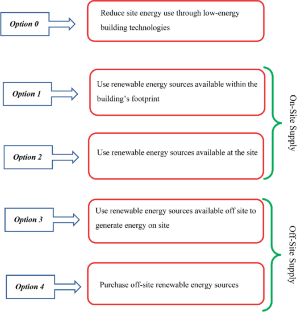 References
International Energy Agency (IEA) World Energy Outlook (2021) https://iea.blob.core.windows.net/assets/4ed140c1-c3f3-4fd9-acae-789a4e14a23c/WorldEnergyOutlook2021.pdf

Nematchoua MK, Yvon A, Roy SEJ, Ralijaona CG, Mamiharijaona R, Razafinjaka JN, Tefy R (2019) A review on energy consumption in the residential and commercial buildings located in tropical regions of Indian Ocean: A case of Madagascar island. J Energy Storage 24:100748. https://doi.org/10.1016/j.est.2019.04.022

International Energy Agency (IEA) Net Zero Emissions by 2050 Scenario (2021) https://www.iea.org/reports/world-energy-model/net-zero-emissions-by-2050-scenario-nze

International Panel for Climate Change (IPCC) Global warming of 1.5 ºC Report. https://www.ipcc.ch/sr15/

IEA (2021) Global energy review 2021, IEA, Paris. https://www.iea.org/reports/global-energy-review-2021/co2-emissions

International Energy Agency (IEA) (2022) Buildings: a source of enormous untapped efficiency potential. https://www.iea.org/topics/buildings

Santamourisa M, Vasilakopouloub K (2021) Present and future energy consumption of buildings: challenges and opportunities towards decarbonization. e-Prime-advances in electrical engineering. e-Prime Adv Electr Eng Electron Energy 1:1–14. https://doi.org/10.1016/j.prime.2021.100002

International Energy Agency (IEA) Tracking Buildings (2021) https://www.iea.org/reports/tracking-buildings-2021

International Energy Agency (IEA) and United Nations Environment program (UNEP) (2020) The 2020 global status report for buildings and construction. https://wedocs.unep.org/bitstream/handle/20.500.11822/34572/GSR_ES.pdf

Feng W, Zhang Q, Ji H, Wang R, Zhou N, Yed Q, Hao B, Li Y, Luo D, Lau SSY (2019) A review of net zero energy buildings in hot and humid climates: experience learned from 34 case study buildings. Renew Sustain Energy Rev 114:109303. https://doi.org/10.1016/j.rser.2019.109303

Li DHW, Yang L, Lam JC (2013) Zero energy buildings and sustainable development implications-a review. Energy 54:1–10. https://doi.org/10.1016/j.energy.2013.01.070

Cao X, Dai XX, Liu J (2016) Building energy-consumption status worldwide and the state of-the-art technologies for zero-energy buildings during the past decade. Energy Build 128:198–213.https://doi.org/10.1016/j.enbuild.2016.06.089

Lu Y, Wang S, Shan K (2017) Design optimization and optimal control of grid-connected and standalone nearly/net zero energy buildings. Appl Energy 155:463–477. https://doi.org/10.1016/j.apenergy.2015.06.007

Drake S, de Dear R, Alessi A, Deuble M (2010) Occupant comfort in naturally ventilated and mixed-mode spaces within air-conditioned offices. Architect Sci Rev 53:297–306

Bağcı B (2009) Towards a zero energy island. Renew Energy 34(3):784–789. https://doi.org/10.1016/j.renene.2008.04.027

U.S. Department of Energy (DOE) (2015) A common definition for zero energy buildings. https://www.energy.gov/eere/buildings/articles/doe-releases-common-definition-zero-energy-buildings-campuses-and

Oree V, Anatah HK (2017) Investigating the feasibility of positive energy residential buildings in tropical climates. Energ Effi 10:383–404. https://doi.org/10.1007/s12053-016-9462-7

Thompson E, Taki OA (2022) A framework approach to the design of energy efficient residential buildings in Nigeria. Energy Built Environ 3(3):384–397. https://doi.org/10.1016/j.enbenv.2021.07.001

U.S. Department of Energy (2015) Energy saver—types of insulation. http://energy.gov/energysaver/types-insulation

ANSI/ASHRAE/IES Standard 90.1–2016. https://www.energycodes.gov/resourcecenter/trainingcourses/ansiashraeies-standard-901-2016

Haque MT, Tai L, Ham D (2004) Landscape design for energy efficiency. Clemson University Digital Press, Clemson, South Carolina

Cao M, Rosado P, Lin Z (2015) Cool roofs in Guangzhou, China: outdoor air temperature reductions during heat waves and typical summer conditions. Environ Sci Technol 49(24):14672–14679

Levinson R, Akbari H (2010) Potential benefits of cool roofs on commercial buildings: conserving energy, saving money, and reducing emission of greenhouse gases and air pollutants. Energy Effic 3(1):53

Aldawoud A (2013) Conventional fixed shading devices in comparison to an electrochromic glazing system in hot, dry climate. Energy Build 59:104–110

Besir AB, Cuce E (2018) Green roofs and facades: a comprehensive review. Renew Sustain Energy Rev 82:915–939

Lenoir A, Garde F (2012) Tropical NZEB. High performing buildings, pp 42–57

Vakiloroaya V, Samali B, Fakhar A, Pishghadam K (2014) A review of different strategies for HVAC energy saving, energy convers. Manage 77:738–754

Pease P, Chhabra J, Zolfaghari Z, Zolfaghari Z (2021) Planning for net zero by 2050, what HVAC system interventions will today's code minimum commercial buildings require?

Shanthi Priya R, Sundarraja MC, Radhakrishnan S (2012) Experimental study on the thermal performance of a traditional house with one-sided wind catcher during summer and winter. Energ Effi 5:483–496

Garde F, Donn M (2014) Solution sets and net zero energy buildings: a review of 30 Net ZEBs case studies worldwide. International Energy Agency. http://task40.iea-shc.org/data/sites/1/publications/T40A52-DC-TR1-30-Net-ZEBs.pdf.

Sun X, Gou Z, Lau SY (2018) Cost-effectiveness of active and passive design strategies for existing building retrofits in tropical climate: case study of a zero energy building. J Clean Prod 183:35–45. https://doi.org/10.1016/j.jclepro.2018.02

Harkouss F (2018) Optimal design of net zero energy buildings under different climates, Université Libanaise, PhD dissertation

Torcellini P, Pless S, Deru M (2006) Zero energy buildings: a critical look at the definition. NREL/CP-550–39833. https://www.nrel.gov/docs/fy06osti/39833.pdf

Assaf J, Shabani B (2018) Multi-objective sizing optimisation of a solar-thermal system integrated with a solar-hydrogen combined heat and power system, using genetic algorithm. Energy Convers Manag 164:518–532

Sterling SJ, Collins MR (2012) Feasibility analysis of an indirect heat pump assisted solar domestic hot water system. Appl Energy 93:11–17

Zou J, Yu Y, Liu J, Niu J, Chauhan K, Lei C (2021) Field measurement of the urban pedestrian level wind turbulence. Build Environ 194:107713. https://doi.org/10.1016/j.buildenv.2021.107713
Copyright information

© 2023 The Author(s), under exclusive license to Springer Nature Singapore Pte Ltd.
About this chapter
Cite this chapter
Akyürek, Z., Günay, M.G., Akyüz, A.Ö., Güngör, A. (2023). Net-Zero Energy and Low Carbon Footprint in Residential Buildings in Tropical Regions. In: Sulaiman, S.A. (eds) Energy and Environment in the Tropics. Lecture Notes in Energy, vol 92. Springer, Singapore. https://doi.org/10.1007/978-981-19-6688-0_4
DOI: https://doi.org/10.1007/978-981-19-6688-0_4

Published:

Publisher Name: Springer, Singapore

Print ISBN: 978-981-19-6687-3

Online ISBN: 978-981-19-6688-0

eBook Packages: EnergyEnergy (R0)