Abstract

With crystal growing techniques having been around for many years, bespoke man-made gems now drive innovations in a range of industries. This has however not translated into the jewellery industry, where innovations with man-made gems have remained limited, and most are still produced to replicate mined gems. This paper documents my PhD study which is investigating the design implications, possibilities and limits of utilising man-made gems in the development of jewellery designs. As part of the research, and whilst conducting experiments and developing planned collaborations, the changing role of the designer is explored in relation to the amount of control and input the designer has had in the material development stage. Furthermore, the appreciation of these man-made gems and the context in which they are appraised is explored as part of the contextual review.
Keywords
Man-made gems

Jewellery

Authenticity

Growing design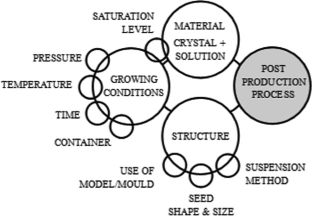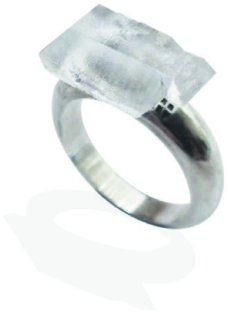 References
American Dreams: Chatham Created Gems and Diamonds | Tom Chatham (2017). https://www.youtube.com/watch?v=7tkMhU687LY. Accessed 15 June 2020

Antonelli, P.: Vital Design. In: BioDesign: Nature, Science, Creativity, pp. 6–7. Thames & Hudson, High Holborn (2012)

Arem, J.E.: Man Made Crystals. Smithsonian Institution Press, Washington (1973)

Boons, S.: Crystals as Co-creators: an investigation of growing crystals as a methodology for jewellery designers. FormAkademisk - forskningstidsskrift for design og designdidaktikk 14(2) (2021). https://journals.oslomet.no/index.php/formakademisk/article/view/4190. Accessed 7 June 2021

Burden, T., Biesheuvel, E.: Lab-Made Diamonds for Less: Why De Beers's Plan Worries Rivals – Bloomberg, September 2018. https://www.bloomberg.com/news/articles/2018-09-04/lab-made-diamonds-for-less-why-de-beers-s-plan-worries-rivals. Accessed 15 June 2020

Collet, C.: Alive | About This is Alive (2013). http://thisisalive.com/about/. Accessed 14 Sept 2020

Dieulafait, L., et al.: Artificial Gemstones: A Collection of Historical Articles on the Production of Synthetic Gemstones. Read Books Ltd., Alcester (2011)

Elwell, D.: Man-Made Gemstones. Ellis Horwood Ltd., Chichester (1979)

Gaspar, M.: Jewelry in the expanded field: between applied social art and critical design. In: Contemporary Jewellery in Perspective, pp. 228–233. Lark Crafts, Asheville (2013)

Herbert, G.F.: Gemstones. Methuen and Co Ltd., London (1912)

Kac, E.: Bio art. AI & SOCIETY (2020). https://doi.org/10.1007/s00146-020-00958-4. Accessed 26 Aug 2020

Karana, E., Camere, S.: Growing materials for product design. In: Proceedings of the International Conference of the DRS Special Interest Group on Experiential Knowledge and Emerging Materials Delft, Delft University of Technology, pp. 101–115 (2017)

Karana, E., Pedgley, O., Rognoli, V.: Materials Experience: Fundamentals of Materials and Design. Butterworth-Heinemann, Amsterdam (2014)

Koivumen, H.: Bio design products: co-design with nature. In: Joining Forces Helsinki, University of Art and Design Helsinki, p. 4 (2005)

Lerma, B., Palù, D.D.: Natural materials. A family on the move, but where is the last stop? Des. J. 22(sup1), 1543–1554 (2019)

Leslie, E.: Synthetic Worlds: Nature, Art and the Chemical Industry. Reaktion, London (2005)

Malpass, M.: Critical Design in Context: History, Theory, and Practices. Bloomsbury Academic, London (2017)

Manzini, E.: The Material of Invention. MIT Press, Cambridge (1989)

Myers, W.: Bio Design: Nature, Science, Creativity. Thames & Hudson, London (2012)

Natural Diamond Council: Natural Diamond Council Only Natural Diamonds (n.d.). https://www.naturaldiamonds.com/council/. Accessed 10 June 2020

O'Donoghue, M.: Artificial Gemstones. NAG Press, London (2007)

O'Donoghue, M.: Synthetic, Imitation and Treated Gemstones. NAG Press, London (2008)

Ogden, J.: Ancient Jewellery. University of California Press, Berkeley (1992)

Pedersen, M.C.: Gem and Ornamental Materials of Organic Origin. Elsevier Butterworth-Heinemann, Oxford (2004)

Pyne, L.: Genuine Fakes How Phony Things Teach Us About Real Stuff. Bloomsbury Sigma, London (2019)

Rognoli, V., et al.: DIY materials. Mater. Des. 86, 692–702 (2015)

Scheel, H.J.: Crystal Growth Technology. Wiley, West Sussex (2003)

Skains, R.L.: Creative practice as research: discourse on methodology. Media Pract. Educ. 19(1), 82–97 (2018)

Smith, H., Dean, R.T.: Practice-Led Research, Research-Led Practice in the Creative Arts. Edinburgh University Press, Edinburgh (2009)

Sullivan, G.: Art Practice as Research: Inquiry in the Visual Arts. SAGE, London (2005)

The National Association of Jewellers: The DPA relaunches as 'Natural Diamond Council', June 2020. https://www.naj.co.uk/news/the-dpa-relaunches-as-natural-diamond-council. Accessed 10 June 2020
Acknowledgments

This paper was written as part of an overarching PhD study investigating the design implications, possibilities, and limits of utilising man-made crystals in the development of jewellery at the Centre for Fine Print Research in the University of the West of England. For their encouragement and guidance in the conducting of my research I would like to thank my Director of Studies, Dr Sarah Bodman, supervisor Dr Laura Morgan and mentor Dr Adrian Geisow. A special thanks also to my industry mentor Dr Daniel Rytz. All of whose guidance through many hours of discussion has sharpened my focus. This research and the showcase was funded by UKRI, Research England, Expanding Excellence in England (E3) Fund.
Copyright information

© 2022 The Author(s), under exclusive license to Springer Nature Singapore Pte Ltd.
About this paper
Cite this paper
Boons, S. (2022). Man-Made Gems: An Investigation into the Design Implications, Possibilities and Limitations of Utilising Man-Made Gems for Jewellery. In: Bruyns, G., Wei, H. (eds) [ ] With Design: Reinventing Design Modes. IASDR 2021. Springer, Singapore. https://doi.org/10.1007/978-981-19-4472-7_234
DOI: https://doi.org/10.1007/978-981-19-4472-7_234

Published:

Publisher Name: Springer, Singapore

Print ISBN: 978-981-19-4471-0

Online ISBN: 978-981-19-4472-7