Abstract

Electric vehicles are now a trend. Various types of electric vehicles have been produced. The development of electric vehicle propulsion motors is also continuously carried out to get the best performance. One type of electric motor that has a high efficiency is a brushless permanent magnet axial flux motor. This type of motor has a relatively large torque at low speeds. Therefore, this paper presents the results of testing the micro electric car propulsion system using a brushless permanent magnet axial flux motor with a modular system. Tests are carried out to obtain the value of torque, electric power, mechanical power, speed, and temperature rise of the motor. The driving motor is mounted on the rear axle of the micro electric car, then tested using a chassis dynamometer with disk brake loading. It tests with maximum torque of 37.8 Nm, at 550 rpm, with an electric power input of 1197 Watts. The highest efficiency is 76% obtained at 83rpm with 37,8Nm Torque. From the test results, the total efficiency of the drive system is considered low, it was due to mechanical losses on transmission and gear of the axle.
Keywords
Micro electric car

Axial flux motor

Modular system

High efficiency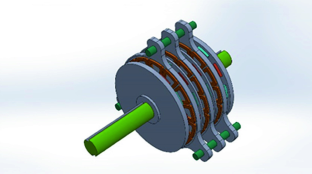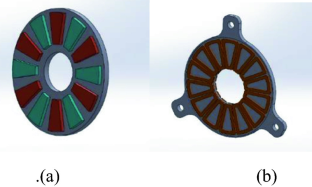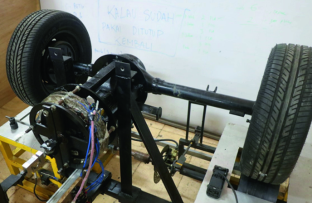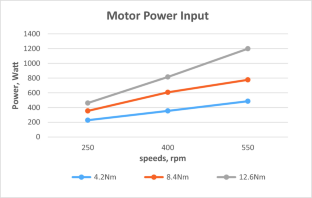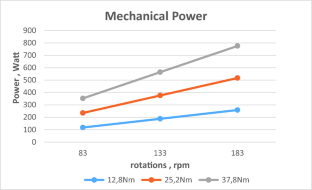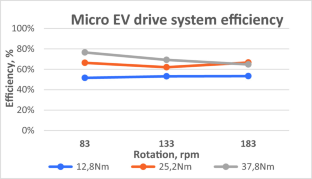 References
Guo, J., Jiang, Y., Yu, Y., Liu, W.: A novel energy consumption prediction model with combination of road information and driving style of BEVs. Sustain. Energy Technol. Assess. 42(October), 100826 (2020)

Miri, I., Fotouhi, A., Ewin, N.: Electric vehicle energy consumption modelling and estimation—a case study. Int. J. Energy Res. 45(1), 501–520 (2021)

Belhadi, M., Krebs, G., Marchand, C., Hannoun, H., Mininger, X.: Evaluation of axial SRM for electric vehicle application. Electr. Power Syst. Res. 148, 155–161 (2017)

Hew, W.P., Jamaludin, J., Tadjuddin, M., Nor, K.M.: Fabrication and testing of linear electric generator for use with a free-piston engine. In: National Power Engineering Conference, PECon 2003 – Proceedings, pp. 277–282 (2003)

Aslan, M., Özpolat, A.B., İşçi, C., Eroğlu, F., Vural, A.M.: Design and modelling of internal permanent magnet motor. Int. J. Energy Eng. Sci. 5(2), 80–104 (2020)

Tadjuddin, M., Hasanuddin, I., Fuadi, Z., Mukminin, A., Arief, M.R.: Power density comparison of multi-air gap axial flux permanent magnet motor for electric vehicle. In: IOP Conference Series: Materials Science and Engineering, vol. 931, no. 1 (2020)

Tadjuddin, M., Hasanuddin, N. I., Mukminin, A.: Thrust force analysis of slotless permanent magnet linear generator for wave energy converter. In: IOP Conference Series: Materials Science and Engineering, vol. 931, no. 1 (2020)

Djebarri, S., Charpentier, J.F., Scuiller, F., Benbouzid, M.: Design and performance analysis of double stator axial flux PM generator for rim driven marine current turbines. IEEE J. Ocean. Eng. 41(1), 50–66 (2016)

Gieras, J.F., Wang, R.-J., Kamper, M.J.: Axial Flux Permanent Magnet Brushless Machines, no. May 2014. Springer, Dordrecht (2008). https://doi.org/10.1007/978-1-4020-8227-6

Zhou, L., Guo, F., Wang, H., Wang, B.: High-torque direct-drive machine with combined axial-and radial-flux out-runner vernier permanent magnet motor. In: 2021 IEEE Internatinal Electric Machines & Drives Conference. IEMDC 2021 (2021)

Rahim, N.A., Ping, H.W., Tadjuddin, M.: Design of an in-wheel axial flux brushless DC motor for electric vehicle. In: 2006 1st International Forum on Strategic Technology, pp. 16–19 (2006)

Loustric, I., Matyas, M.: Exploring city propensity for the market success of micro-electric vehicles. Eur. Transp. Res. Rev. 12(1) (2020)

Rosa-Santos, P., et al.: Experimental study of a hybrid wave energy converter integrated in a harbor breakwater. J. Mar. Sci. Eng. 7(2), 1–18 (2019)
Acknowledgment

DRPM Kemenristek/BRIN/Kemdikbud supported this research under Applied Research Grant (Penelitian Terapan) 2021 with LPPM Universitas Syiah Kuala. We thank our colleagues from LDM-USK, who provided insight and expertise that greatly assisted the research.
Copyright information

© 2023 The Author(s), under exclusive license to Springer Nature Singapore Pte Ltd.
About this paper
Cite this paper
Tadjuddin, M., Fuadi, Z., Nazaruddin, Tulus, M. (2023). Experimental Study of Modular Brushless Permanent Magnet Axial Flux Motor Performance on Micro Electric Car. In: Akhyar, Huzni, S., Iqbal, M. (eds) Proceedings of the 3rd International Conference on Experimental and Computational Mechanics in Engineering. ICECME 2021. Lecture Notes in Mechanical Engineering. Springer, Singapore. https://doi.org/10.1007/978-981-19-3629-6_21
DOI: https://doi.org/10.1007/978-981-19-3629-6_21

Published:

Publisher Name: Springer, Singapore

Print ISBN: 978-981-19-3628-9

Online ISBN: 978-981-19-3629-6

eBook Packages: EngineeringEngineering (R0)