Abstract

As part of the eleventh five-year plan, the Government of India launched the National Food Security Mission (NFSM) in 2007–2008 with a major objective of boosting the food production to deal with the concerns of food insecurity. The programme targeted an increase in production of rice, wheat and pulses by 10, 8 and 2 million tonnes respectively by the end of the 11th five-year plan. The scheme was initially launched in 482 districts of 19 states. Out of which 144 districts in 16 states were under the rice scheme and 142 districts in 9 states under the wheat scheme and 468 districts in 16 states under the pulses scheme. The new targets were set in the twelfth five-year plan with an objective of distribution of technologies and better farm management practices guidelines. The scheme continued during the twelfth five-year plan with a new set of targets. The focus of all these schemes was the improvement of yield by bridging the gap between actual yield and potential yield.
This chapter draws from the author's previous work titled Varma, P. (2017). Rice productivity and food security in India, A Study of the System of Rice Intensification, Springer, Singapore.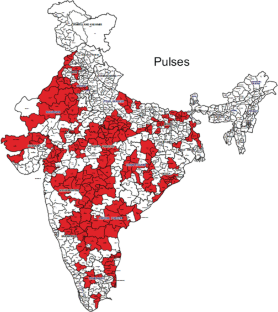 Reference
Manjunatha, A. V., & Kumar, P. (2015). Impact of National Food Security Mission (NFSM) on input use, production, yield and income in Karnataka. Agricultural Development and Rural Transformation Centre Institute for Social and Economic Change Bangalore-560, 72.
Copyright information

© 2022 Centre for Management in Agriculture (CMA), Indian Institute of Management Ahmedabad (IIMA)
About this chapter
Cite this chapter
Varma, P. (2022). National Food Security Mission and Pulses Production. In: Pulses for Food and Nutritional Security of India. India Studies in Business and Economics. Springer, Singapore. https://doi.org/10.1007/978-981-19-3185-7_4