Abstract

LBP is renowned as one of the most powerful local descriptors for texture description. The merits of LBP are monotonic gray invariance property and less complex algorithm. Therefore, LBP was deployed successfully in diverse range of applications. The success of LBP has inspired researchers to develop new LBP variants for diverse range of applications. These LBP variants achieve good results with respect to the application they were developed. After observing merits of LBP and its variants, it is found that there is need for comprehensive comparative study among these LBP-based descriptors and chose best among all descriptors. With this note, the proposed work provides comprehensive comparative study between 15 LBP-based descriptors which includes LBP and 14 LBP variants. Apart from LBP, the other 14 are HELBP, VELBP, NI-LBP, AD-LBP, DLBP, tLBP, RD-LBP, MRELBP-NI, MB-ZZLBP, MBP,6 × 6 MB-LBP, OC-LBP, LDBP and LNDBP. For all descriptors, the features are extracted globally, and then, PCA is used for feature compaction. Ultimately classification is performed by RBF, the SVMs-based method. Experiments performed on ORL face dataset confirm that among all 15, it is MB-ZZLBP which secures superior accuracy than other 14 descriptors. MB-ZZLBP also out classes numerous methods from literature.
Keywords
Feature extraction

Local descriptors

Global descriptors

Classifier

Grayscale images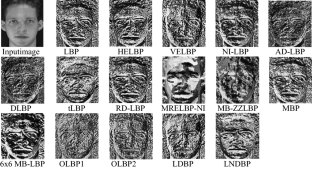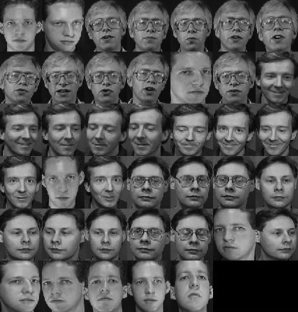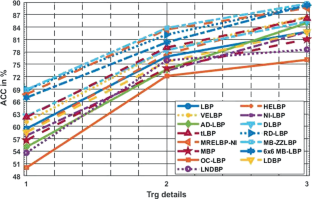 References
Chen, T., Gao, T., Li, S., Zhang, X., Cao, J., Yao, D., Li, Y.: A novel face recognition method based on fusion of LBP and HOG. IET Image Process. (2021)

Gupta, S., Thakur, K., Kumar, M.: 2D-human face recognition using SIFT & SURF descriptors of face's feature regions. Vis. Comp. 37 (2021)

Li, C., Huang, Y., Huang,W., Qin, F.: Learning features from covariance matrix of gabor wavelet for face recognition under adverse conditions. Pattern Recogn. 119 (2021)

Ojala, T., Pietikainen, M., Harwood, D.: A comparative study of texture measures with classification based on featured distributions. Pattern Recogn. 29(1), 51–59 (1996)

Nguyen, H.T., Caplier, A.: Elliptical LBPs for face recognition. In: ACCV (2012)

Liu, L., Zhao, L., Long, Y., Kuang, G., Fieguth, P.: Extended local binary patterns for texture classification. Image Vis. Comput. 30(2), 86–99 (2012)

Kaplan, K., Kaya, Y., Kuncan, M., Ertunc, H.M.: Brain tumor classification using modified LBP feature extraction methods. Med. Hypotheses 139, 1–12 (2020)

Trefny, J., Matas, J.: Extended set of LBPs for rapid object detection. In: CVWW, pp. 37–43 (2010)

Liu, L., Lao, S., Fieguth, P.W., Guo, Y., Wang, X., Pietikainen, M.: Median robust extended LBP for texture classification. IEEE Trans. Image Process. 25(3), 1368–1381 (2016)

Karanwal, S., Diwakar, M.: MB-ZZLBP: multiscale block zig zag local binary pattern for face recognition. In: MARC, pp. 613–622 (2021)

Hafiane, A., Seetharaman, G., Zavidovique, B.: MBPs for textures classification. In: ICIAR, pp. 387–398 (2007)

Liao, S., Zhu, X., Lei, Z., Zhang, L., Li, S.Z.: Learning multi-scale block LBPs for face recognition. In: ICB, pp. 828–837 (2007)

Zhu, C., Bichot, C.E., Chen, L.: Image region description using orthogonal combination of LBP enhanced with color information. Pattern Recogn. 46(7), 1949–1963 (2013)

Karanwal, S., Roka, S.: A robust fused descriptor under unconstrained conditions. In: SUSCOM (2021)

Xu, K., Fan, B., Yang, H., Hu, L., Shen, W.: Locally weighted PCA-based multimode modeling for complex distributed parameter systems. IEEE Trans. Cybern. 1–11 (2021)

Junior, P.R.M., Boult, T.E., Wainer, J., Rocha, A.: Open-set SVMs. IEEE Trans. Syst. Man Cybern. Syst. 1–14 (2021)

Saidi, I.A., Rziza, M., Debayle, J.: A novel texture descriptor: circular parts LBP. Image Anal. Sterol. 40(2), 105–114 (2021)

Kar, C., Banerjee, S.: Tropical cyclones classification from satellite images using blocked LBP and histogram analysis. In: SCTA, pp. 399–407 (2021)

Rasool, M., Kaur, A.: A novel rotation invariant descriptor for texture classification with LBPs. In: SCSP, pp. 385–396 (2021)

Vu, H.N., Nguyen, M.H., Pham, C.: Masked face recognition with convolutional neural networks and local binary patterns. Appl. Intell. (2021).

Kartheek, M.N., Prasad, M.V.N.K., Bhukya, R.:Radial mesh pattern: a handcrafted feature descriptor for facial expression recognition. J. Amb. Intell. Human. Comput. (2021)

Karanwal, S.: Discriminative color descriptor by the fusion of 3 novel color descriptors. Optik 244 (2021)

Kas, M., Khadiri, I.E., Merabet, Y.E., Ruichek, Y., Messoussi, R.: Multi level directional cross binary patterns: New handcrafted descriptor for SVM-based texture classification. Eng. Appl. Artif. Intell. 94 (2020)

Karanwal, S.: Graph based structure binary pattern for face analysis.Optik 241 (2021)

Ghosh, M., et al.: Robust face recognition by fusing fuzzy type 2 induced multiple facial fused image. In: IEEE 4th International Conference on Computing, Power and Communication Technologies (GUCON), pp. 1–6 (2021). https://doi.org/10.1109/GUCON50781.2021.9573871

Ding, M., Song, X., Yu, B.: An inexact proximal DC algorithm with sieving strategy for rank constrained least squares semi definite programming. arXiv:2105.12389 (2021)

Dinariyah, I.: Alamsyah: accuracy enhancement in face recognition using 1D-PCA & 2D-PCA based on multilevel reverse-biorthogonal wavelet transform with KNN classifier. J. Phys. Conf. Ser. 1918, 1–5 (2021)

Bodapati, S., et al.: Comparison and analysis of RNN-LSTMs and CNNs for social reviews classification. In: Bansal, J.C., Fung, L.C.C., Simic, M., Ghosh, A. (eds.) Advances in Applications of Data-Driven Computing. Advances in Intelligent Systems and Computing, vol. 1319. Springer, Singapore (2021). https://doi.org/10.1007/978-981-33-6919-1_4

Karanwal, S.: A comparative study of 14 state of art descriptors for face recognition. Multimedia Tools Appl. 80(8), 12195–12234 (2021)

Wang, Y., Tan, Y.P., Tan, Y.Y., Chen, H., Zhou, C., Li, L.: Generalized and discriminative collaborative representation for multiclass classification. IEEE Trans. Cybern. 1–12 (2020)
Copyright information

© 2022 The Author(s), under exclusive license to Springer Nature Singapore Pte Ltd.
About this paper
Cite this paper
Karanwal, S. (2022). A Comprehensive Comparative Study Between LBP and LBP Variants in Face Recognition. In: Shaw, R.N., Das, S., Piuri, V., Bianchini, M. (eds) Advanced Computing and Intelligent Technologies. Lecture Notes in Electrical Engineering, vol 914. Springer, Singapore. https://doi.org/10.1007/978-981-19-2980-9_9
DOI: https://doi.org/10.1007/978-981-19-2980-9_9

Published:

Publisher Name: Springer, Singapore

Print ISBN: 978-981-19-2979-3

Online ISBN: 978-981-19-2980-9

eBook Packages: Computer ScienceComputer Science (R0)