Abstract

Electric vehicle being one of the leading green technologies nowadays, is leaving a humongous amount of spent lithium-ion batteries untreated. Current research on lithium-ion battery waste management is at its minimal because the huge power range of the battery is much attractive than the battery waste dismantling process. Treating these battery wastes are crucial for rare metal recovery due to its limited resources on land. Thus, this study aims to propose an eco-design battery pack to ease the recycling process in a more economical and sustainable manner. SolidWorks is used to generate the 3D modelling and ANSYS is utilized to carry out the simulation of the product's mechanical performance in a drop and impact tests. Results shows that the proposed design of EV battery pack has a design efficiency of one with Easy Fixings indicator of 28%. In the drop test of 0.3 m height, it yields a maximum deformation of 1.015e−3m and a generated Von-Mises stress of 4.827e 8N/m2. Other than that, 2.5227e6 N/m2 of Von-Mises stress is obtained in the impact frontal test. With a great impact of cruising at a speed of 15.6464 m/s, 5.6053e−8 m deformation is obtained in the same test. As a result, the proposed EV battery pack design has showed the potential to improve the sustainability, performance, and ease of disassembly.
Keywords
Electric vehicle

Battery pack

Design of disassembly

Lithium-ion battery

Eco design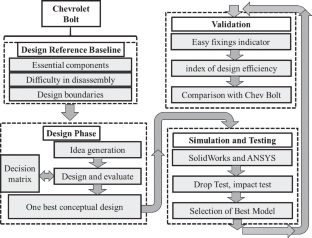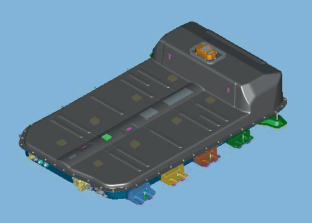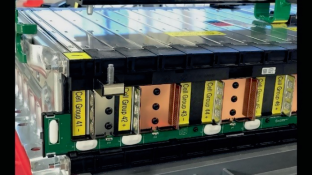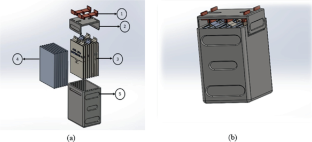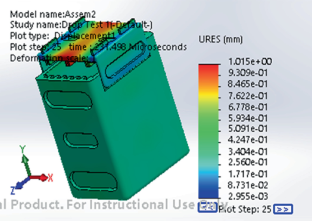 References
Lallanilla M (2019) Greenhouse gases: causes, sources and environmental effects. Live science. https://www.livescience.com/37821-greenhouse-gases.html

Wegener K, Andrew S, Raatz A, Dröder K, Herrmann C (2014) Disassembly of electric vehicle batteries using the example of the Audi Q5 hybrid system. Procedia CIRP 23(C):155–160

Zhang J, Li B, Garg A, Liu Y (2018) A generic framework for recycling of battery module for electric vehicle by combining the mechanical and chemical procedures. Int J Energy Res 42(10):3390–3399

Johnson Matthey Battery Systems (2015) Guide to Batteries 3rd edition. Johnson Matthey Battery Systems

Coffin D, Horowitz J (2018) The supply chain for electric vehicle batteries, December 2018

Wegener K, Chen WH, Dietrich F, Dröder K, Kara S (2015) Robot assisted disassembly for the recycling of electric vehicle batteries. Procedia CIRP 29:716–721

Zheng X et al (2018) A mini-review on metal recycling from spent lithium ion batteries. Engineering 4(3):361–370

Wallentowitz H (2006) Unkonventionelle Fahrzeugantriebe, Institut für Kraftfahrzeuge, vol 142

Zwicker MFR, Moghadam M, Zhang W, Nielsen CV (2020) Automotive battery pack manufacturing - a review of battery to tab joining. J Adv Joining Process 1:100017

Bernardes AM, Espinosa DCR, Tenorio JAS (2004) Recycling batteries: a review of current processes and technologies. J Power Sources 130:291–298

Pehlken A, Albach S, Vogt T (2017) Is there a resource constraint related to lithium ion batteries in cars? Int J Life Cycle Assess 22(1):40–53

Wegener K, Andrew S, Raatz A, Dröder K, Herrmann C (2014) Disassembly of electric vehicle batteries using the example of the Audi Q5 hybrid system. Procedia CIRP 23:155–160

Elwert T, Römer F, Schneider K, Hua Q, Buchert M (2018). Behaviour of Lithium-Ion batteries in electric vehicles. Springer, Cham, pp 289–321. https://doi.org/10.1007/978-3-319-69950-9

Gentilini L, Mosalli E, Angilus A, Colledani M (2020) A safety oriented decision support tool for the manufacturing and recycling of post use H&EVs Lithium-ion batteries. Procedia CIRP 90:73–78

Liu J, Anwar M, Chiang P, Hawkins S et al (2016) Design of the Chevrolet Bolt EV propulsion system. SAE Int J Altern Powertrains 5(1):79–86. https://doi.org/10.4271/2016-01-1153

Steps to the Carton Drop Test. https://www.intouch-quality.com/blog/5-steps-to-the-carton-drop-test. Accessed 28 June 2021

Chevrolet Bolt EV Battery Reassembly (2018) WeberAuto. https://www.youtube.com/watch?v=ZBzRKglr95U
Copyright information

© 2022 The Author(s), under exclusive license to Springer Nature Singapore Pte Ltd.
About this paper
Cite this paper
Chew, X.Q., Tan, W.J., Sakundarini, N., Chin, C.M.M., Garg, A., Singh, S. (2022). Eco-Design of Electric Vehicle Battery Pack for Ease of Disassembly. In: , et al. Enabling Industry 4.0 through Advances in Mechatronics. Lecture Notes in Electrical Engineering, vol 900. Springer, Singapore. https://doi.org/10.1007/978-981-19-2095-0_8
DOI: https://doi.org/10.1007/978-981-19-2095-0_8

Published:

Publisher Name: Springer, Singapore

Print ISBN: 978-981-19-2094-3

Online ISBN: 978-981-19-2095-0