Abstract

The University of New Brunswick (UNB) first developed a virtual reality documentation (VR Doc) system in 2006 and has continued to make improvements. VR Doc has evolved into a web-based interface for organizing and viewing virtual reality panoramas. The main purpose of the VR Doc system is to support virtual site visits, pre-emptively resolve claims, and record photographic as-builts. This project is a collaboration between UNB, Bradley Engineering Ltd, and Bird Construction Inc., and focuses on VR Doc's virtual site visit capabilities during the COVID-19 pandemic. Physical site visits are more challenging as a result of COIVD-19 and limiting personnel on site has the potential to reduce the spread of the virus. The VR Doc system was implemented on the Fredericton International Airport upgrade site over a five-month period during the COVID-19 pandemic. Representatives of the project owner, the general contractor, and the electrical subcontractor were provided with access to the VR Doc website. These representatives provided valuable feedback that provided insight on how this technology could reduce the number of personnel visiting site. Opportunities to reduce the spread of COVID-19 include: minimizing the site visits by those monitoring project progress, minimizing the site visits by those inspecting completed work, and providing visuals of specific project details to Airport board members and consulting engineers. Impediments to this technology include: introduction of yet another software interface and the need for on-site personnel to capture the images at specific times. Opportunities for improvement are also identified.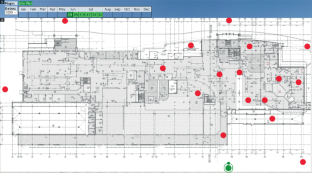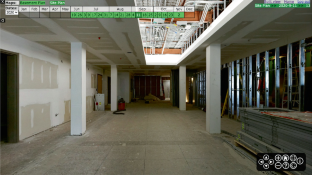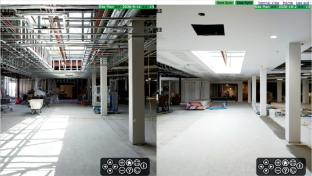 References
VR Doc (2021) Virtual reality documentation website. http://vrdoc.ca/ Last visited 2021 January

Waugh LM, Chisholm GL, Nicholson BAW, Rankin JH (2007) Virtual reality documentation of site status: proof of concept. In: Proceedings of the Canadian Society for Civil Engineering Annual General Conference, Yellowknife, NWT, June 6–9, 2007, CD paper GC-336, 9pp

GNB Government of New Brunswick (2021) NB's recovery plan: information on how New Brunswick will achieve the new normal, Retrieved from: https://www2.gnb.ca/content/gnb/en/corporate/promo/covid-19/recovery.html#triggers

CCA Canadian Construction Association (2020) COVID-19—standardized protocols for all Canadian construction sites. Retrieved from: https://www.cca-acc.com/wp-content/uploads/2020/06/CCA-COVID-19-Standardized-Protocols-for-All-Canadian-Construction-Sites-05-26-20.pdf

NBCSA New Brunswick Construction Safety Association (2020) CODIV-19 prevention procedures while working on a construction site. Retrieved from: https://nbcsa.ca/wp-content/uploads/2020/04/Construction-Site-COVID-19-Prevention-Procedures.pdf

WorkSafeNB (2020) Workplace measures to mitigate the spread of coronavirus disease (COVID-19). Retrieved from: https://www.worksafenb.ca/media/60873/employer-scorecard-e-final-version-dropdown.pdf

FIA Fredericton International Airport (2019) YFC blog—terminal expansion. Retrieved from: https://yfcfredericton.ca/category/terminal-expansion/

Bradley C, Hoyt J, Aziz F, Rankohi S, Waugh L (2015) One mile house interchange VR documentation: a case study of process and interface improvements. Retrieved from: https://www.researchgate.net/publication/324599835_One_Mile_House_Interchange_VR_Documentation_A_case-study_of_process_and_interface_improvements

Zoom (2021) Zoom video conferencing software. https://zoom.us/. Last visited 2021 January

MS Teams (2021) Microsoft Teams website. https://www.microsoft.com/en-ca/microsoft-teams/group-chat-software. Last visited 2021 January
Acknowledgements

We are grateful for the support and funding we have received from the New Brunswick Innovation Foundation (NBIF) as well as the assistance we received from J. Sorenson at Bird Construction and R. Dobbelsteyn.
Copyright information

© 2023 Canadian Society for Civil Engineering
About this paper
Cite this paper
Boyd, A., Bradley, D.C., Waugh, L.M. (2023). Use of Virtual Reality to Minimize the Spread of Covid-19 on Construction Sites. In: , et al. Proceedings of the Canadian Society of Civil Engineering Annual Conference 2021. CSCE 2021. Lecture Notes in Civil Engineering, vol 247. Springer, Singapore. https://doi.org/10.1007/978-981-19-0968-9_22
DOI: https://doi.org/10.1007/978-981-19-0968-9_22

Published:

Publisher Name: Springer, Singapore

Print ISBN: 978-981-19-0967-2

Online ISBN: 978-981-19-0968-9

eBook Packages: EngineeringEngineering (R0)