Abstract

The purpose of this research is to map the literature on reclaimed asphalt pavement (RAP) and to determine future related potential topics. Data were collected from the Scopus meta-data and analyzed using the bibliometric analysis technique with the VOSviewer tool. The result showed that there are several relationships between RAP and the topics related to aggregate, mixing, hot-mix asphalt, and compressive strength. However, some topics such as extraction, microstructural properties, furnaces, and interfacial transition zone in the RAP have not been widely researched. Numerous studies have been carried out on RAP by authors such as Xiao F, Amirkhanian S N, Daniel J S, Canestrari F, Huang B, Zaumanis M, and Arulrajah. Some of the countries that have contributed significantly to RAP research are the United States of America, China, Italy, and India.
Keywords
Reclaimed asphalt pavement

Bibliometric

VOSviewer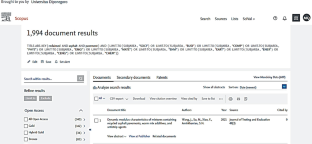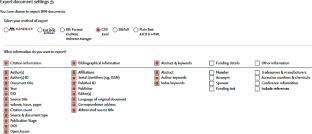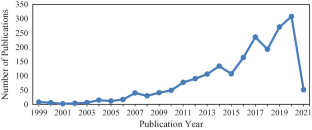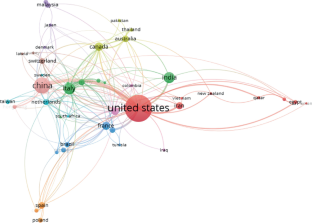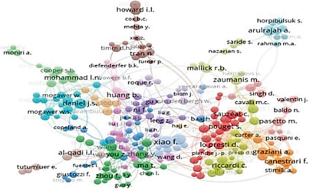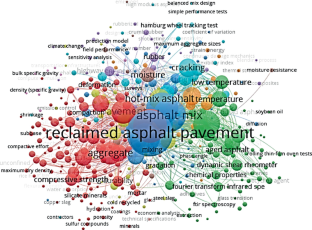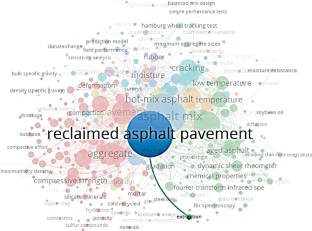 References
Widayanti A, Soemitro Ria AA, Ekaputri JJ, Suprayitno H (2018) Characterization of reclaimed asphalt pavement (RAP) as a road pavement material (National Road Waru, Sidoarjo). MATEC Web Conf 181. https://doi.org/10.1051/matecconf/201818105001

Al-Qadi IL, Elseifi M, Carpenter SH (2014) Reclaimed asphalt pavement—a literature review

Chang X, Zhang R, Xiao Y, Chen X, Zhang X, Liu G (2020) Mapping of publications on asphalt pavement and bitumen materials: a bibliometric review. Constr Build Mater 234:117370. https://doi.org/10.1016/j.conbuildmat.2019.117370

Callahan JL (2014) Writing literature reviews: a reprise and update. Hum Resour Dev Rev 13(3):271–275. https://doi.org/10.1177/1534484314536705

Sweet M, Moynihan R (2007) Improving population health: the uses of systematic reviews, Dec 2007

Tsay M, Shu Z (2011) Journal bibliometric analysis: a case study on the journal of documentation. J Doc 67(5):806–822 [online]. Available http://dblp.uni-trier.de/db/journals/jd/jd67.html#TsayS11

Franceschini F, Maisano D, Mastrogiacomo L (2015) Influence of omitted citations on the bibliometric statistics of the major Manufacturing journals. Scientometrics 103(3):1083–1122. https://doi.org/10.1007/s11192-015-1583-9

Ravikumar S, Agrahari A, Singh SN (2015) Mapping the intellectual structure of scientometrics: a co-word analysis of the journal scientometrics (2005–2010). Scientometrics 102(1):929–955 [online]. Available https://econpapers.repec.org/RePEc:spr:scient:v:102:y:2015:i:1:d:10.1007_s11192-014-1402-8

Cainelli G, Maggioni MA, Uberti TE, de Felice A (2015) The strength of strong ties: how co-authorship affect productivity of academic economists? Scientometrics 102(1):673–699. https://doi.org/10.1007/s11192-014-1421-5

Zhai L, Yan X, Shibchurn J, Song X (2014) Evolutionary analysis of international collaboration network of Chinese scholars in management research. Scientometrics 98(2):1435–1454. https://doi.org/10.1007/s11192-013-1040-6

Petticrew M, Roberts H (2006) Starting the review: refining the question and defining the boundaries. In: Systematic reviews in the social sciences, pp 27–56, Jan 01 2006. https://doi.org/10.1002/9780470754887.ch2

Huang C, Yang C, Wang S, Wu W, Su J, Liang C (2019) Evolution of topics in education research : a systematic review using bibliometric analysis. Educ Rev:1–17.https://doi.org/10.1080/00131911.2019.1566212

SNI-03-6894 (2002) Metode pengujian kadar aspal dari campuran beraspal dengan cara sentrifus 1, pp 1–6

Taha R, Al-Harthy A, Al-Shamsi K, Al-Zubeidi M (2002) Cement stabilization of reclaimed asphalt pavement aggregate for road base and subbases. J Mater Civ Eng 14(3):239–245

Qiang W, Peiyu Y, Ruhan A, Jinbo Y, Xiangming K (2011) Strength mechanism of cement-asphalt mortar. J Mater Civ Eng 23(9):1353–1359. https://doi.org/10.1061/(ASCE)MT.1943-5533.0000301

Miller SR, Hartmann T, Dorée AG (2011) Measuring and visualizing hot mix asphalt concrete paving operations. Autom Constr 20(4):474–481. https://doi.org/10.1016/j.autcon.2010.11.015
Acknowledgements

This research was financially supported by The Faculty of Engineering, Diponegoro University, Indonesia Through Strategic Research Grant 2021.
Copyright information

© 2023 The Author(s), under exclusive license to Springer Nature Singapore Pte Ltd.
About this paper
Cite this paper
Qomaruddin, M., Lie, H.A., Widayat, Setiadji, B.H., Wibowo, M.A. (2023). Mapping Literature of Reclaimed Asphalt Pavement Using Bibliometric Analysis by VOSviewer. In: Kristiawan, S.A., Gan, B.S., Shahin, M., Sharma, A. (eds) Proceedings of the 5th International Conference on Rehabilitation and Maintenance in Civil Engineering. ICRMCE 2021. Lecture Notes in Civil Engineering, vol 225. Springer, Singapore. https://doi.org/10.1007/978-981-16-9348-9_96
DOI: https://doi.org/10.1007/978-981-16-9348-9_96

Published:

Publisher Name: Springer, Singapore

Print ISBN: 978-981-16-9347-2

Online ISBN: 978-981-16-9348-9

eBook Packages: EngineeringEngineering (R0)