Abstract
Brazil–China relations have entered a new phase in which the mutual distrust generated after the election of far-right, pro-US Jair Bolsonaro gives way to a more pragmatic agenda. This shift was never a linear one, with alternating moments of ideological contestation of China and adaptation of Bolsonaro's anti-China discourse to the demands of domestic interest groups. Using quantitative methods for foreign policy analysis to examine the degree of interaction between Brazil–China and Brazil–US, this study finds that between 1995 and 2020 Brazil–China relations intensified and diversified during both left and right-oriented Brazilian governments. Although until 2008 Brazil and China became closer to each other when Brazil–US relations were comparatively less intense, Brazil–China and Brazil–US trade evolved in a similar direction over almost the entire period of analysis. Three determinants indicate this transformation of Brazil–China relations over the past 25 years: the expansion of Brazil's diplomatic network in China, the growth of bilateral trade and investment, and the convergence between Brazil and China in global governance. This study concludes that it is misleading to look at Brazil–China relations from the single prism of a government's political orientation, and that Brazil–China relations under Bolsonaro could permanently shift from one of ideology-based contestation to one of pragmatic adaptation without necessarily depending on, nor precluding, Brazil's relations with the US.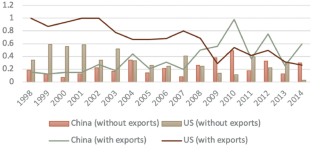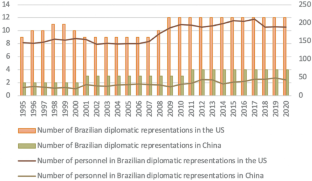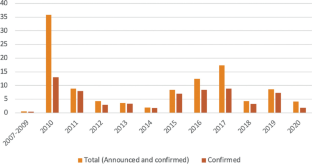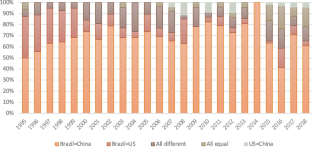 References
n/a. 2018. Jair Bolsonaro: Brazil's Firebrand Leader Dubbed the Trump of the Tropics. BBC, December 31.

n/a. 2019. Pragmatismo prevalece na relação Brasil-China. Estado de Minas, July 25.

Amorim Neto, Octavio. 2011. De Dutra a Lula: A condução e os determinantes da política externa brasileira. São Paulo: Elsevier Editora.

Barini, Filipe. 2019. China age com pragmatismo econômico quando pensa no Brasil, diz analista chinês. O Globo, October 11.

Beaumont, Peter, and Tom Phillips. 2020. Jair Bolsonaro Claims 'Victory' After Suspension of Chinese Vaccine Trial. BBC, November 10.

Burges, Sean. W. 2016. Brazil in the World: The International Relations of a South American Giant. Manchester: Manchester University Press.

Conselho Empresarial Brasil-China. 2019. Investimentos chineses no Brasil 2018: o quadro brasileiro em perspectiva global. https://www.cebc.org.br/2019/09/23/investimentos-chineses-no-brasil-2018-o-quadro-brasileiro-em-perspectiva-global/. Accessed 24 August 2021.

Conselho Empresarial Brasil-China. 2021a. Mesmo com pandemia, trocas entre Brasil e China atingem US$ 101 bilhões e marcam recorde histórico no comércio exterior nacional. cebc.org.br/2021/01/11/mesmo-com-pandemia-trocas-entre-brasil-e-china-atingem-us-101-bilhoes-e-marcam-recorde-historico-no-comercio-exterior-nacional/?__cf_chl_managed_tk__=pmd_03753b1b0ef0838d80249e3910c073854c411529-1626939353-0-gqNtZGzNA6KjcnBszQii. Accessed 22 July 2021.

Conselho Empresarial Brasil-China. 2021b. Investimentos Chineses no Brasil: Histórico, tendências e desafios globais (2007–2020). https://www.cebc.org.br/2021/08/05/investimentos-chineses-no-brasil-historico-tendencias-e-desafios-globais-2007-2020/. Accessed 24 August 2021.

Chrispim, Denise. 2021. Castro Neves: "Não há inocentes" entre os que disputam o 5G no Brasil. Poder 360, June 9.

Fornes, Gaston, and Alvaro Mendez. 2018. The China Latin America Axis: Emerging Markets and Their Role in and Increasingly Globalized World. New York: Palgrave Macmillan.

Gadelha, Igor. 2020. Guedes perdeu disputa com Itamaraty sobre posição do Brasil na eleição do BID. CNN Brasil, September 12.

Itamaraty. 2020. https://www.gov.br/mre/pt-br/assuntos/relacoes-bilaterais/todos-os-paises/republica-popular-da-china.

Lafer, Celso. 2001. A identidade internacional do Brasil e a política externa brasileira: Passado, presente e futuro. São Paulo: Perspectivas.

Lima, Maria Regina Soares de. 2000. Instituições democráticas e política exterior. Contexto Internacional 22: 2, 265–303.

Malamud, Andrés. 2012. Power Matters: The Structural Sources of Brazilian Foreign Policy. Brazilian Political Science Review 6 (2): 119–124. https://doi.org/10.1590/S1981-38212012000200006.

Measuring International Engagement: Systemic and Domestic Factors in Brazilian Foreign Policy from 1998 to 2014. 2016. Harvard Dataverse, V2 NF:6:pewd/JMymJQo6lXfbeBmCA== [fileUNF].

Mesquita, Rafael, Marcelo Medeiros, and Luiza Amelotti. 2019. Diplomats, Quo Vadis? The Determinants of Brazilian Diplomatic Presence. Revista Brasileira de Política Internacional, 62:1 e014 https://doi.org/10.1590/0034-7329201900114.

Milani, Carlos R. S., and Letícia Pinheiro. 2013. Política externa brasileira: Os desafios de sua caracterização como política pública. Contexto Internacional. 35 (1): 11–41.

Ministry of Economy of Brazil. 2021. Balança Comercial e Estatísticas de Comércio Exterior. https://www.gov.br/produtividade-ecomercio-exterior/pt-br/assuntos/comercio-exterior/estatisticas.

Moneta, Carlos Juan. 2016. Lectura para Latinoamericanos: El desarrollo e inserción geoeconómica internacional china, 2010–2030/2040. In La tentación pragmática. China-Argentina/América Latina: Lo actual, lo próximo y lo distante, ed. Carlos Juan Moneta and Sergio Cesarín. Sáenz Peña: Universidad Nacional de Tres de Febrero.

Mourón, Fernando, and Francisco Urdinez. 2014. A Comparative Analysis of Brazil's Foreign Policy Towards the USA: Comment on Amorim Neto (2011). Brazilian Political Science Review 8 (2): 92–113. https://doi.org/10.1590/1981-38212014000100013.

Nascimento, Luciano. 2020. Estados Unidos reduzem cota de importação de aço do Brasil. Agência Brasil, August 30.

Observatory of Economic Complexity. n/a. www.oec.world. Accessed August 24 2021.

Oliveira, Henrique Altemani. 2005. Política externa brasileira. São Paulo, SP: Saraiva.

Rising Powers Diplomatic Network. 2019. Harvard Dataverse. V1,UNF:6:/jePb7v+BBq9eqmEMJWeDQ== [fileUNF].

Rodriguez, Júlio Cesar Cossio. 2012. Chacal ou cordeiro? O Brasil frente aos desafios e oportunidades do sistema internacional. Revista Brasileira de Política Internacional. 55:2 70–89. https://doi.org/10.1590/S0034-73292012000200005.

Santana, Carlos Ribeiro. 2006. Política externa em perspectiva: Um balanço sobre a diplomacia dos presidentes Collor, Itamar, Cardoso e Lula. Carta Internacional. 1 (3): 8–14.

Santoro, Maurício. 2020. Bolsonaros' Troubled Relationship with China. Dialogo Chino, March 26.

Saraiva, Miriam Gomes. 2020. The Democratic Regime and the Changes in Brazilian Foreign Policy Towards South America. Brazilian Political Science Review 14 (3): 1–39. https://doi.org/10.1590/1981-3821202000030001.

Schenoni, Luis. 2012. Los determinantes externos de la política externa brasileira en el context de America Latina. IV Congresso Uruguayo de Ciencia Politica, Montevideo.

Sennes, Ricardo. 2011. Reseña del libro De Dutra a Lula: A condução e os determinantes da politica externa brasileira, de Octavio Amorim Neto. Politica Externa. 20:3 ISBN: 9771518666125. https://www.gov.br/produtividade-ecomercio-exterior/pt-br/assuntos/comercio-exterior/estatisticas

Senra, Ricardo. 2019. Um ano após reclamar que China 'compraria o Brasil', Bolsonaro quer vender estatais e commodities em visita a Xi Jinping. BBC Brasil, October 23.

United Nations General Assembly Voting Data. 2009. Harvard Dataverse, V21, U. https://doi.org/10.7910/DVN/LEJUQZ.

Urban, Nathalia. 2020. Foreign Meddling: Bolsonaro Moves to Help Trump Reelection. Brazil Wire, September 11.

Verdélio, Andreia. 2020. Bolsonaro: Federal Government Will Not Buy Vaccine CoronaVac. Agência Brasil, October 21.

Wei, Dan, Almeida Zacarias Machava, Ana Cândida Muniz Cipriano, and Daniel Freire e Almeida. 2019. Food Exports from Brazil to China. Cham: Springer International Publishing.

Wise, Carol and Chonn Ching, Victoria. 2017. Conceptualizing China–Latin America Relations in the Twenty-First Century: The Boom, The Bust, and the Aftermath. The Pacific Review, 31:5, 553–572. https://doi.org/10.1080/09512748.2017.1408675.

World Integrated Trade Solution | Data on Export, Import, Tariff, NTM. 2021. World Bank. https://wits.worldbank.org/.

Zylberman, Joris. 2019. Brasil de Bolsonaro cede ao pragmatismo na relação comercial com a China. Radio France, Internacionale October 25.
Copyright information
© 2022 The Author(s), under exclusive license to Springer Nature Singapore Pte Ltd.
About this chapter
Cite this chapter
Vazquez, K.C. (2022). Brazil–China Relations: Contestation, Adaptation, or Transformation?. In: Pavlićević, D., Talmacs, N. (eds) The China Question. Palgrave Macmillan, Singapore. https://doi.org/10.1007/978-981-16-9105-8_10
DOI: https://doi.org/10.1007/978-981-16-9105-8_10

Published:

Publisher Name: Palgrave Macmillan, Singapore

Print ISBN: 978-981-16-9104-1

Online ISBN: 978-981-16-9105-8