Abstract

After the Second World War, with the success of Toyota Company, many manufacturing organizations over the world have started embracing lean philosophy. Only a few companies were able to successfully manage the challenges during lean implementation and could become successful. Even the companies who became successful have not reaped full dividends. This clearly shows that not only complete understanding of lean philosophy is essential but also companies should be capable of managing the challenges during lean implementation. In this research work, an effort is made to study the different lean implementations and challenges faced, and provide the future directions for the benefits of interested academicians and practitioners.
Keywords
Lean manufacturing

Green manufacturing

Lean system

TPS

5S

Kanban

PDCA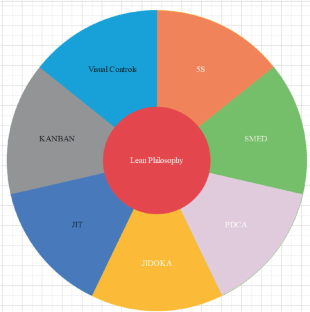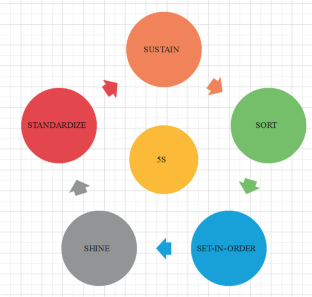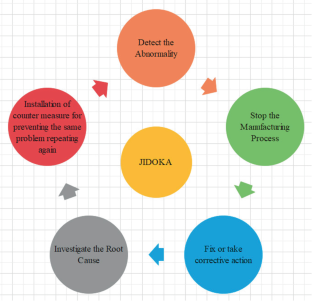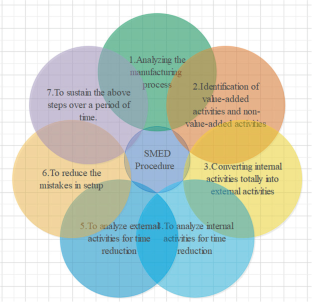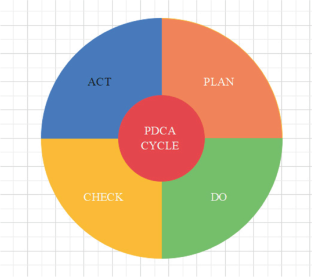 References
Abdulmalek FA, Rajgopal J (2007) Application of VSM to process industry. Int J Product Econ 107(1):223–36

Abdulmalek FA, Rajgopal J, Needy KL (2006) A classification scheme for the process industry to guide the implementation of lean. Eng Manag J 18(2):15–25

Al-Ahmari AM, Abidi MH, Ahmad A, Darmoul S (2016) Development of a virtual manufacturing assembly simulation system. Adv Mech Eng 8 (3):1–13. https://doi.org/10.1177/1687814016639824

Benton WC, Shin H (1998) Manufacturing planning and control: the evolution of MRP and JIT integration. Europ J Oper Res 110(3):411–440

Bhasin S, Burcher P (2006) Lean viewed as a philosophy. J Manuf Technol Manag 17(1):56–72

Boersch I, Füssel U, Gresch C, Großmann C, Hoffmann B (2018) Data mining in resistance spot welding: A NonDestructive method to predict the welding spot diameter by monitoring process parameters. Int J Adv Manuf Technol 99(5–8): 085–1099. https://doi.org/10.1007/s00170-016-9847-y

Bonci A, Pirani M, Longhi S (2016) A database-centric approach for the modeling, simulation, and control of cyber-physical systems in the factory of the future. IFAC-Papers on line 49(12):249–254

Brintrup A, Ranasinghe D, McFarlane D (2010) RFID opportunity analysis for leaner manufacturing. Int J Product Res 48 (9):2745–2764. https://doi.org/10.1080/00207540903156517

Cao W, Jiang P, Lu P, Liu B, Jiang K (2017) Real-time data-driven monitoring in job-shop floor based on radio frequency identification. Int J Adv Manuf Technol 92(5–8):2099–2120. https://doi.org/10.1007/s00170-017-0248-7

Gilmore M, Smith D (1990) Setup reduction in pharmaceutical manufacturing: an action research study. Int J Product Res 16(3):4–17

Grewal CS, Sareen KK (2006) Development of a model for lean implementation: a case study automobile industry. Industr Eng J 5:24–7

Holweg M (2006) The genealogy of lean production. J Oper Manag 25:420–437

Johansen P, McGuire KJ (1986) A lesson in SMED with Shigeo Shingo. Industr Eng 18:26–33

Kasul RA, Motwani JG (1997) Successful implementation of TPS in a manufacturing setting: a case study. Industr Manag Data Syst 97:274–279

Ketchum L, Trist E (1992) All teams are not created equal: how employee empowerment works. Sage Publications, London

Kim DH (1993) The link between individual and organizational learning. MIT Sloan Manag Rev 35:37–50

Kiran MB (2021) conference on advances in thermal-fluids engineering, (ATFE 2021), held at Pandit Deendayal energy University, 25–26 March, 2021, ISBN: 978-93-5457-145-9

Krafcik JF (1988) Triumph of the lean production system. MIT Sloan Manag Rev 30(1):41

Kumar M, VaishyaR, Parag P (2018) Real-time monitoring system to lean manufacturing. Procedia Manuf 20:135–140

Liker JK (1997) Becoming lean: Inside stories of US manufacturers. Productivity Press, Portland, OR

Lu S, Yue H (2011) Real-time data-driven visual simulation of process manufacturing: a case study. Proceedings of the 2011 Chinese control and decision conference, CCDC 2011, pp. 1806–1809. https://doi.org/10.1109/ccdc.2011.5968491

Mao J, Xing H, Zhang X (2018) Design of intelligent warehouse management system. Wirel Personal Commun 102(2):1355–1367

Mao J, Xing H, Zhang X (2018) Design of intelligent warehouse management system. Wirel Personal Commun 102 (2):1355–1367. https://doi.org/10.1007/s11277-017-5199-7

Mayr A, Weigelt M, Kuhl A, Grimm S, Erll A, Potzel M, Franke J (2018) Lean 4.0—a conceptual conjunction of lean management and industry 4.0. 51st CIRP conference on manufacturing systems, Procedia CIRP 72: 622–628

Müller R, Vette-Steinkamp M, Hörauf L, Speicher C, Burkhard D (2018) Development of an intelligent material shuttle to digitize and connect production areas with the production process planning department. Procedia CIRP 72:967–972

Nepal BP, Yadav OP, Solanki R (2011) Improving the NPD process by applying lean principles: a case study. Eng Manag J 23(1):52–68

Noaker P (1991) Pressed to reduce setup? Manuf Eng 107:45–49

Ohno T (1988) Toyota production system: beyond large-scale production. CRC Press, Portland, OR

Panwar A, Nepal BP, Jain R, Rathore APS (2015) On the adoption of lean manufacturing principles in process industries. Product Plann Control 26(7):564–587

Sanders A, Subramanian KRK, Redlich T, Wulfsberg JP (2017) Industry 4.0 and lean management—synergy or contradiction? In: Lödding H, Riedel R, Thoben KD, von Cieminski G, Kiritsis D (eds) Advances in production management systems. the path to intelligent, collaborative and sustainable manufacturing. APMS 2017. IFIP Advances in Information and Communication Technology, 514, pp. 341–349. https://doi.org/10.1007/978-3-319-66926-7_39

Shingo S (1985) A revolution in manufacturing: the SMED system. Productivity Press, Cambridge, MA

Singh B, Garg SK, Sharma SK (2010) Scope for lean implementation: a survey of 127 Indian industries. Int J Rapid Manuf 1(3):323–333

Sobek DK, Liker JK (1998) Another look at how Toyota integrates product development. Harvard Bus Rev 76(4):36–47

Spear S, Bowen HK (1999) Decoding the DNA of the toyota production system. Harvard Bus Rev 77:96–108

Stone KB (2012) Lean transformation: Organizational performance factors that influence firms' leanness. J Enterprise Transf 2(4):229–249

Tao F, Cheng J, Cheng Y, Gu S, Zheng T, Yang H (2017) SDMSim: a manufacturing service supply-demand matching simulator under cloud environment. Robot Comput Integr Manuf 45:34–46

Trist E (1981) The evolution of sociotechnical systems as a conceptual framework and as an action research program. In: Van de Ven AH, Joyce WF (eds), Perspectives on organization design and behavior (pp 19–75). John Wiley, New York, NY

Wagner T, Herrmann C, Thiede S (2017) Industry 4.0 impacts on lean production systems. Procedia CIRP 63:125–131

Womack JP, Jones DT (2010) Lean thinking: Banish waste and create wealth in your corporation. Simon and Schuster, New York

Womack JP, Jones DT, Roos D (1990) The machine that changed the world. Simon and Schuster, New York

Zhong RY, Lan S, Xu C, Dai Q, Huang GQ (2015) Visualization of RFID-enabled Shopfloor logistics big data in cloud manufacturing. Int J Adv Manuf Technol 84 (1–4):5–16. https://doi.org/10.1007/s00170-015-7702-1
Acknowledgments

The author would like to express his sincere thanks to the management of Pandit Deendayal Energy University, for providing the necessary infrastructure and timely support.
Copyright information

© 2022 The Author(s), under exclusive license to Springer Nature Singapore Pte Ltd.
About this paper
Cite this paper
Kiran, M.B. (2022). Classical Lean Manufacturing Philosophy–A Review. In: Parwani, A.K., Ramkumar, P., Abhishek, K., Yadav, S.K. (eds) Recent Advances in Mechanical Infrastructure . Lecture Notes in Intelligent Transportation and Infrastructure. Springer, Singapore. https://doi.org/10.1007/978-981-16-7660-4_36
DOI: https://doi.org/10.1007/978-981-16-7660-4_36

Published:

Publisher Name: Springer, Singapore

Print ISBN: 978-981-16-7659-8

Online ISBN: 978-981-16-7660-4

eBook Packages: EngineeringEngineering (R0)