Abstract

Global warming and climatic changes have an enormous impact all over the world. Kerala has witnessed disasters such as tsunamis, flash floods, landslides, rising temperatures, multi-intensity rainfalls, and heavy downpours in the past few decades. Recurring floods in the past three consecutive years added to the catastrophes amidst the rapid urbanization experienced across the state. This crisis necessitated the government to respond with immediate mass housing solutions for the affected population. However, general methods were not possible in Kerala, across different flood-prone regions with diverse challenges. The traditional approaches cause delays and involve financial losses in the process, also causing challenges in directing funds on behalf of the beneficiaries. Consequently, the Kerala government initiated a novel approach, the CARe-Kerala, CARe-Home housing scheme, which completed 2000 houses by July 2020 (Praveen in The Hindu, Thiruvananthapuram, 2020 [1]), across Kerala's flood-prone regions and is continuing at present. CARe-Kerala housing projects, handled by Author2 and his team, experimented with alternative solutions that can be successfully implemented in specific geographic areas. This paper critically reviews these CARe-Kerala housing projects, which provided disaster-resilient rehabilitation housing solutions during the 2018 Kerala floods. After evaluating the review variables of the assessment criteria relevant to the projects based on its crucial factors and outcomes, the critical review utilizes these factors and the potential success criteria variables to understand various key aspects of the CARe-Kerala housing projects. In essence, this research is an elucidative assessment with a critical examination of the prominent features of CARe-Kerala housing projects.
Keywords
Disaster resilience

Alternative solutions

Amphibian houses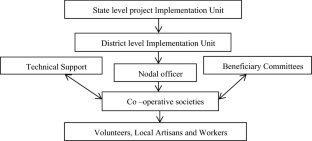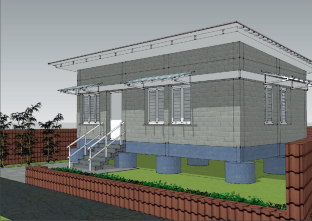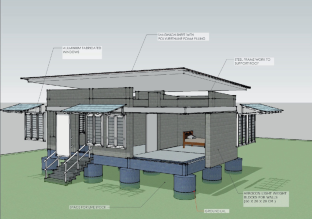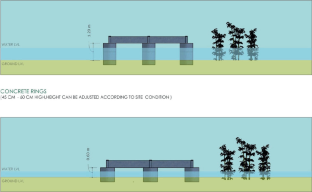 References
Praveen SR (2020) 2000 houses built under Care Home in Kerala, The Hindu, Thiruvananthapuram, 21 June 2020

Climate change, World Health Organization. https://www.who.int/westernpacific/health-topics/climate-change. Accessed 21 Dec 2020

Kerala State Disaster Management Plan, Kerala State Disaster Management Authority Department of Revenue and Disaster Management Government of Kerala, 2016. (Online). Available: https://sdma.kerala.gov.in/wp-content/uploads/2018/11/Kerala%20State%20Disaster%20Management%20Plan%202016.pdf

Initiative RK. Rebuild Kerala Development Programme, A resilient recovery policy framework and action plan for shaping Kerala's Resilient, risk-informed development and recovery from 2018 floods. (Online). Available: https://rebuild.kerala.gov.in/reports/RKDP_Master%2021May2019.pdf

Study Report, Kerala Floods of August 2018, Government of India Central Water Commission Hydrological Studies Organisation Hydrology (S) Directorate, 2018. (Online). Available: https://reliefweb.int/sites/reliefweb.int/files/resources/Rev-0.pdf

Report of the Western Ghats Ecology Expert Panel Part I, Submitted to The Ministry of Environment and Forests, Government of India, Aug 2011. (Online). Available: https://www.cppr.in/wp-content/uploads/2013/03/Gadgil-report.pdf

Kerala topographic map, elevation, relief. topographic-map.com. https://en-gb.topographic-map.com/maps/lpvo/Kerala/. Accessed 25 Dec 2020

Assistance to CARe KERALA (New Scheme)—Department of Cooperation, Government of Kerala. https://cooperation.kerala.gov.in/2019/05/24/assistance-to-care-keralanew-scheme-2/. Accessed 17 Dec 2020

Sreelu NS. Evaluation report on CARe-Home Project, Aluva, Evaluation Report. (Online). Available: https://cooperation.kerala.gov.in/wp-content/uploads/2020/07/Evaluation-Report-on-CARe-Home-Project-16.03.2020.pdf

Milligan V and Australian Housing and Urban Research Institute, Approaches to evaluation of affordable housing initiatives in Australia: National Research Venture 3 : housing affordability for lower income Australians. Melbourne: Australian Housing and Urban Research Institute 2007

Makachia Leuven PA (1995) Starter Unit concept, a case study analysis of national Housing Corporation of Kenya low income housing projects. A Dissertation presented in part fulfilment of the requirements for the Master of Architecture in Human Settlements Degree

Mohammed IY (2015) Evaluation of critical success criteria for public housing projects in Nigeria. J Environ Sci Resour Manage 7(2)

CareHome, Construction of houses—guidelines. Department of Co-Operation Office of the Registrar of Co-operative Societies Jawahar Sahakarana Bhavan DPI Junction, Thycaud P.O Thiruvananthapuram -695014 Kerala, India, 12 December, 2018. (Online). Available: https://drive.google.com/file/d/1INMzpX4YIlLBaA08aqznwaqXF6lm_mOP/view?usp=embed_facebook. Accessed: 24 Dec 2020

Kerala: 31 families get new houses under Care Home project, Times of India, 27 February, 2019
Copyright information

© 2022 The Author(s), under exclusive license to Springer Nature Singapore Pte Ltd.
About this paper
Cite this paper
Vinod, A., Kini, M.K. (2022). Disaster Resilience and Rehabilitation in Kerala: A Critical Review of CARe-Kerala's Housing Scheme. In: Ghosh, C., Kolathayar, S. (eds) A System Engineering Approach to Disaster Resilience. Lecture Notes in Civil Engineering, vol 205. Springer, Singapore. https://doi.org/10.1007/978-981-16-7397-9_20
DOI: https://doi.org/10.1007/978-981-16-7397-9_20

Published:

Publisher Name: Springer, Singapore

Print ISBN: 978-981-16-7396-2

Online ISBN: 978-981-16-7397-9

eBook Packages: EngineeringEngineering (R0)