Abstract

A direct forced convective solar tunnel greenhouse dryer was designed, manufactured, and commissioned at Nashik, India for food processing. In this manuscript, drying kinetics of tomato was investigated firstly by thin-layer mathematical (semi-theoretical, theoretical, and empirical) models followed by thermal modeling for estimating convection heat and mass transfer coefficient. All models are validated with root mean square error (RMSE) and coefficient of determination (R2) through regression analysis. Based on the curves, Wangh and Singh model (R2 = 0.9958; RMSE = 0.0116) was chosen as the finest model to illuminate the drying kinetics. Experimental data was used to ascertain the values of constants C and n by means of linear regression and consequently, values of convection heat (2.17–13.51 W/m2K) and mass transfer (94-854 W/m2K) coefficients were anticipated. Result showed that the technology can be straightforwardly adopted for commercial use by the farming venture for small- and medium-scale farmers in India. Thin-layer mathematical drying models along with thermal modeling plays a significant role in perfect design and enhancement of the dryer. The dryer has been tested for different commodities and found exceptional for mass fabrication, superb transportability, effortless tracking, and easy assembling at site makes it a Do It Yourself (DIY) kit.
Keywords
Greenhouse drying

Thin-layer modeling

Thermal modeling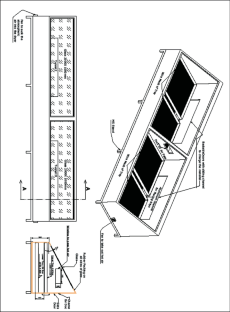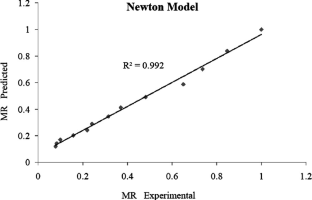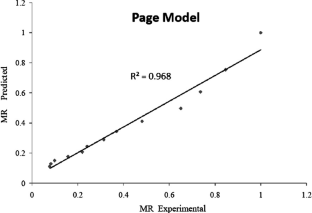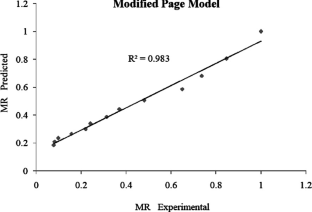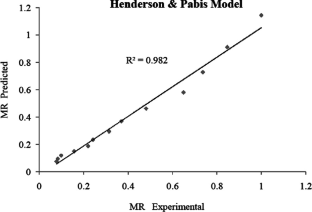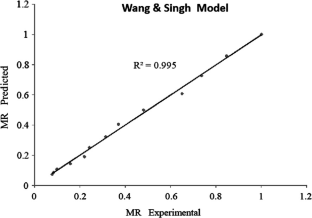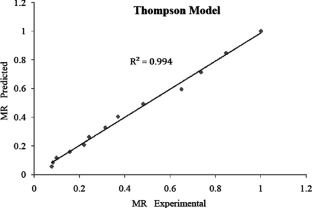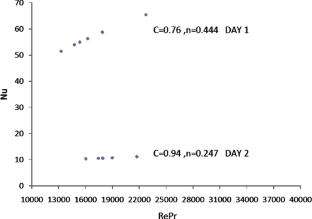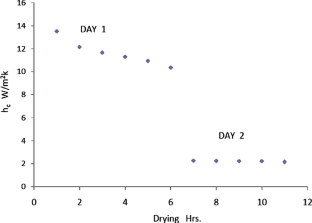 References
R. Patil, R. Gawande, Comparative analysis of cabinet solar dryer in natural and forced convection mode for tomatoes. Int. J. Res. Sci. Innov. 3(7), 49–52 (2016)

R. Patil, R. Gawande, A review on solar tunnel greenhouse drying system. Int. J. Renew. Sustain. Energy Rev. 56, 196–214 (2016)

E. Akpinar, Determination of suitable thin layer drying curve model for some vegetables and fruits. J. Food Eng. 73, 75–84 (2006)

R. Patil, R. Gawande, Mathematical modeling of solar drying system in solar drying technology-concept, design, testing, modeling, economics, and environment, by ed. O. Prakash, A. Kumar, Eds. (Springer Nature, Singapore, 2017), pp. 265–316

R. Patil, R. Gawande, Drying characteristics of Amla candy in solar tunnel greenhouse dryer. Int. J. Food Process Eng. 41(6), 1–11 (2018)

O. Badaoui, S. Hanini, A. Djebli, B. Haddad, A. Benhamou, Experimental and modeling study of tomato pomace waste drying in a new solar greenhouse: evaluation of new drying models. J Renew. Energy 133, 144–155 (2019)

D. Ahmed, H. Salah, B. Ouassila, H. Brahim, B. Amina, Modeling and comparative analysis of solar drying behavior of potatoes. J Renew. Energy 145, 1494–1506 (2020)

M. Kumar, O. Prakash, K. Kasana, Experimental investigation on natural convective heating of milk. J. Food Process Eng. 35(5), 715–726 (2012)

M. Kumar, Effect of size on the convective heat and mass transfer coefficients during natural convection greenhouse drying of khoa-a heat desiccated milk product. Int. J. Renew. Energy Biofuels 2014, 1–11 (2014)
Copyright information

© 2022 The Author(s), under exclusive license to Springer Nature Singapore Pte Ltd.
About this paper
Cite this paper
Patil, R.C., Kulkarni, Y.S. (2022). Mathematical and Thermal Modeling for Solar Drying of Tomato Slices. In: Kolhe, M.L., Jaju, S.B., Diagavane, P.M. (eds) Smart Technologies for Energy, Environment and Sustainable Development, Vol 2. ICSTEESD 2020. Springer Proceedings in Energy. Springer, Singapore. https://doi.org/10.1007/978-981-16-6879-1_47
DOI: https://doi.org/10.1007/978-981-16-6879-1_47

Published:

Publisher Name: Springer, Singapore

Print ISBN: 978-981-16-6878-4

Online ISBN: 978-981-16-6879-1

eBook Packages: EnergyEnergy (R0)