Abstract

In this chapter, I will introduce the Japanese animation market and its development process, which will be the subject of analysis in this study, based on the prior literature with some additions made through interviews. In particular, I qualitatively summarize the characteristics and diffusion status of information technology that has emerged in recent years. In addition, I will show cases where new technologies have not been introduced to organizations and raise some of the factors that make hybrid product development difficult.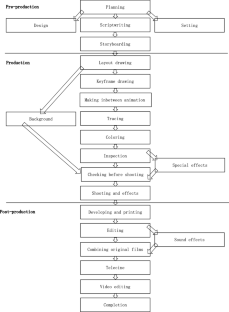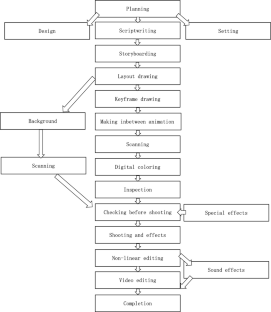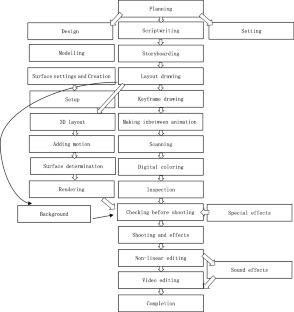 Notes
1.

Shoot the picture as it is drawn on the paper.

2.

Place the cutout character on top of the background picture and shoot.

3.

This is a method of shooting the shadow of a subject.

4.

The clay is transformed, processed, and colored frame wise while being shot.

5.

Although "Sazae-san" was the only Japanese TV animation to be produced using celluloid images, the production using celluloid pictures was terminated in September 2013.

6.

Yamaguchi (2004) and Tsugata (2005) describe the year as 1832 and 1833, respectively.

7.

This is the general view introduced by Tsugata (2005), and Yamaguchi (2004) describes Reynaud as a pre-history of film, saying that he was one step short of inventing film and was disappointed by later film inventions.

8.

Barre and his colleagues have devised the "Slush System," in which the torso and other parts of the body are drawn in a stationary cell, and the arms and legs are moved in another cell.

9.

A method of inputting audio information into the film itself to synchronize video and audio.

10.

In order to synchronize video and audio, records are played simultaneously with the video, but it was difficult to synchronize the sound exactly with the video.

11.

At that time, gags were a very important element in American animated films, and storytelling was neglected. Walt considered gags to be an element that enhanced the story, and this opened up a new field of animation.

12.

The production of Snow White cost $1.5 million, which annoyed Roy Disney, who was in charge of finance.

13.

However, it should be noted that in "Snow White," he pursued live-action-like movements. In Snow White, Max Fleischer's "rotoscope" technique was used to produce animation by tracing a live-action film. However, Fleischer himself became frustrated in his pursuit of realism and stopped using the "rotoscope" technique.

14.

According to Yamaguchi (2004), not all of the films were made by Cohl, and the works of John Randolph Bray from the United States were also released as part of the "Dekobo Shingacho" series of films. In addition, even Japanese works were sometimes given the name "Dekobo Shingacho," and it was not an exaggeration to say that the name was synonymous with animation films.

15.

However, according to Tsugata (2007), the first major foreign animated film to be released was Cohl's "Le mobilier fidèle" (1911), and "Les Exploits de Feu Follet" was released in 1912. In any case, there is no doubt that all film works were imported from abroad at that time, and it is safe to say that seeing these films stimulated the desire of Japanese artists to produce animations.

16.

At the time, the term "animation film" did not even exist, and the term "line drawing (senga) film" was used, but as the term "manga" used by KITAZAWA Rakuten became popular, the term "manga film" gradually came to be used. Later, "moving image (douga) films," first used by MASAOKA Kenzo, would become widespread. The term "animation" was also used in the 1970s, but it is only in recent years that it has come to be used as a general term in place of "moving images."

17.

According to the views of Watanabe and Yamaguchi (1977) and Yamaguchi (2004). However, Tsugata (2005) states that both techniques were used. As the work itself does not exist, it is not known exactly what technique was used to create the "Imokawa Mukuzo Genkanban no Maki" (IMOKAWA Mukuzo: The Episode of a Doorkeeper). The date of its release is also not strictly known.

18.

Watanabe and Yamaguchi (1977) and Tsugata (2005) state that Kitayama brought the idea to Nikkatsu, but Yamaguchi (2004) states that Nikkatsu set up a manga department and asked Kitayama to produce the animation.

19.

When it was first established, the production technology of drawing the background and characters together on paper was used, but it was later replaced by cutout animation.

20.

According to Yamaguchi (2004), Kouchi published a work titled "Hyoroku Bushashugyo" in 1920. According to Yamaguchi (2004), Kouchi published a work titled "Hyoroku Musha Shugyo" in 1920, a work whose year is unknown in Watanabe and Yamaguchi (1977).

21.

In terms of the release of film-based talkie animation, KATO Teizo, a disciple of Kouchi, produced "Oatari sora no entaku" using PCL talkie (talkies using film from the Photochemical Laboratory).

22.

About a hundred feet of celluloid was needed for the entire process, costing the producer two to three hundred JPY (about 400,000–500,000 JPY in current value) per piece. For this reason, producers even washed off the picture after shooting it once and continued again.

23.

There are, of course, other technologies that became widespread after the WWII, such as the aforementioned animation cel materials and the tracing machines described below, but these will not be discussed in this study.

24.

This method enables risk diversification by having multiple participating companies invest in the project. The participating companies usually contribute to the production of the film utilizing their respective fields of expertise.

25.

This is called the in-between (nakawari). In actual production, the animation drawing process may do the cleanup of keyframes, or conversely, the keyframes may do part of the animation drawing process. In some cases, keyframe-drawing process is divided into first keyframe drawing process and second keyframe drawing process where cleanup is conducted.

26.

This is a machine that transfers outlines of animation to cels using carbon paper, which began to be used in the 1960s.

27.

It is important to note that inspections are done not only in this process. Specifically, the background is checked by the art director, while layouts, keyframes, and drawings are checked by the animation director or the person in charge of direction.

28.

This is a machine that optically synthesizes films, which began to be used in the 1960s but ceased to be used in the mid-1990s, after special effects processed digitally began to be used in the 1980s.

29.

In this book, the word "effects" means special effects in the shooting process, in contrast to special effects in the finishing process.

30.

"Sound negative" is a colorless transparent film used for re-recording. It is also called a sound negative film.

31.

While images produced with films (such as movies and animation) are moving images at 24 frames per second, television and video images are at 30 frames per second. Therefore, when they broadcast animation on television, the number of frames must be converted from 24 to 30. The conversion process is called telecine conversion.

32.

A drawing meeting called "sakuuchi."

33.

The director is in charge of directing the images of each episode, acting as a director for each episode. In some cases, the main director does this, but in most cases, there is a dedicated director for each episode. The main director's directorial intentions are discussed in a meeting called "en-uchi" between the main director and the episode directors.

34.

Layout persons, who are exclusively engaged in layouts, are sometimes used.

35.

The frequency of checks by the main director varies from case to case.

36.

However, at PARC, black-and-white graphic research was the norm, and Shoup was a heretic. It was not easy to hire Smith, and he had to work around the company's internal system of treating him as equipment for accounting purposes.

37.

The process of digitally combining multiple images.

38.

This case study is a summary based on Yamaguchi (2004), with additions as needed.

39.

Many companies were in a difficult financial situation, and in 1973, Mushi Production, which produced Japan's first full-scale TV animation series "Astro Boy," went bankrupt.

40.

In the 1960s, efforts to digitize animation were being made at the university level in Japan and the United States.

41.

This method of representing an object as only a line by moving the electron beam of a CRT or a pen plotter was often used in the days when the amount of data required was small and computer memory was expensive.

42.

43.

"Star Trek 2," which was released a month before the release of "Tron," was highly praised for its CG effects in its scenes.

44.

Yamaguchi (2004) notes that digital drawing became feasible in 2002 with the introduction of CELSYS' STYLOS, which will be discussed later.

45.

The layout system is a method of creating animation based on a blueprint called layout, which is one process in Japanese animation production.

46.

In general, younger people are more likely to accept digital drawing than older people who are skilled in analog drawing.

47.

The description of "STYLOS HD" is based on the Animation Human Resources and Education Program Production Committee (2008).

48.

The Animation Human Resource Development and Education Program Production Committee (2008) summarizes that the vector format expresses images by combining "points" and the straight or curved lines that connect them, and that it is suitable for geometric shapes and simple forms, but not for expressing images composed of countless numbers of colors, such as photographs and watercolor paintings.

49.

The Animation Human Resource Development and Education Program Production Committee (2008) summarizes that the raster format is widely used because it has a structure similar to pixels arranged in an orderly grid and is easy to process, but it has a weakness in that image quality deteriorates when enlarged.

50.

A process to remove smudges on the screen caused by scanning.

51.

It should be noted that there is an ongoing process of hardware and software improvement.

52.

This case study of Toei Animation is based on the Digital Technology Study Group of the Motion Picture Association of Japan (2005), with additions as necessary.

53.

Oizumi Studio does not do digital drawing of moving images, it is for keyframes.

54.

Exchanging data over the Internet can also reduce the number of accidents during data collection and delivery.

55.

As of the start of 2000, it is connected to 21 corporate and individual transactions and TAPs.

56.

See Tokyo University of Technology (2006).

57.

It is said that the world's first Stereopsis (3D) film was made by the Lumière brothers, but this section based on Oguchi (2012).

58.

In an analog animation, a skill to apply the same color evenly was required. However, with digital coloring, the color is applied evenly to the specified area in an instant.

59.

It is necessary to use the same color paints to create the same animation, but that in itself is difficult. Additionally, there were physical limitations in analog animation in terms of color variations and their characteristics.

60.

In many cases, the person who is in charge of the finishing process is also in charge of the effects.

61.

The Animation Human Resource Development and Education Program Production Committee (2008) gives the shooting process the role of "using actual color correction and effects to check the images when it comes to shooting." It can be considered as the process that brings together special effects and effects.

62.

In the Japanese animation industry, software such as Adobe's "After Effects" and CELSYS' "Core RETAS" are used.

63.

Some say that in the early days of 3DCG, people were happy with the fact that it contained 3DCG, but nowadays, even higher quality is required. However, there are also examples of 3DCG being used for works for kids with saving cost and keeping the quality at a given level.

64.

It is sometimes called rig or rigging.

65.

In addition to keyframe input, physics calculations are sometimes used to create realistic motion of particles or objects (especially in large quantities) used for representing natural phenomena that are difficult to keyframe, such as smoke or explosions. It is sometimes called animation.

66.

Cel shading is a technique used to express hand-drawn textures in 3DCG. Cel shading gives a distinct shading effect, similar to hand-drawn coloring. It is also called "toon shading."
Copyright information

© 2022 The Author(s), under exclusive license to Springer Nature Singapore Pte Ltd.
About this chapter
Cite this chapter
Ichikohji, T. (2022). History of Japanese Animation Industry and New Technology. In: A Development Strategy for Hybrid Products. Springer, Singapore. https://doi.org/10.1007/978-981-16-4353-8_3