Abstract
Red Apples–Green Apples is a dance/visual arts project, which was started by an intercultural group of artists, teachers and researchers with10 –11-year-old children living in Cape Town and Copenhagen in 2017. The project has since focused on the school class in Cape Town with biannual project weeks ending in 2020. The activities of the project have contributed to illuminating how arts education can promote the culture–nature dimension of the UN Sustainable Development Goals, and from a more philosophical viewpoint what children can learn through artistic–educational collaborations about themselves, others and their surroundings. In this article, examples drawn from videographic material and children's experiences expressed in multi-modal formats are discussed in relation to SDG no. 4 focusing on quality education and the implementation of the new EU strategic approach to international cultural relations.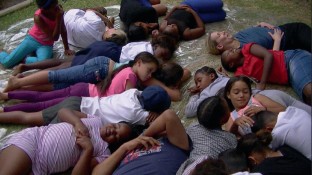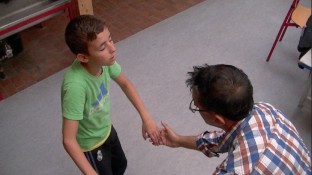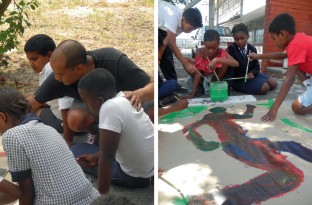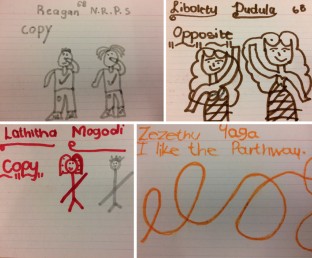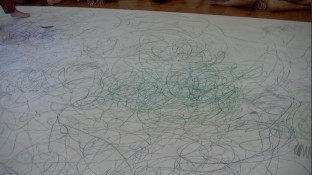 Notes
1.

An extensive account of the development of the concept of microtopia in the field of arts and its origin in the idea of utopia as"ideal society" based on political philosophy can be found in Blanes et al. (2016).

2.

The Red Apples-Green Apples project started in 2017 was initiated as part of the network entitled Knowledge Production, Archives and Artistic Research led by Associate Professor, Dr. Karen Vedel, the Department of Arts and Cultural Studies, University of Copenhagen with funding from the International Network Program, The Danish Agency for Science and Higher Education (grant no. 5132-00138B). The project also had funding from the Danish Agency for Culture and Palaces and the Municipality of Copenhagen's Open School funds. Moreover, the project was made possible by contributions in the form of in-kind working hours and materials from the Peter Clarke Art Centre in Cape Town and the Universities of Cape Town and Copenhagen.

3.

CICLO was led by the Danish Cultural Institute (DCI) in cooperation with Danish key organisations in arts education and counterparts abroad, including the Peter Clarke Arts Centre in Cape Town (PCAC). DCI and PCAC and local schools in Copenhagen and Cape Town continued in the 2017 Red Apples–Green Apples project.

4.

Partners in the project were dance artist and landscape architect Peter Vadim (Denmark), dance artists Anu Rajala-Erkut (Finland/ Denmark), Erica Maré and Jamie-Lee Jansen (South Africa), Lisa Wilson (Jamaica/South Africa), a dance artist and Senior Lecturer at the University of Cape Town (UCT), and Gerard M. Samuel (South Africa), a former professional ballet dancer and currently Associate Professor and Head of the Dance Section at UCT. The team also comprised Associate Professor Karen Vedel (Denmark) of the Department of Arts and Cultural Studies, University of Copenhagen, Associate Professor Charlotte Svendler Nielsen (Denmark), from the same Danish institution, but its Department of Nutrition, Exercise and Sport Sciences, Fabian Hartzenberg (South Africa), design specialist and arts educator at the Peter Clarke Art Centre (PCAC), and Liesl Hartman (South Africa), visual artist, educator and at the time of the project Principal of PCAC.

5.

In advance of the first project weeks informed consent had been obtained from parents/guardians through a letter informing them about the purpose of the project, how it would be carried out, their right to get insight to material involving their own child, and to withdraw their consent at any moment until publication of articles about the project. Once we came to the schools we also informed the children about the purpose of the project and said to them that they could tell us if they did not want to be part of interviews or film. With the group in Cape Town we have renewed the informed consent every year and always talk to the children about the purpose of what we will be doing.

6.

7.

SDG 4 reads: "By 2030, ensure that all learners acquire the knowledge and skills needed to promote sustainable development, including, among others, through education for sustainable development and sustainable lifestyles, human rights, gender equality, promotion of a culture of peace and non-violence, global citizenship and appreciation of cultural diversity and of culture's contribution to sustainable development" (https://sustainabledevelopment.un.org/sdg4).
References
Adams, W. W. (1999). The interpermeation of self and world: Empirical research, existential phenomenology, and transpersonal psychology. Journal of Phenomenological Psychology, 30(2): 39–67. https://doi.org/10.1163/156916299X00093

Altrichter, H., Feldman, A., Posch, P., & Somekh, B. (2008). Teachers investigate their work. An introduction to action research across professions (2nd ed.). Routledge.

Barone, T., & Eisner, E. (2006). Arts-based educational research. In J. L. Green, G. Camilli, & P. B. Elmore (Eds.), Handbook of complementary methods in education research (pp. 95–109). Lawrence Erlbaum Associates Publishers.

Blanes, R., Flynn, A., Maskens, M., & Tinius, J. (2016). Micro-utopias: Anthropological perspectives on art, relationality, and creativity. Cadernos De Arte e Antropologia, 5(1), 5–20. https://doi.org/10.4000/cadernosaa.1017

Bourriaud, N. (2002). Relational aesthetics. Trans. Simon Pleasance and Fronza Woods. Dijon: Les Presses du Réel.

Council of the European Union. (2019). Council conclusions on an EU strategic approach to international cultural relations and a framework for action (2019/C 192/04). Official Journal of the European Union, 62, 7. Accessed 12 May 2020 https://eur-lex.europa.eu/legal-content/EN/TXT/?uri=uriserv:OJ.C_.2019.192.01.0006.01.ENG&toc=OJ:C:2019:192:FULL

Gadsden, V. L. (2008). The arts and education: Knowledge generation, pedagogy and the discourse of learning. Review of Research in Education, 32, 29–61.

Kjær Wehner, S. (2015). Kunst, kultur og bæredygtighed: Undervisningsmateriale CICLO 2015 [Art, culture and sustainability: Teaching material CICLO 2015]. Copenhagen: Danish Cultural Institute. Accessed 2 May 2020 https://materialeplatform.emu.dk/materialer/bogkort/89252973

Lewin, K. (1946). Action research and minority problems. Journal of Social Issues, 2(4), 34–46. https://doi.org/10.1111/j.1540-4560.1946.tb02295.x

Merleau-Ponty, M. (1962). Phenomenology of perception. Trans. Colin Smith. Routledge.

Svendler Nielsen, C. (2012). Looking for children's experiences in movement: The role of the body in 'videographic participation'. FQS Forum: Qualitative Social Research, 13(3), 18. https://doi.org/10.17169/fqs-13.3.1571

Todres, L. (2007). Embodied enquiry. Phenomenological touchstones for research, psychotherapy and spirituality. Palgrave Macmillan.

UNESCO. (2010). Seoul Agenda: Goals for the development of arts education. Accessed 2 May 2020 http://www.unesco.org/new/fileadmin/MULTIMEDIA/HQ/CLT/CLT/pdf/Seoul_Agenda_EN.pdf

United Nations. (2015). United Nations sustainable development goals knowledge platform. Accessed 12 May 2020 https://sustainabledevelopment.un.org

Van Manen, M. (1990). Researching lived experience: Human science for an action sensitive pedagogy. State University of New York Press.

Van Manen, M. (2002). The tone of teaching. The Althouse.

Vestereinen, O., Toom, A., & Patrikainen, S. (2010). The stimulated recall method and ICTs in research on the reasoning of teachers. International Journal of Research and Method, 33(2), 183–197. https://doi.org/10.1080/1743727X.2010.484605

Zernitz, Z., & Wervers, E. (2018). Vakintegratie: Maak van je onderwijs een smakelijke smoothie (Subject integration: Turn education into a tasteful smoothie). Dutch National Center of Expertise for Cultural Education and Amateur Arts (LKCA). Accessed 2 May 2020 www.lkca.nl/artikelen/maak-van-je-onderwijs-een-smakelijke-smoothie
Copyright information
© 2021 The Author(s), under exclusive license to Springer Nature Singapore Pte Ltd.
About this chapter
Cite this chapter
Svendler Nielsen, C., Samuel, G.M., Vadim, P., Hartman, L., Hartzenberg, F., Gerlach-Hansen, O. (2021). A Microtopia of Arts Education: International Sustainable Development Policy Brought to Life in an Educational Project Involving Institutions in South Africa and Denmark. In: Wagner, E., Svendler Nielsen, C., Veloso, L., Suominen, A., Pachova, N. (eds) Arts, Sustainability and Education. Yearbook of the European Network of Observatories in the Field of Arts and Cultural Education (ENO). Springer, Singapore. https://doi.org/10.1007/978-981-16-3452-9_9
DOI: https://doi.org/10.1007/978-981-16-3452-9_9

Published:

Publisher Name: Springer, Singapore

Print ISBN: 978-981-16-3451-2

Online ISBN: 978-981-16-3452-9

eBook Packages: EducationEducation (R0)