Abstract

Followed by the recent moderate January 3, 2017, Ambassa earthquake (Mw = 5.7) epicenter located at Dhalai district of Tripura, the state witnessed cases of ground failures due to liquefaction, landslides, and several cases of partial and complete damage of non-engineered/semi-engineered houses/buildings within the near vicinity of epicentral areas. Reconnaissanse study of failures prompted to carry out local site response analysis of important urban agglomeration in order to estimate the seismic hazard for a future event. Above all, Tripura is situated in the severely vulnerable zone (zone V) as per seismic zoning map of India. In this context, the present study is aimed to perform one-dimensional ground response analysis (1D GRA) of Agartala town, the capital place of Tripura where significant infrastructural growth is booming up presently due to its salient location in the global map. The geological condition of this area categorized as sedimented 'Bengal basin' with relatively younger alluvium/fluvial river deposits of Holocene age. Site classes D and E of the NEHRP classification are dominant in the area investigated. 1D nonlinear GRA is performed using DEEPSOIL on twenty representative boreholes data. Synthetic ground motion is generated considering past local earthquakes using Boore's point source model (Boore 1983, 2003) and used in this study since reliable ground motion data from potentially damaging past earthquakes are scarce in this region.
Keywords
Site response

Earthquake

Seismic analysis

Ground motion

Geotechnical investigation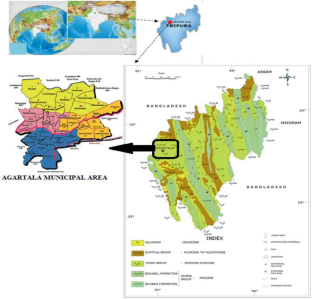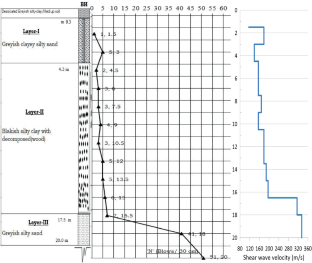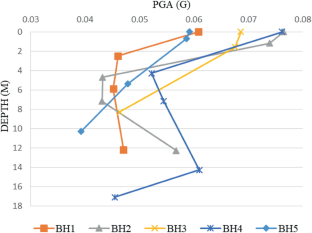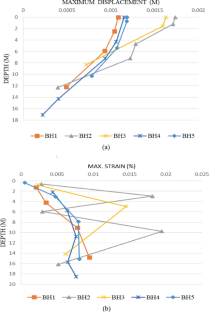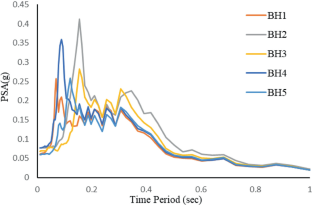 References
Anbazhagan, P., Sitharam, T.: Estimation of ground response parameters and comparison with field measurements. Indian Geotech. J. 39(3) (2009)

Basu, D., Madhulatha, B., Dey, A.: A time-domain nonlinear effective-stress non-Masing approach of ground response analysis of Guwahati city, India. Earthq. Eng. Eng. Vib. 18(1), 61–75 (2017). https://doi.org/10.1007/s11803-019-0490-0

Boore, D.M.: Stochastic simulation of high-frequency ground motions based on seismological models of the radiated spectra. Bull. Seismol. Soc. Am. 73(6A), 1865–1894 (1983)

Boore, D.M.: Simulation of ground motion using the stochastic method. Pure Appl. Geophy. 160(3–4), 635–676 (2003)

Dasgupta, S.: Echoes from Old Calcutta. Kolkata: London: Thacker (1908)

Hashash, Y.M.A., Park, D.: Nonlinear one-dimensional seismic ground motion propagation in the 433 Mississippi embayment. Eng. Geol. 62(1–2), 185–206 (2001)

Hashash, Y.M., Phillips, C., Groholski, D.R.: Recent advances in non-linear site response analysis. Paper Presented at Fifth International Conference on Recent Advances in Geotechnical (2010)

Hashash, Y.M.: DEEPSOIL 7.0. User Manual, p. 1 (2018). www.illinois.edu/~deepsoil

Kayal, J.R.: Seismicity of Northeast India and surroundings – development over the past 100 years. J. Geophy. 19, 9–34 (1998)

Kayal, J.R., Arefiev, S.S., Baruah, S., Hazarika, D., Gogoi, N., Kumar, A., Chowdhury, S.N., Kalita, S.: Shillong Plateau earthquakes in northeast India region: complex tectonic model. Current. Sci. 91, 109–114 (2006)

Kramer, S.: Geotechnical Earthquake Engineering, p. 653. Prentice Hall, New Jersey, NJ (1996)

Matasovic, N., Vucetic, M.: Seismic response of soil deposits composed of fully-saturated clay and sand layers. In: Proceedings 1st International Conference on Geotechnical Earthquake Engineering (1995)

Mukhopadhyay, M., Dasgupta, S.: Deep structure and tectonics of the burmese arc: constraints from earthquake and gravity data. Tectonophysics 149(3-4), 299–322 (1988)

Newmark, M., N.: A method of computation for structural dynamics. J. Eng. Mech. Div. 85(3), (1959). https://doi.org/10.1061/JMCEA3.0000098

Park, Y.M.: Viscous damping formulation and high frequency motion propagation in non-linear site response analysis. Soil Dyn. Earthq. Eng. 22, 611–624 (2002)

Park, D.: Estimation of non-linear seismic site effects for deep deposits of the Mississippi Embayment. Ph.D. Thesis. Department of Civil and Environmental Engineering. Urbana: University of Illinois, p. 311 (2003)

Provisions, N.P.: NEHRP Recommended Provisions for Seismic Regulations for New Buildings and Other Structures (FEMA 450). Building Seismic Safety Council, National Institute of Building Sciences, Washington, p. 338 (2003)

Saha, R., Debnath, R., Dash, S., Haldar, S.: Engineering Reconnaissance Following the Magnitude 5.7 Tripura Earthquake on January 3, 2017. American Society of Civil Engineers (2020). https://doi.org/10.1061/(ASCE)CF.1943-5509.0001446

Sana, H., Nath, S.K., Gujral, K.S.: Site response analysis of the Kashmir valley during the 8 October 2005 Kashmir earthquake (Mw 7.6) using a geotechnical dataset. Bull. Eng. Geol. Environ. 78, 2551–2563 (2018). https://doi.org/10.1007/s10064-018-1254-1

Sil, A., Sitharam, T.: Dynamic site characterization and correlation of shear wave velocity with standard penetration test 'N' values for the city of Agartala, Tripura State, India. Pure Appl. Geophys. (2013). https://doi.org/10.1007/s00024-013-0754-y

Tsai, C.-C., Chen, C.W.: Comparison study of 1D site response analysis methods. Earthq. Spectra 32 (2015)

Vedatri, A., Bashir, K., Saha, R.: Assessment of seismic local hazard of Agartala town based on nonlinear site response analysis. Disaster Adv. 11(1) (2018)
Copyright information

© 2022 The Author(s), under exclusive license to Springer Nature Singapore Pte Ltd.
About this paper
Cite this paper
Das, R., Saha, R., Debnath, R. (2022). Assessment of Local Seismic Hazard of Agartala Based on Nonlinear Site Response Analysis. In: Satyanarayana Reddy, C.N.V., Muthukkumaran, K., Satyam, N., Vaidya, R. (eds) Ground Characterization and Foundations. Lecture Notes in Civil Engineering, vol 167. Springer, Singapore. https://doi.org/10.1007/978-981-16-3383-6_27
DOI: https://doi.org/10.1007/978-981-16-3383-6_27

Published:

Publisher Name: Springer, Singapore

Print ISBN: 978-981-16-3382-9

Online ISBN: 978-981-16-3383-6

eBook Packages: EngineeringEngineering (R0)