Abstract

Currently, in agricultural practice, approaches to growing crops based on the techniques of biologizing agriculture are widely used. The rejection to use synthetic pesticides and the limited use of mineral fertilizers will reduce the negative load on agrocenoses while maintaining crop volumes. Among these alternatives, an environmentally friendly source of increasing commodity production is sapropel. The use of sapropel in agriculture has a long history of possessing good convenient fertilizing properties and content of a large amount of organic substances. The paper presents an experimental assessment of the possibility of using 1.0% ultradisperse humic sapropel suspensions (UDHSS), added to the main working mineral medium, on the indicators of seed germination of plants from different families. The exposure was 7 days. Before planting in vessels, the seeds of all plants were superficially treated with a 5.0% sodium hypochlorite solution for 5 min, and then thoroughly washed with distilled water. The specifics of the significant formation of lateral roots in radish and maize during germination on a medium with UDHSS at an early stage of ontogenesis are noted. An increase in exudation of citric acid in seedlings of all plants was shown when they were treated with HS. In total, the greatest effect from the use of UDHSS was observed in Solanum lycopersicum plants, where the total share of root excretions of organic acids increased 3 times.
Keywords
Sapropel

Raphanus sativus
Linum usitatissimum
Pisum sativum
Solanum lycopersicum
Zea mays

Growth energy

Root exudates

Organic acids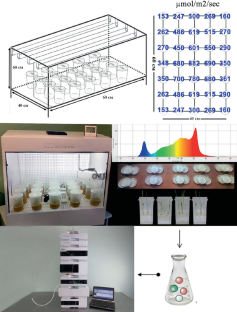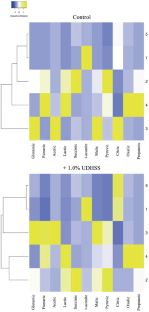 References
Morozov, V.V., Savelyeva, L.N.: Sapropel—A natural resource of organic raw materials for the production of glanders ropele-mineral fertilizers. News Velikiye Luki State Agricult. Acad. 1, 41–45 (2015)

Khuzhakhmetova, GYu., Khabirov, I.K., Khasanov, A.N.: Sapropel as a regulator of the balance of soil organic matter and a source of organic nutrition of plants. News Ufa Sci. Center Russian Acad. Sci. 3, 206–208 (2017)

Semenova, Z.V.: Potential of sapropels in solving food problems. Bull. Irkutsk State Techn. Univ. 8(55), 154–161 (2011)

Mityukov, A.S., Rumyantsev, V.A., Kryukov, L.N., Yaroshevich, G.S.: Sapropel and prospects for its use in the agricultural sector. Soc. Environ. Dev. 2(39), 110–114 (2016)

Shtin, S.M.: Lake sapropels and their integrated development. Moscow, p. 374 (2005).

Braksh, N.A.: Sapropelic deposits and ways of their use. Riga (1971)

Pishchik, V.N., Boytsova, L.V., Vorobeov, N.I.: The effect of humic substances on plants and rhizospheric microorganisms in plant-microbial systems. Agric. Chem. 3, 85–95 (2019)

Nardi, S., Pizzeghello, D., Muscolo, A., Vianello, A.: Physiological effects of humic substances on higher plants. Soil Biol. Biochem. 34, 1527–1536 (2002)

Schmidt, W., Santi, S., Pinton, R., Varanini, Z.: Water extractable humic substances alter root development and epidermal cell pattern in Arabidopsis. Plant Soil 300(1–2), 259–267 (2007)

Trevisan, S., Pizzeghello, D., Ruperti, B., Francioso, O., Sassi, A., Palme, K., Quaggiotti, S., Nardi, S.: Humic substances induce lateral root formation and expression of the early auxin responsive IAA19 gene and DR5 synthetic element in Arabidopsis. Plant Biol. 12, 604–614 (2009)

Trevisan, S., Francioso, O., Quaggiotti, S., Nardi, S.: Humic substances biological activity at the plant-soil interface: from environmental aspects to molecular factors. Plant Signal. Behav. 5(6), 635–643 (2010)

Neill, S.J., Desikan, R., Clarke, A., Hurst, R.D., Hancock, J.T.: Hydrogen peroxide and nitric oxide as signalling molecules in plants. J. Exp. Bot. 53(372), 1237–1247 (2002)

Canellas, L.P., Olivares, F.L.: Physiological responses to humic substances as plant growth promoter. Chem. Biol. Technol. Agricult. 1(3), 1–11 (2014)

Zandonadi, D.B., Santos, M.P., Dobbss, L.B., Olivares, F.L., Canellas, L.P., Binzel, M.L., Okorokova-Facanha, A.L., Facanha, A.R.: Nitric oxide mediates humics -induced root development and plasma membrane H+-ATPase activation. Planta 223, 1025–1036 (2010)

Fedko, I.V., Gostischeva, M.V., Ismatova, R.R.: To the question of the use of biologically active humic substances in medicine. Chem. Plant Raw Mater. 1, 49–52 (2005)

Barakova, N.V., Sharova, N.Y., Juškauskaite, A.R., Mityukov, A.S., Romanov, V.A., Nsengumuremyi, D.: Fungicidal activity of ultradisperse humic sapropel suspensions. Agron. Res. 15, 639–648 (2017)

Kireicheva, L.V., Khokhlova, O.B.: Sapropels: Composition, Properties, Applications. Roma, The Netherlands, pp. 120 (1998)

Sharov, N.Y., Mityukov, A.S., Barakova, N.V., Nsengumuremy, D.: The antimicrobial activity of ultradisperse humino-sapropel suspensions. Sci. J. NRU ITMO. Series "Processes and Equipment for Food Production", vol. 3, pp. 25–31 (2019)

Platonov, V.V., Khadartsev, A.A., Chunosov, S.N., Fridzon, K.Y.: The biological effect of sapropel. Fund. Res. 9(11), 2474–2480 (2014)

Nunes, R.O., Domiciano, G.A., Alves, W.S., Melo, A.C.A., Nogueira, F.C.S., Canellas, L.P., Olivares, F.L. Zingali, R.B., Soares, M.R.: Evaluation of the effects of humic acids on maize root architecture by label-free proteomics analysis. Sci. Rep. 9 (2019)

Sharakshane, A.: An easy estimate of the PFDD for a plant illuminated with white LEDs: 1000 lx = 15 μmol/s/m2. BioRxiv (2018)

Rumyantsev, V.A., Mityukov, A.S., Zagrebin, A.O., Tonkopy, V.D., Kryukov, L.N.: Innovative technology for processing sapropel, unique efficiency and safety of new products. Soc. Environ. Dev. 3, 120–124 (2016)

Khan, A., Khan, M.Z., Hussain, F., Akhtar, M.E., Gurmani, A.R., Khan, S.: Effect of humic acid on the growth, yield, nutrient composition, photosynthetic pigment and total sugar contents of peas (Pisum sativum l). J. Chem. Soc. Pakistan 35(1), 206–211 (2013)

Abdullah, M.S., Sulieman, M.S., Muhanad, A.A.: Effect of addition Humic acid and sprying of Tecamin max on growth and yield of (Pisum sativum L.). In: IOP Conference Series: J. Phys. Conf. Ser. 1294(9) (2019)

Tan, K.H., Nopamornbodi, V.: Effect of different levels of humic acids on nutrient content and growth of corn (Zea mays L.). Plant Soil 51, 283–287 (1979)

Wulandari, P., Sulistyaningsih, E., Handayani, S., Purwanto, B.H.: Growth and yield response of maize (Zea mays L.) on acid soil to different rates of humic acid and NPK fertilizer. Ilmu Pertanian (Agricult. Sci.) 4(2), 76–84 (2019)

Hassan, H.H., Huthily, K.H., Mohsen, K.H.: Effect of humic acid and silicon on some growth characteristics of maize (Zea mays L.). Basrah J. Agricult. Sci. 32(2), 23–32 (2019)s

Rodrigues, L.A., Alves, C.Z., Rego, C.H.Q., Da Silva, T.R.B., Da Silva, J.B.: Humic acid on germination and vigor of corn seeds. Revista Caatinga 30(1), 149–154 (2017)

Daur, I., Bakhashwain, A.A.: Effect of humic acid on growth and quality of maize fodder production. Pak. J. Bot. 45, 21–25 (2013)

Bakry, B.A., Sadak, M., Moamen, H.T., El Lateef, E.M.A.: Influence of humic acid and organic fertilizer on growth, chemical constituents, yield and quality of two flax seed cultivars grown under newly reclaimed sandy soils. Int. J. Acad. Res. 5(5), 125–134 (2013)

Galambos, N., Compant, S., Moretto, M., Sicher, C., Puopolo, G., Wäckers, F., Sessitsch, A., Pertot, I., Perazzolli, M.: Humic acid enhances the growth of tomato promoted by endophytic bacterial strains through the activation of hormone-, growth-, and transcription-related processes. Front. Plant Sci. 11 (2020)

Prakash, P., Alien, M.R.M., Sai, N.R., Masilamani, S.M., Thirugnanasambandam, R., Stanley, A.L.: Effect of humic acid on seed germination of Rophanus sativus L. Int. J. ChemTech Res. 6(9), 4180–4185 (2014)

Senesi, N., Loffredo, E., Padovano, G.: Effects of humic acid-herbicide interactions on the growth of Pisum sativum in nutrient solution. Plant Soil 127, 41–47 (1990)

El-Hak, S.H., Ahmed, A.M., Moustafa, Y.: Effect of foliar application with two antioxidants and humic acid on growth, yield and yield components of peas (Pisum sativum L.). J. Horticult. Sci. Ornament. Plants 4(3), 318–328 (2012)

Mora, V., Baigorri, R., Bacaicoa, E., Zamarreño, A.M., García-Mina, J.M.: The humic-induced changes in the root concentration of nitric oxide, IAA and ethylene do not explain the changes in root architecture caused by humic in cucumber. Environ. Exp. Bot. 76, 24–32 (2012)

Rose, M.T., Patti, A.F., Little, K.R., Brown, A.L., Jackson, W.R., Cavagnaro, T.R.: A meta-analysis and review of plant-growth response to humic substances: practical implications for agriculture. Adv. Agron. 124, 37–89 (2014)

Shaposhnikov, A.I., Puhalsky, J.V., Kravchenko, L.V., Belimov, A.A.: The role of root exudation in trophic interactions of plants with rhizosphere microorganisms. SPb, 104 (2016)

Laktionov, Yu.V., Popova, T.A., Andreev, O.A., Ibatullina, R.P., Kozhemyakov, A.P.: Creating new forms of growth-stimulating microbial preparations and their performance on various cultures. Agricult. Biol. 46(3), 116–118 (2011)

De Melo, R.O., de Oliveira, H.P., Silveira, K.C., Baldotto, L.E.B., Baldotto, M.A.: Initial performance of maize in response to humic acids and plant growth-promoting bacteria. Revista Ceres 65(3), 271–277 (2018)

Yakimenko, O.S., Terekhova, V.A.: Humic preparations and the assessment of their biological activity for certification purposes. Eurasian Soil Sci. 44(11), 1222–1230 (2011)
Acknowledgements

The work was carried out within the framework of the state assignment of the INOZ RAS—St. Petersburg Federal Research Center of the Russian Academy of Sciences on topic No. 0154-2019-0002.
Copyright information

© 2022 The Author(s), under exclusive license to Springer Nature Singapore Pte Ltd.
About this paper
Cite this paper
Loskutov, S., Puhalsky, Y., Mityukov, A., Rybakin, V., Ignatieva, N. (2022). Effects of Ultradisperse Humic Sapropel Suspension on Exudation of Organic Acids in Different Families of Plants. In: Ronzhin, A., Berns, K., Kostyaev, A. (eds) Agriculture Digitalization and Organic Production . Smart Innovation, Systems and Technologies, vol 245. Springer, Singapore. https://doi.org/10.1007/978-981-16-3349-2_17
DOI: https://doi.org/10.1007/978-981-16-3349-2_17

Published:

Publisher Name: Springer, Singapore

Print ISBN: 978-981-16-3348-5

Online ISBN: 978-981-16-3349-2