Abstract

Increasing population, urbanization, and desire for coastal living creates an annual demand for housing units in coastal cities around the world that is not currently being met. The United States alone needs approximately 5 million new apartments by 2030, and the problems of housing availability and affordability are greatest in the coastal cities. These are also some of the most expensive cities in which to build housing due to limited land and constraints on materials and labor. The rate that housing must be produced in coastal cities is challenged with current construction and land use practices. Globally, a few companies are producing floating housing; none appear to be focusing on permanent, large-scale floating housing. Black & Veatch proposes developing floating housing communities constructed using innovative modular approaches to provide affordable and climate resilient housing. Housing construction costs can be significantly reduced compared to traditional, land based, "stick built" construction methods. Housing built in low-cost locations on floating platforms can be moved to urban areas and moored at shore or in open water to provide thousands of new housing units at affordable costs. Although similar solutions have been successfully deployed by others, no one appears to be addressing the affordable housing need at the scale proposed here.
Keywords
Modular

Housing

Coastal

Affordable

Resilient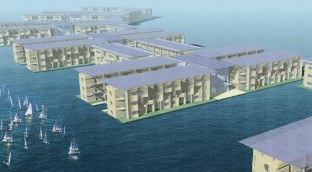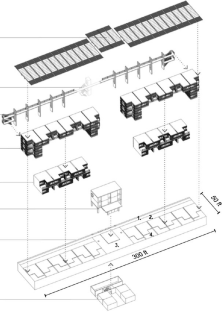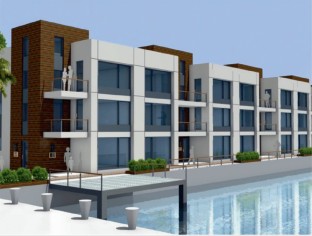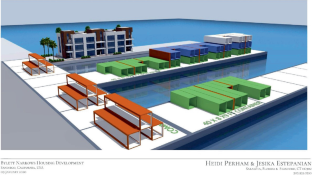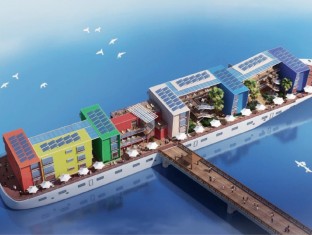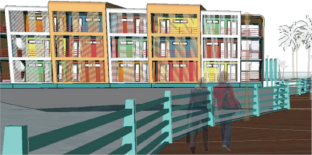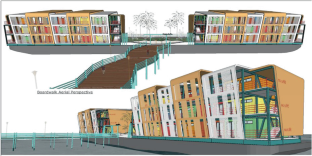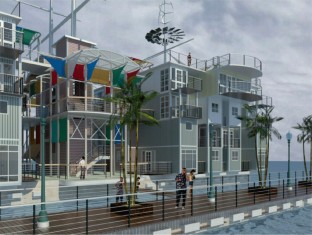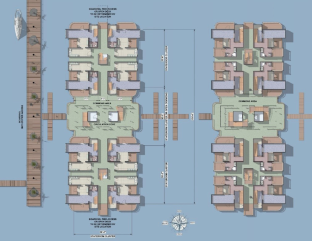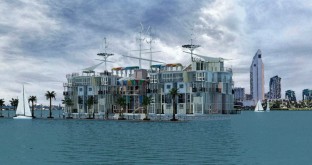 Notes
1.

Average Median Income is a metric calculated by the Unites States Department of Housing and Urban Development (HUD) to determine the income eligibility requirements of federal housing programs. The value calculation is based on the estimated area median family income.

2.

Calculated based on Regional Housing Needs Allocations for Very Low and Low Income. Total housing required for the cycle divided by number of years in cycle.

3.

Social vulnerability refers to the resilience of communities when confronted by external stresses on human health, stresses such as natural or human-caused disasters or disease outbreaks. Reducing social vulnerability can decrease both human suffering and economic loss.

4.

HBG is a California based firm that designs, manufactures, and builds modular affordable housing.

5.

A microgrid is a group of interconnected loads and distributed energy resources within clearly defined electrical boundaries that acts as a single controllable entity with respect to the grid. A microgrid can connect and disconnect from the grid to enable it to operate in both grid-connected or island-mode.

6.

Advanced waste water treatment process used by cruise ships provide a level of treatment similar to municipal treatment plants [15]. Smaller systems of 200,000 gallons per day (equivalent to 730 units respectably using per capita approach) can cost up to 35% more depending on the nitrogen removal than a small central wastewater treatment of 1.5 million gallons per day [16, 17].

7.

Steam desalination or reverse osmosis is used to produce potable water, in addition to cruise ships, both technologies are also used to provide water for communities with limited water supplies. Historically the cost for reverse osmosis has been high compared with traditional processes but they are becoming more prevalent as cities have no choice as their water supply shifts to sources with increased saline content (brackish aquifers, seawater) and other pollutants that require more advanced treatment to meet the required quality standards [18, 19]. Sandia National Laboratories and the United States Department of Interior, Bureau of Reclamation identified cost reduction and decentralization of the potable water supply as components of the Desalination and Water Purification Technology Roadmap [19]. The increased use desalination in lieu of the traditional method and the move towards decentralized supply will mean that the cost to produce potable water for floating housing will not be higher than land-based housing.
References
LeRoy S, Wiles R et al (2019) High tide tax: the price to protect coastal communities from rising seas. Cent Clim Integrity Resilient Anal. Available via https://www.climatecosts2040.org/files/ClimateCosts2040_Report.pdf. Accessed 01 July 2020

First Street Foundation (2020) The first national flood risk assessment: defining America's growing risk. First Street Foundation. Available via https://assets.firststreet.org/uploads/2020/06/first_street_foundation__first_national_flood_risk_assessment.pdf. Accessed 01 July 2020

Walter C (2017) Apartment demand: national multifamily housing council vision for 2030. In: Paper presented at the National Multifamily Housing Council OPTECH conference & exposition, Las Vegas, NV, 25–27 Oct 2017

Aurand A et al (2019) The gap: a shortage of affordable homes. National Low Income Housing Coalition. Available via https://reports.nlihc.org/sites/default/files/gap/Gap-Report_2019.pdf. Accessed 01 July 2020

Titus JG et al (2009) Coastal sensitivity to sea-level rise: a focus on the mid-atlantic region. U.S. climate change science program synthesis and assessment product 4.1. U.S. Climate Change Science Program. Available via https://www.globalchange.gov/sites/globalchange/files/sap4-1-final-report-all.pdf. Accessed 01 July 2020

Council for Community and Economic Research (C2ER) (2020) The council for community and economic research. Available via http://coli.org/quarter-1-2019-cost-of-living-index-released-3/. Accessed 01 July 2020

California Department of Housing and Community Development (2020) Regional housing needs allocation and housing elements. Available via https://www.hcd.ca.gov/community-development/housing-element/index.shtml. Accessed 20 Aug 2020

Bretz L (2017) Climate change and homes: who would lose the most to a rising tide? Zillow. Available via https://www.zillow.com/research/climate-change-underwater-homes-2-16928/. Accessed 01 July 2020

Kulp SA, Strauss BH (2019) New elevation data triple estimates of global vulnerability to sea-level rise and coastal flooding. Nat Commun 10:4844. Available via https://www.nature.com/articles/s41467-019-12808-z#citeas. Accessed 01 Sept 2020

Green LR (1977) Fuelbreaks and other fuel modification for wildland fire control. U.S. Department of Agriculture, Forest Service, Agricultural Handbook No. 499

Hecht J (1997) The environmental effects of freight. Organisation for Economic Co-operation and Development. Available via http://www.oecd.org/environment/envtrade/2386636.pdf. Accessed 01 July 2020

Garcia VY, Dufo-Lopez R, Bernal-Agustin J (2019) Energy management in microgrids with renewable energy sources: a literature review. Dig J Mol Med. https://doi.org/10.3390/app9183854

Azevedo de Almeida B, Mostafavi A (2016) Resilience of infrastructure systems to sea-level rise in coastal areas: impacts, adaption measures, and implementation challenges. Dig J Mol Med. https://doi.org/10.3390/su8111115

Woetzel J, Ram S, Mischke J, Garemo N, Sankhe S (2014) A blueprint for addressing the global affordable housing challenge. McKinsey Global Institute, MicKinsey & Company. Available via https://www.mckinsey.com/~/media/McKinsey/Featured%20Insights/Urbanization/Tackling%20the%20worlds%20affordable%20housing%20challenge/MGI_Affordable_housing_Full%20Report_October%202014.pdf. Accessed 10 Sept 2020

King County Department of Natural Resources and Parks Wastewater Treatment Division (2007) Cruise Ship Wastewater Management Report. Available via https://your.kingcounty.gov/dnrp/library/wastewater/csi/0708-CruiseShipWMreport.pdf. Accessed 09 Sept 2020

Benefield LA (2002) Rule development committee issue research report draft: residential flow rates. Washington State Department of Health wastewater management program. Available via https://www.doh.wa.gov/Portals/1/Documents/Pubs/337-103.pdf. Accessed 10 Sept 2020

Barnstable County Wastewater Cost Task Force (2010) Comparison of costs for wastewater management systems applicable to cape cod: guidance to cape cod towns undertaking comprehensive wastewater management planning. Available via https://sp.barnstablecounty.org/ccc/public/Documents/208%20Draft/Chapter%203%20Appendices/Appendix%203B.pdf. Accessed 09 Sept 2020

Luthy RG, Wolfand JM, Bradshaw JL (2020) Urban water revolution: sustainable water futures for California Cities. J Environ Eng 146(7):04020065

U.S. Bureau of Reclamation Sandia National Laboratories (2003) Desalination and water purification technology roadmap: a report of the executive committee. Desalination & Water Purification Research & Development Program Report #95. Available via https://www.usbr.gov/research/dwpr/reportpdfs/report095.pdf. Accessed 05 Sept 2020

Reid C (2020) The costs of affordable housing production: insights for California's 9% low-income housing tax credit program. Terner Center for Housing Innovation. Available via http://ternercenter.berkeley.edu/uploads/LIHTC_Construction_Costs_2020.pdf. Accessed 08 Sept 2020

Li R (2019) SF is one of the most expensive places in the world to build housing. Here's why. San Francisco Chronical. Available via https://www.sfchronicle.com/bayarea/article/SF-is-one-of-the-most-expensive-places-in-the-14888205.php. Accessed 07 Sept 2020

Joint Center for Housing Studies of Harvard University (2019) The State of the Nation's Housing 2019. Available via https://www.jchs.harvard.edu/sites/default/files/Harvard_JCHS_State_of_the_Nations_Housing_2019.pdf. Accessed 06 Sept 2020

Burnside OH, Pomerening DJ (1984) Survey of experience using reinforced concrete in floating marine structures. Ship Structure Committee report SSC-321. Available via http://www.shipstructure.org/pdf/321.pdf. Accessed 07 Sept 2020

San Francisco Public Works (2016) San Francisco fire department: earthquake safety and emergency response (ESER) 2014 Fire Station 35-Boathouse Presentation to Port Commission, 12 July 2016. Available via https://www.sfearthquakesafety.org/uploads/1/9/4/3/19432507/2016-0712_presentation_for_port_final__edit_.pdf. Accessed 05 Sept 2020
Copyright information

© 2022 The Author(s), under exclusive license to Springer Nature Singapore Pte Ltd.
About this paper
Cite this paper
Khangura, J., Haney, J. (2022). Floating Modular Housing to Address Demand and Affordability. In: Piątek, Ł., Lim, S.H., Wang, C.M., de Graaf-van Dinther, R. (eds) WCFS2020. Lecture Notes in Civil Engineering, vol 158. Springer, Singapore. https://doi.org/10.1007/978-981-16-2256-4_3
DOI: https://doi.org/10.1007/978-981-16-2256-4_3

Published:

Publisher Name: Springer, Singapore

Print ISBN: 978-981-16-2255-7

Online ISBN: 978-981-16-2256-4

eBook Packages: EngineeringEngineering (R0)