Abstract

Assessment of the carbon balance due to changes in forest land uses could serve as an important benchmark for the Reducing Emissions from Deforestation and Forest Degradation (REDD+) scheme of the United Nations Framework Convention on Climate Change. Here, we assessed the carbon gains and loss due to deforestation and plantation forestry in Southeast Asia during the implementation period of the Paris Climate Agreement between 2020 and 2030. Data on forest cover and carbon stocks were obtained from the most recent forest resources assessment report by the Food and Agriculture Organization. We performed a regression analysis to obtain parameters and initial values for predicting the forest cover change, where logging was assumed to take place in both natural and plantation forests. Between 2000 and 2020, Southeast Asia lost about 0.5%, or 1.1 million hectares, every year, whilst plantation forests gained 1.8%. Carbon stocks in natural forests declined to 15.7 petagrams of carbon (PgC) in 2030 from 19.7 PgC in 2000. On average, Southeast Asia emits about 468.6 teragrams of carbon dioxide per year (TgCO2 year−1) due to the loss of natural forests and logging, or about 23% of emissions, from tropical forests. Plantation forests gain about 25.9 TgCO2 year−1 between 2000 and 2030. Between 2020 and 2030, Southeast Asia is likely to emit about 442.7 TgCO2 year−1. If a retrospective approach is used, the forest reference emission level for this region is 424.2 TgCO2 year−1 during the implementation period of the Paris Agreement. Carbon revenues under the REDD+ scheme were estimated at US$2.4 billion annually under the Paris Agreement. Our study suggests that plantation forests could play a role in increasing role wood supply to the region, but caution is needed because large-scale plantations can cause environmental destruction.
Keywords
REDD+ scheme

Fast-growing plantation

Slow-growing plantation

Carbon removals

FREL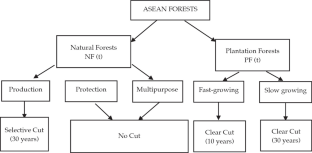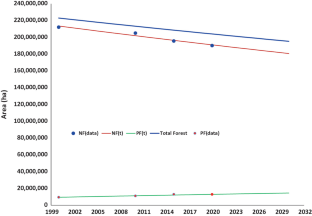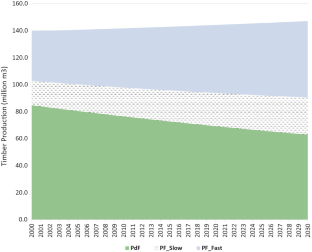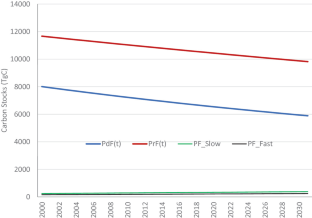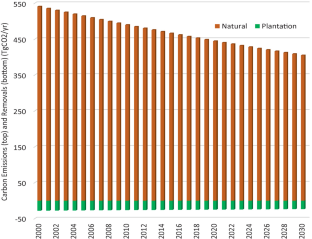 References
Adams M, Castano J (2001) World timber supply and demand scenario, government interventions, issues and problems. In: Proceedings of the international conference on timber plantation development, 7–9 November 2000, pp. 17–42

Asner GP, Powell GVN, Mascaro J, Knapp DE, Clark JK, Jacobson J, Kennedy-Bowdoin T, Balaji A, Paez-Acosta G, Victoria E, Secada L, Valqui M, Hughes RF (2010) High-resolution forest carbon stocks and emissions in the Amazon. Proc Natl Acad Sci USA 107:16738–16742. https://doi.org/10.1073/pnas.1004875107

Aye YYDK, Lee YDP, Park GE (2011) Carbon storage of 15-year-old Xylia xylocarpa and Pterocarpus macrocarpus plantations in the Katha District of Myanmar. Forest Sci Technol 7:134–140. https://doi.org/10.1080/21580103.2011.594613

Brack D (2018) Sustainable consumption and production of forest products. Background study prepared for the thirteenth session of the United Nations Forum on Forests. United Nations Forum on Forests, p 74. https://www.un.org/esa/forests/wp-content/uploads/2018/04/UNFF13_BkgdStudy_ForestsSCP.pdf

Chan B (2016) Current status of forest concessions in Southeast Asia. Food and Agriculture Organization of the United Nations, Rome

Chauhan SK, Ritu YS, Chauban R (2016) Carbon sequestration in plantations. In: Panwar P, Gupta SK (eds) Agroforestry for increased production and livelihood security. NIPA, New Delhi, pp 215–34

Cossalter C, Pye-Smith C (2003) Fast-wood forestry: myths and realities. CIFOR, Bogor Barat, Indonesia: CIFOR, p 60

Cuong T, Chinh TTQ, Zhang Y, Xie Y (2020) Economic performance of forest plantations in Vietnam: Eucalyptus, Acacia mangium, and Manglietia conifera. Forests 11(4). https://doi.org/10.3390/f11030284

Dar JA, Sundarapandian S (2015) Variation of biomass and carbon pools with forest type in temperate forests of Kashmir Himalaya, India. Environ Monitor Assess 187. https://doi.org/10.1007/s10661-015-4299-7

Edwards DP, Laurance WF (2011) Loophole in forest plan for Indonesia. Nature 47(33). https://doi.org/10.1038/477033a

Enters T (2000) Site, technology and productivity of teak plantations in Southeast Asia. Unasylva 201:55–61

Estoque RC, Ooba M, Avitabile V, Hijioka Y, DasGupta R, Togawa T, Murayama Y (2019) The future of Southeast Asia's Forests. Nat Commun 10. https://doi.org/10.1038/s41467-019-09646-4

FAO (2018) Terms and definition FRA 2020. FAO, Rome

FAO (2020) Global forest resources assessment 2020. FAO, Rome

Food and Agriculture Organization of the United Nations (FAO) (2006) Taking stock: assessing progress in developing and implementing codes of practice for forest harvesting in Asian Member Countries. FAO, Rome

Gorte RW, Sheikh PA (2010) CRS report for Congress: deforestation and climate change. Congressional Research Service

Imai N, Furukawa T, Tsujino R, Kitamura S, Yumoto T (2018) Factors affecting forest area change in Southeast Asia during 1980–2010. PLoS One 13(5). https://doi.org/10.1371/journal.pone.0197391

Jürgensen C, Kollert W, Lebedys A (2014) Assessment of industrial roundwood production from Planted Forests. FAO planted forests and trees working paper FP/48/E. FAO, Rome. https://www.fao.org/forestry/plantedforests/67508@170537/en/

Kollert W, Cherubini L (2012) Teak resources and market assessment 2010. Planted forests and trees working paper series. Working Paper FP/47/E. FAO, Rome. https://www.fao.org/3/a-an537e.pdf

Mather A (2003) Global forest resources assessment 2000 main report. Land Use Policy 20(195). https://doi.org/10.1016/s0264-8377(03)00003-6

Maxwell SL, Evans T, Watson JEM, Morel A, Grantham H, Duncan A, Harris N, Potapov P, Runting RK, Venter O, Wang S, Malhi Y (2019) Degradation and forgone removals increase the carbon impact of intact forest loss by 626%. Sci Adv 5(10). https://doi.org/10.1126/sciadv.aax2546

Noraida AW, Abdul-Rahim AS, Mohd-Shahwahid HO (2017) The impact of sustainable forest management (SFM) practices on primary timber-based production in Peninsular Malaysia. J Ekonomi Malaysia 51(2):143–154

Nunes LJR, Meireles CIR, Gomes CJP, Ribeiro NMCA (2020) Forest contribution to climate change mitigation: management oriented to carbon capture and storage. Climate 8(2)

Paoli GD, Wells PL, Meijaard E, Struebig MJ, Marshall AJ, Obidzinski K, Tan A, Rafiastanto A, Yaap B, Ferry Slik JW, Morel A, Perumal B, Wielaard M, Husson S, D'Arcy L (2010) Biodiversity conservation in the REDD. Carbon Balance Manage 5:1–9. https://doi.org/10.1186/1750-0680-5-7

Pearson TRH, Brown S, Murray L, Sidman G (2017) Greenhouse gas emissions from tropical forest degradation: an underestimated source. Carbon Balance Manage 12. https://doi.org/10.1186/s13021-017-0072-2

Phat NK, Knorr W, Kim S (2004) Appropriate measures for conservation of terrestrial carbon stocks—analysis of trends of forest management in Southeast Asia. For Ecol Manage 191(1–3):283–299. https://doi.org/10.1016/j.foreco.2003.12.019

Phillips OL, Brienen RJW, Gloor E, Baker TR, Lloyd J, Lopez-Gonzalez G, Monteagudo-Mendoza A, Malhi Y, Lewis SL, Vásquez Martinez R et al (2017) Carbon uptake by mature amazon forests has mitigated amazon nations' carbon emissions. Carbon Balance Manage 12:1–9. https://doi.org/10.1186/s13021-016-0069-2

Piponiot C, Cabon A, Descroix L, Dourdain A, Mazzei L, Ouliac B, Rutishauser E, Sist P, Hérault B (2016) A methodological framework to assess the carbon balance of tropical managed forests. Carbon Balance Manage 11. https://doi.org/10.1186/s13021-016-0056-7

Piponiot C, Rödig E, Putz FE, Rutishauser E, Sist P, Ascarrunz N, Blanc L, Derroire G, Descroix L, Guedes MC, Coronado EH, Huth A, Kanashiro M, Licona JC, Mazzei L, d'Oliveira MVN, Claros MP, Rodney K, Shenkin A, de Souza CR, Vidal E, West TAP, Wortel V, Herault B (2019a) Can timber provision from amazonian production forests be sustainable? Environ Res Lett 14. https://doi.org/10.1088/1748-9326/ab195e

Piponiot C, Rutishauser E, Derroire G, Putz FE, Sist P, West TAP, Descroix L, Guedes MC, Coronado ENH, Kanashiro M, azzei L, d'Oliveira MVN, Claros MP, Rodney K, Ruschel AR, de Souza CR, Vidal E, Wortel V, Herault B (2019b) Optimal strategies for ecosystem services provision in amazonian production forests. Environ Res Lett 14. https://doi.org/10.1088/1748-9326/ab5eb1

Roshetko JM, Rohadi D, Perdana A, Sabastian G, Pramono A, Widyani N, Manalu P, Fauzi M, Sumardamto P (2013) Teak systems' contribution to rural development in Indonesia. In World teak conference

Sands R (2013) Forestry in a global context. CABI International, Wallingford

Sasaki N, Knorr W, Foster DR, Etoh H, Ninomiya H, Chay S, Kim S, Sun S (2009) Woody biomass and bioenergy potentials in Southeast Asia between 1990 and 2020. Appl Energy 86:S140–S150. https://doi.org/10.1016/j.apenergy.2009.04.015

Sasaki N, Asner GP, Pan Y, Knorr W, Durst PB, Ma HO, Abe I, Lowe AJ, Koh LP, Putz FE (2016a) Sustainable management of tropical forests can reduce carbon emissions and stabilize timber production. Front Environ Sci 4:1–13. https://doi.org/10.3389/fenvs.2016.00050

Sasaki N, Chheng K, Mizoue N, Abe I, Lowe AJ (2016b) Forest reference emission level and carbon sequestration in Cambodia. Global Ecol Conserva 7:82–96. https://doi.org/10.1016/j.gecco.2016.05.004

Seymour F, Harris NL (2019) Reducing tropical deforestation. Science 365(6455):756–757. https://doi.org/10.1126/science.aax8546

Sharma P, Thapa RB, Matin MA (2020) Examining forest cover change and deforestation drivers in Taunggyi District Shan State, Myanmar . Environ Dev Sustain 22:5521–5538. https://doi.org/10.1007/s10668-019-00436-y

Smith C, Spracklen D, Baker J (2020) Impacts of tropical deforestation on local climate. In: EGU general assembly 2020. https://doi.org/10.5194/egusphere-egu2020-11712

Sodhi NS, Posa MRC, Lee TM, Bickford D, Koh LP, Brook BW (2010) The state and conservation of Southeast Asian biodiversity. Biodivers Conserv 19:317–328. https://doi.org/10.1007/s10531-009-9607-5

Stibig HJ, Achard F, Carboni S, Raši R, Miettinen J (2014) Change in tropical forest cover of Southeast Asia from 1990 to 2010. Biogeosciences 11:247–258. https://doi.org/10.5194/bg-11-247-2014

Stolle F, Dennis R (2007) Forest cover change in Southeast Asia—the regional pattern. JRC scientific and technical reports. European Commission Joint Research Centre

Venkatappa M, Sasaki N, Anantsuksomsri S, Smith B (2020) Applications of the google earth engine and phenology-based threshold classification method for mapping forest cover and carbon stock changes in Siem Reap Province, Cambodia. Remote Sens 12(18):3110. https://doi.org/10.3390/rs12183110

World Bank (2020) State and trends of carbon pricing 2020 state and trends of carbon pricing. World Bank, Washington, DC

Zeng Z, Estes L, Ziegler AD, Chen A, Searchinger T, Hua F, Guan K, Jintrawet A, Wood EF (2018) Highland cropland expansion and forest loss in Southeast Asia in the twenty-first century. Nat Geosci 11:556–562. https://doi.org/10.1038/s41561-018-0166-9

Zhou X, Wen Y, Goodale UM, Zuo H, Zhu H, Li X, You Y, Yan L, Su Y, Huang X (2017) Optimal rotation length for carbon sequestration in eucalyptus plantations in subtropical China. New Forest 48:609–627. https://doi.org/10.1007/s11056-017-9588-2

Zubizarreta-Gerendiain A, Pukkala T, Peltola H (2016) Effects of wood harvesting and utilisation policies on the carbon balance of forestry under changing climate: a finnish case study. Forest Policy Econ 62:168–176. https://doi.org/10.1016/j.forpol.2015.08.007
Acknowledgements

This research paper was carried out under funding from the Economic Research Institute for ASEAN and East Asia.
Copyright information

© 2021 The Author(s), under exclusive license to Springer Nature Singapore Pte Ltd.
About this chapter
Cite this chapter
Sasaki, N., Myint, Y.Y., Venkatappa, M. (2021). Assessment of the Forest Carbon Balance Due to Deforestation and Plantation Forestry in Southeast Asia. In: Phoumin, H., Taghizadeh-Hesary, F., Kimura, F., Arima, J. (eds) Energy Sustainability and Climate Change in ASEAN. Economics, Law, and Institutions in Asia Pacific. Springer, Singapore. https://doi.org/10.1007/978-981-16-2000-3_4