Abstract

In the present work, the use of the "dark fiber" service to build the communication subnet of a network for charging electric vehicles has been proposed. The advantages and disadvantages of the possible implementation of the proposal for the construction of a communication network through dark fiber are listed.
Keywords
Charging station

Dark fiber

Power electronics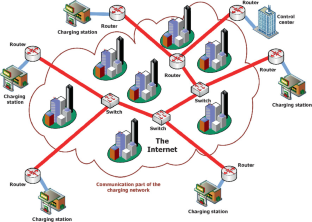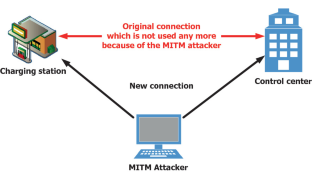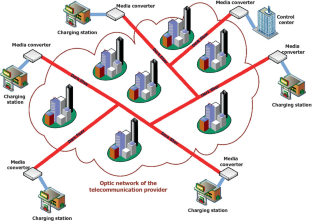 References
Huang X, Chen J, Yang H, Cao Y, Guan W, Huang B Economic planning approach for electric vehicle charging stations integrating traffic and power grid constraints. In: IET generation, transmission & distribution, vol 12, p 17

Wang S, Bi S, Zhang YA, Huang J (Oct. 2018) Electrical vehicle charging station profit maximization: admission, pricing, and online scheduling. IEEE Trans Sustain Energy 9(4):1722–1731

Shuanglong S, Zhe Y, Shuaihua L, Bin L, Yuheng X , Huan X (2018) Design and practice of integrated platform for operation and management of fast charging station. In: 2018 2nd IEEE conference on energy internet and energy system integration (EI2), Beijing, pp 1–5

Madzharov ND, Nemkov VS (2017) Technological inductive power transfer systems. J Electr Eng 68(3):235–244

Madzharov N, Petkov L (2020) Analyzing contactless transmission of energy and information and communication signals via a common inductive link. In: PCIM Europe digital days 2020; international exhibition and conference for power electronics, intelligent motion, renewable energy and energy management, Germany, pp 1–8

Zarkov Z, Bachev I, Lazarov V (2017) Small wind generator system with non-inverting buck-boost converter and battery storage. In: 2017 15th international conference on electrical machines, drives and power systems (ELMA), Sofia, pp 298–303. https://doi.org/10.1109/ELMA.2017.7955452.

Vuchev AS, Grigorova TG, Maradzhiev IP (2019) A unified analysis of LLC resonant DC/DC converter with capacitive output filter. In: 2019 X national conference with international participation (ELECTRONICA), Sofia, Bulgaria, pp 1–4. https://doi.org/10.1109/ELECTRONICA.2019.8825604

Georgiev GP (2015) Performance evaluation of internettraffic by network measurements. In: Elektrotechnica & Elektronica E+E, vol. 50. No 3–4/2015

Fraiji Y, Ben Azzouz L, Trojet W, Saidane LA (2018) Cyber security issues of Internet of electric vehicles. In: 2018 IEEE wireless communications and networking conference (WCNC), Barcelona, pp 1–6

Soltan S, Yannakakis M, Zussman G (2019) REACT to cyber attacks on power grids. IEEE Transactions on Network Science and Engineering 6(3):459–473. https://doi.org/10.1109/TNSE.2018.2837894. Accessed , 1 July–Sept 2019

Jin M, Lavaei J, Johansson KH (May 2019) Power grid AC-based state estimation: vulnerability analysis against cyber attacks. IEEE Trans Autom Control 64(5):1784–1799. https://doi.org/10.1109/TAC.2018.2852774

Jeong S, Dao N, Lee Y, Lee C, Cho S (2018)Blockchain based billing system for electric vehicle and charging station. In: 2018 tenth international conference on ubiquitous and future networks (ICUFN), Prague, pp 308–310

Baza M, Nabil M, Ismail M, Mahmoud M, Serpedin E, Ashiqur Rahman M (2019)Blockchain-based charging coordination mechanism for smart grid energy storage units. In: 2019 IEEE international conference on blockchain (Blockchain), Atlanta, GA, USA, pp 504–509
Acknowledgements

This research is carried out within the frames of the project "Optimal design and management of electrical energy storage systems", КП-06-H37/25/18.12.2019, Bulgarian National Scientific Fund.
Copyright information

© 2022 The Author(s), under exclusive license to Springer Nature Singapore Pte Ltd.
About this paper
Cite this paper
Arnaudov, D., Nedyalkov, I. (2022). Ensuring Communication and Information Security of Energy Storage Systems. In: Yang, XS., Sherratt, S., Dey, N., Joshi, A. (eds) Proceedings of Sixth International Congress on Information and Communication Technology. Lecture Notes in Networks and Systems, vol 216. Springer, Singapore. https://doi.org/10.1007/978-981-16-1781-2_88
DOI: https://doi.org/10.1007/978-981-16-1781-2_88

Published:

Publisher Name: Springer, Singapore

Print ISBN: 978-981-16-1780-5

Online ISBN: 978-981-16-1781-2