Abstract

A composite material is a combination of two or more different materials between resin and fiber. The characteristic of this material is that it has a high level of corrosion resistance. This study aims to analyze the strength and durability of Jaloe Kayoh made of jute fiber polyester composite materials. Static analysis on Jaloe Kayoh is carried out through simulation or modeling using CAE-based software with the Finite Element Method (FEM), in static-general conditions. The parameters studied include the stress and strain values for centralized loading on the body of the boat with a minimum load of 650 N and a maximum load of 1950 N. The variations of the materials applied to Jaloe Kayoh include jute, jute-glass, jute-glass-jute, and fiberglass. From the simulation results on the 1950 N loading, the maximum stress is obtained by the jute-glass material with a value of 3.356 × 109 Pa. The greatest maximum strain by jute-glass material is with a value of 1.442 × 10−1. The results of this study show that the four composite materials are categorized as good to be applied as the main material of the Jaloe Kayoh.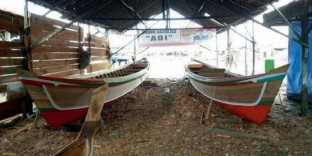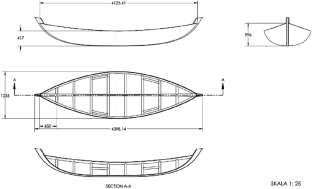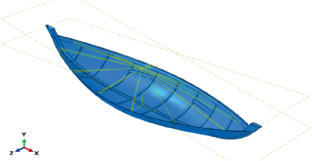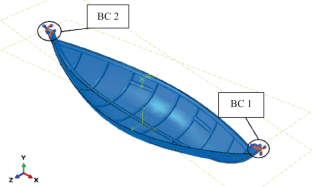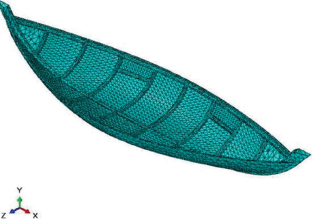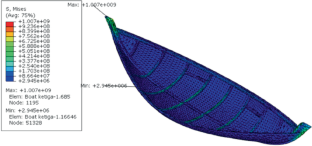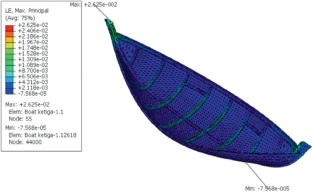 References
Akram I, Hasanuddin N, Syahril Z, Ahmad N (2018) A comparison in the structural strength between fiberglass and jute fiber in the traditional boat Jalo Kayoh using Finite Element Method. IOP Conf Ser Mater Sci Eng 523(1):012020

Akram I, Hasanuddin N, Putra R, Noor MM (2019) Mechanical behavior of hybrid glass fiber—jute reinforced with polymer composite for the wall of the Acehnese boat 'Jalo Kayoh'. IOP Conf Ser, Mater Sci Eng 523:012076

Nazaruddin N, Akram A, Hasanuddin I, Iqbal M, Kurniawan R, Putra R (2019) Mechanical properties of glass fiber reinforced polyester resin for use as the wall of the Acehnese boat 'thep-thep'. IOP Conf Ser Mater Sci Eng 523:012080

Pal B, Haseebuddin MR (2012) Analytical estimation of elastic properties of polypropylene fiber matrix composite by finite element analysis. J Adv Mat Phy Chem 2:23–30

Iqbal M, Aminanda Y, Firsa T, Ali M (2020) Bending strength of polyester composites reinforced with stitched random orientation and plain weave abaca fiber. IOP Conf Ser Mater Sci Eng 739:012078

Dirhamsyah M, Tadjuddin M, Udink A, Yusuf Z, Saiful HY (2019) The effect of cutting speed on dimension accuracy and burr development of high-speed micro drill process on aluminum. IOP Conf Ser, Mater Sci Eng 523:012074

Taha Z, Sah JMd, Passarella R, Ghazilla R, Ahmad N, Jen Y, Khai T, Kassim Z, Hasanuddin I, Yunus M (2009) A solar vehicle based on sustainable design concept. Proceedings of the IASTED International Conference on Solar Energy, SOE 2009:38–43

Liu XY, Dai GC (2007) Surface modification and micromechanical properties of jute fiber mat reinforced polypropylene composites. J Exp Polym Letters 1(5):299–307

Jauhari N, Mishra R, Thakur H (2015) Natural fiber reinforced composite laminates—A review. International Conference on Materials Processing and Characterization, proceeding, 2868–2877

Hasanuddin I, Husaini H, Syahrir MA, Sandy Yudha BZ, Akhyar A (2018) Stress and strain analysis from dynamic loads of mechanical hand using Finite Element Method. IOP Conf Ser, Mater Sci Eng 352:012017

Faruk O, Bledzki AK, Fink H-P, Sain M (2012) Biocomposites reinforced with natural fibers:2000-2010. Prog Polym Sci 37:1552–1596

Leonard Y, Mwaikambo LY, Ansell MP (2002) Chemical modification of hemp, sisal, jute, and kapok fibers by alkalization. J Appl Polym Sci 84:2222–2234

Fuqua MA, Huo S, Ulven CA (2012) Natural fiber reinforced composites. Polym Rev 52:259–320

Badan Statistik Provinsi Aceh (2015) Aceh in figures. BPS Provinsi Aceh

Hutton DV (2004) Fundamentals of finite element analysis. McGraw-Hill, New York

Callister WD (2007) Materials Science and Engineering an Introduction. Wiley, Hoboken

Ramadhan S, Rizal S, Hasanuddin I (2018) Static load comparison of Jalo Kayoh with composite and e-glass material variations using Finite Element Method. Universitas Syiah Kuala, Banda Aceh

Gomes A, Matsuo T, Goda K, Ohgi J (2007) Development and effect of alkali treatment on tensile properties of curaua fiber green composites. Compos B 38:1811–1820
Acknowledgements

The authors thank Universitas Syiah Kuala for funding this research, with the research grant 270/UN11/SPK/PNBP/2020. The authors also thank the Universiti Malaysia Pahang (UMP) for the collaboration and laboratories used.
Copyright information

© 2021 The Author(s), under exclusive license to Springer Nature Singapore Pte Ltd.
About this chapter
Cite this chapter
Tamlicha, A. et al. (2021). Stress and Strain Analysis of the Traditional Boat Jaloe Kayoh Made of Composite Materials with Centered Loading Using the Finite Element Method. In: Akhyar (eds) Proceedings of the 2nd International Conference on Experimental and Computational Mechanics in Engineering. Lecture Notes in Mechanical Engineering. Springer, Singapore. https://doi.org/10.1007/978-981-16-0736-3_29
DOI: https://doi.org/10.1007/978-981-16-0736-3_29

Published:

Publisher Name: Springer, Singapore

Print ISBN: 978-981-16-0735-6

Online ISBN: 978-981-16-0736-3

eBook Packages: EngineeringEngineering (R0)