Abstract

In this modern internet-enabled age of technology, the two major disruptive emerging components are both Blockchain and Internet of Things (IoT). In research and industry, the IoT has experienced exponential growth, although it suffers from a number of limitations like poor interoperability, decentralization, privacy, and security vulnerabilities. In the vision of IoT, conventional devices become autonomous and smart. In a heterogeneous environment, a technology is required to allow secure communication among IoT nodes. In the coming years considering the predicted progression of the IoT, it is essential to provide assurance in this enormous information source. Blockchain technology brought opportunities to address the shortcomings of IoT and it also offered a favorable solution to resolve the limitation of current peer-to-peer networks. To use openly and publicly Blockchain is a safe technology. It has developed as a vital technology that will transform the way of information sharing. In this paper, the architecture and model of IoT and the basic functioning of blockchain have been presented followed by the existing blockchain technology for IoT environment. Further, this paper studies the current challenges in blockchain IoT applications and incorporation of blockchain with IoT. The last survey shows the relevant work to present the potential of blockchain technology to improve the IoT.
Keywords
Blockchain

Internet of things

Blockchain in IoT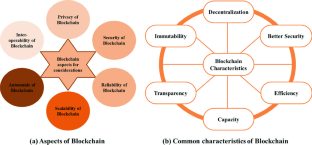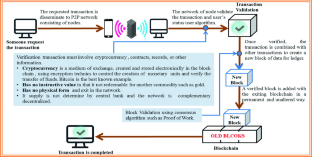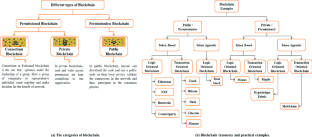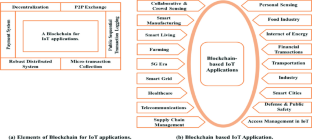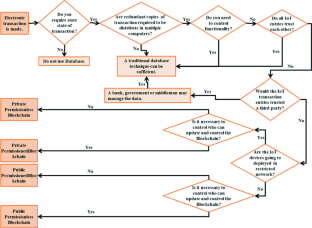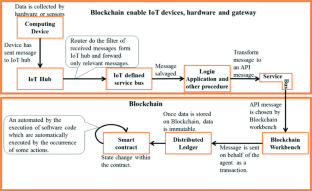 References
Ashton, K.: That 'Internet of Things' thing, RFID J. 22(7), 97–114 (2009)

Van Kranenburg, R., Bassi, A.: Iot challenges. Commun. Mobile Comput. 1(1), 9 (2012)

Mendling, J., Weber, I., Aalst, W.V.D., Brocke, J.V., Cabanillas, C., Daniel, F., Debois, S., Ciccio, C.D., Dumas, M., Dustdar, S. et al.: Blockchains for business process management-challenges and opportunities, ACM Trans. Manag. Inf. Syst. (TMIS) 9, Article No. 4 (2018)

Ali, M.S., Vecchio, M., Pincheira, M., Dolui, K., Antonelli, F., Rehmani, M.H.: Applications of blockchains in the Internet of Things: a comprehensive survey. IEEE Commun. Surv. Tutor. 21(2), 1676–1717 (2019)

Raval, S.: Decentralized applications: harnessing Bitcoin's blockchain technology. First edition, O'reilly Media (2016)

Hyperledger-Fabric official web page. https://www.hyperledger.org/projects/fabric. Accessed 15 May 2020

Ripple's official web page. https://www.ripple.com. Accessed 20 May 2020

Esposito, C., De Santis, A., Tortora, G., Chang, H., Choo, K.R.: Blockchain: a Panacea for healthcare cloud-based data security and privacy? IEEE Cloud Comput. 5(1), 31–37 (2018)

Liang, X., Zhao, J., Shetty, S., Liu, J., Li, D.: Integrating blockchain for data sharing and collaboration in mobile healthcare applications. In: 2017 IEEE 28th Annual International Symposium on Personal, Indoor, and Mobile Radio Communications (PIMRC), Montreal, QC, pp. 1-5 (2017)

Ferrag, M.A., Maglaras, L., Argyriou, A., Kosmanos, D., Janicke, H.: Security for 4G and 5G cellular networks: a survey of existing authentication and privacy-preserving schemes. J. Netw. Comput. Appl. 101, 55–82 (2018)

Fan, K., Ren, Y., Wang, Y., Li, H., Yang, Y.: Blockchain-based efficient privacy preserving and data sharing scheme of content-centric network in 5G. IET Commun. 12(5), 527–532 (2018)

Huang, X., Xu, C., Wang, P., Liu, H.: LNSC: a security model for electric vehicle and charging pile management based on blockchain ecosystem. IEEE Access 6, 13565–13574 (2018)

Kang, J., Yu, R., Huang, X., Maharjan, S., Zhang, Y., Hossain, E.: Enabling localized peer-to-peer electricity trading among plug-in hybrid electric vehicles using consortium blockchains. IEEE Trans. Ind. Inf. 13(6), 3154–3164 (2017)

Li, L., et al.: CreditCoin: a privacy-preserving blockchain-based incentive announcement network for communications of smart vehicles. IEEE Trans. Intell. Transp. Syst. 19(7), 2204–2220 (2018)

Yang, Z., Zheng, K., Yang, K., Leung, V.C.M.: A blockchain-based reputation system for data credibility assessment in vehicular networks. In: IEEE 28th Annual International Symposium on Personal, Indoor, and Mobile Radio Communications (PIMRC), Montreal, QC, pp. 1–5 (2017)

Liang, G., Weller, S.R., Luo, F., Zhao, J., Dong, Z.Y.: Distributed blockchain-based data protection framework for modern power systems against cyber attacks. IEEE Trans. Smart Grid 10(3), 3162–3173 (2019)

Li, Z., Kang, J., Yu, R., Ye, D., Deng, Q., Zhang, Y.: Consortium blockchain for secure energy trading in industrial internet of things. IEEE Trans. Ind. Inf. 14(8), 3690–3700 (2018)

Aitzhan, N.Z., Svetinovic, D.: Security and privacy in decentralized energy trading through multi-signatures, blockchain and anonymous messaging streams. IEEE Trans. Depend. Secure Comput. 15(5), 840–852 (2018)

Novo, O.: Blockchain meets IoT: an architecture for scalable access management in IoT. IEEE Internet Things J. 5(2), 1184–1195 (2018)

Herbaut, N., Negru, N.: A model for collaborative blockchain-based video delivery relying on advanced network services chains. IEEE Commun. Mag. 55(9), 70–76 (2017)

He, Y., Li, H., Cheng, X., Liu, Y., Yang, C., Sun, L.: A blockchain based truthful incentive mechanism for distributed P2P applications. IEEE Access, 1–1 (2018)

Wan, J., Li, J., Imran, M., Li, D.: A blockchain-based solution for enhancing security and privacy in smart factory. IEEE Trans. Ind. Inf. 15(6), 3652–3660. https://doi.org/10.1109/TII.2019.289457 (2019)

Joshi.: A survey on security and privacy issues of blockchain technology. Mathematical Foundations of Computing (2018)

Zheng, Z., Xie, S., Dai, H., Chen, X., Wang, H.: An overview of blockchain technology: architecture, consensus, and future trends, in big data (BigData Congress). In: IEEE International Congress on, IEEE, pp. 557–564 (2018)

Kusiak, A.: Smart manufacturing. Int. J. Prod. Res. 56(1–2), 508–517 (2018)

Konstantinidis, I., Siaminos, G., Timplalexis, C., Zervas, P., Peristeras, V., Decker, S.: Blockchain for business applications: a systematic literature review. In Business Information Systems, Abramowicz, W, Paschke, A. (Eds.) Cham, Switzerland: Springer International, pp. 384–399 (2018)

Lin, Q., Wang, H., Pei, X., Wang, J.: Food safety traceability system based on blockchain and EPCIS. IEEE Access 7, 20698–20707 (2019)

Srivastava, G., Parizi, R.M., Dehghantanha, A.: The future of blockchain technology in healthcare internet of things security. In: Choo, K.K., Dehghantanha, A., Parizi, R. (Eds) Blockchain Cybersecurity, Trust and Privacy. Advances in Information Security, Vol. 79. Springer, Cham. (2020)

Musleh, A.S., Yao, G., Muyeen, S.M.: Blockchain applications in smart grid-review and frameworks. IEEE Access 7, 86746–86757 (2019). https://doi.org/10.1109/ACCESS.2019.2920682
Copyright information

© 2021 The Author(s), under exclusive license to Springer Nature Singapore Pte Ltd.
About this paper
Cite this paper
Sharma, T., Prasad, S.K., Gupta, A.K. (2021). A Study-Based Review on Blockchain Technology for IoT. In: Hassanien, A.E., Bhattacharyya, S., Chakrabati, S., Bhattacharya, A., Dutta, S. (eds) Emerging Technologies in Data Mining and Information Security. Advances in Intelligent Systems and Computing, vol 1286. Springer, Singapore. https://doi.org/10.1007/978-981-15-9927-9_86
DOI: https://doi.org/10.1007/978-981-15-9927-9_86

Published:

Publisher Name: Springer, Singapore

Print ISBN: 978-981-15-9926-2

Online ISBN: 978-981-15-9927-9