Abstract

The characteristics of the interaction between the tire and the road pavement surface are one of the important aspects that must be taken into account in maintaining the safety of driving. Although the tire tread design might have a significant effect onto the contact behavior whereas various design of tire tread available in the market, there is still lacking of understanding on its relationship to tire performance. Thus, the objective of the study is to simulate tire-road contact behavior related to tire tread design utilizing Finite Element Analysis. In the study, several basic design of tire tread had been proposed, and modelled for FEM application. The simulation condition chosen was based on the domestic application, where vehicle ride by average persons was taken into consideration. It is shown that, tread design has a direct effect onto stress distribution inside the tire structure, which cause variation of deformation behavior. The stress distribution is well distributed inside tire and higher intensity 4.0 MPa can be estimated between tire and road in vertical tread designed tire compared to other chosen tire tread designed. This is due to constantly large contact area between tire and road, giving the chance for the force to be distributed inside the tire structure. The estimated stress distribution might have an affect onto tire contact performance, as higher intensity contact stress might mean higher effective contact, while large distribution might mean better stability where force is distributed nicely inside the tire structure.
Keywords
Tire tread design

Tire-road contact

Tire-road friction

Traction performance

Finite element method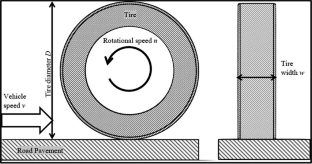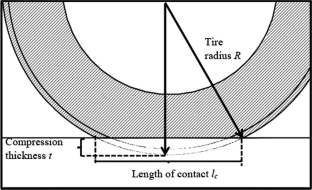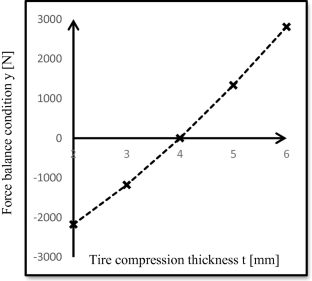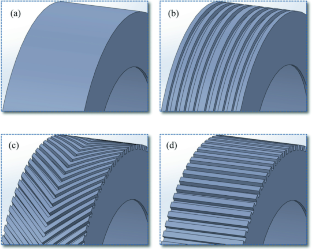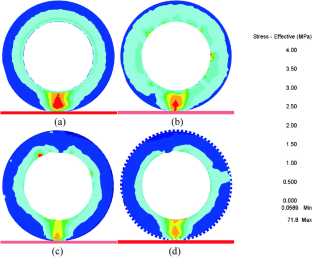 References
Derafshpour S, Valizadeh M, Mardani A, Tamaddoni Saray M (2019) A novel system developed based on image processing techniques for dynamical measurement of tire-surface contact area. Meas J Int Meas Confederation 139:270–276

Fang D (2017) Modeling and control of an adaptive tire-inflation system based on in-tire sensing feedback.

Rodríguez-Martínez D, Van Winnendael M, Yoshida K (2019) High-speed mobility on planetary surfaces: a technical review. J Field Robot 36(8):1436–1455

Tomaraee P, Mardani A, Mohebbi A, Taghavifar H (2015) Relationships among the contact patch length and width, the tire deflection and the rolling resistance of a free-running wheel in a soil bin facility. Spanish J Agric Res 13(2):1–7

en Damme L, Stettler M, Pinet F, Vervaet P, Keller T, Munkholm LJ, Lamandé M (2019) The contribution of tyre evolution to the reduction of soil compaction risks. Soil Tillage Res 194(May):104283

Vayalat TM (2016) Tire contact patch characterization through finite element modeling and experimental testing

Nava R, Fehr D, Petry F, Tamisier T (2019) Estimation of the dynamic contact area from a rolling tire correlated to expert assessment. IEEE Access 7:97909–97918

Kumar S, Pandey KP, Kumar R, Ashok Kumar A (2018) Effect of ballasting on performance characteristics of bias and radial ply tyres with zero sinkage. Meas J Int Meas Confederation 121(February):218–224

Gray JP, Vantsevich VV, Paldan J (2016) Agile tire slippage dynamics for radical enhancement of vehicle mobility. J Terrramech 65:14–37

Osinenko PV, Geissler M, Herlitzius T (2015) A method of optimal traction control for farm tractors with feedback of drive torque. Biosys Eng 129:20–33

Aguilar-Martínez J, Alvarez-Icaza L (2015) Analysis of tire-road contact area in a control oriented test bed for dynamic friction models. J Appl Res Technol 13(4):461–471

Ozaki S, Kondo W (2016) Finite element analysis of tire traveling performance using anisotropic frictional interaction model. J Terrramech 64:1–9

Zhao C, Zang M (2014) Analysis of rigid tire traction performance on a sandy soil by 3D finite element–discrete element method. J Terrramech 55:29–37

Zhao C, Zang M (2017) Application of the FEM/DEM and alternately moving road method to the simulation of tire-sand interactions. J Terrramech 72:27–38

Nishiyama K, Nakashima H, Yoshida T, Shimizu H, Miyasaka J, Ohdoi K (2018) FE-DEM with interchangeable modeling for off-road tire traction analysis. J Terrramech 78:15–25

Nishiyama K, Nakashima H, Shimizu H, Miyasaka J, Ohdoi K (2017) 2D FE–DEM analysis of contact stress and tractive performance of a tire driven on dry sand. J Terrramech 74:25–33

Phromjan J, Suvanjumrat C (2018) A suitable constitutive model for solid tire analysis under quasi-static loads using finite element method. Eng J 22:141–155
Acknowledgements

This research is financially supported by Postgraduate Research Scheme PGRS 1903176 and Fundamental Research Grant Scheme (FRGS), RDU 192621 and the authors fully acknowledge the Malaysia Ministry of Education (MOE) and University Malaysia Pahang for the approved fund which makes this important research viable and effective.
Copyright information

© 2021 The Author(s), under exclusive license to Springer Nature Singapore Pte Ltd.
About this paper
Cite this paper
Sufian, A.H., Xun, T.Z., Abidin, A.N.S.Z., Jamaludin, A.S., Razali, M.N.M. (2021). Study on Tire Tread Design Effect onto Tire-Road Contact Behavior Through FEM. In: Osman Zahid, M.N., Abdul Sani, A.S., Mohamad Yasin, M.R., Ismail, Z., Che Lah, N.A., Mohd Turan, F. (eds) Recent Trends in Manufacturing and Materials Towards Industry 4.0. Lecture Notes in Mechanical Engineering. Springer, Singapore. https://doi.org/10.1007/978-981-15-9505-9_78
DOI: https://doi.org/10.1007/978-981-15-9505-9_78

Published:

Publisher Name: Springer, Singapore

Print ISBN: 978-981-15-9504-2

Online ISBN: 978-981-15-9505-9

eBook Packages: EngineeringEngineering (R0)