Abstract

Mesothelioma is an aggressive tumor that occurs in the pleura, peritoneum, pericardium, and rarely tunica vaginalis. The management of mesothelioma is complex, and the outcomes are not satisfactory, although combined-modality treatment including surgery, chemotherapy, and radiation has been performed. Immune checkpoint inhibitors are expected to improve the outcomes of mesothelioma. However, their efficacy is limited in some patients, in comparison to other cancer outcomes. Therefore, novel or combined therapies for mesothelioma are eagerly awaited. Virotherapy may be a useful tool for mesothelioma treatment. Viral immune therapy involves treating tumors by activating antitumor immunity using viruses. Virotherapy can be divided by the mechanism into viral immune therapy, antitumor oncolytic viral therapy, and gene therapy using viruses as vectors. Viral immune therapy is typically used with oncolytic viruses and activates the antitumor immunity via viral infection or oncolysis. Since viral immune therapy activates the antitumor immunity, virotherapy has received attention concerning its combination with immune checkpoint inhibitors or other immune therapeutic agents. Oncolytic viral therapy involves the induction of direct tumor cell death by oncolytic viruses, while gene therapy uses viruses as vectors to encode tumor suppressor genes or other genes. A large number of viruses used for virotherapy have an enhanced antitumor effect due to either genetic or other modifications. We herein review the clinical trials of virotherapy against mesothelioma and describe the non-replicating oncolytic virus (hemagglutinating virus of Japan [Sendai virus] envelope) used for our clinical trials of viral immune therapy against mesothelioma.
Keywords
Non-replicating oncolytic virus

Hemagglutinating virus of Japan envelope

Sendai virus

Oncolytic viruses

Virotherapy

Viral immune therapy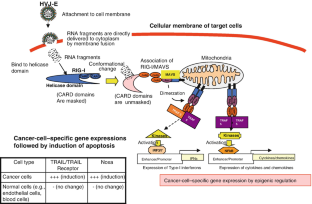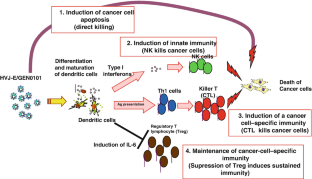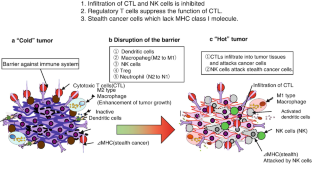 References
Patel MR, Kratzke RA. Oncolytic virus therapy for cancer: the first wave of translational clinical trials. Transl Res. 2013;161:355–64.

Andtbacka RH, Kaufman HL, Collichio F, Amatruda T, Senzer N, Chesney J, et al. Talimogene laherparepvec improves durable response rate in patients with advanced melanoma. J Clin Oncol. 2015;33:2780–8.

Guo ZS, Liu Z, Bartlett DL. Oncolytic immunotherapy: dying the right way is a key to eliciting potent antitumor immunity. Front Oncol. 2014;4(74):1–11.

Smyth Templeton N. Gene and cell therapy: therapeutic mechanisms and strategies. 4th ed. Baton Rouge: CRC Press; 2015.

Oldfield EH, Ram Z, Culver KW, Blaese RM, DeVroom HL, Anderson WF. Using intra-tumoral transduction with the thymidine kinase gene and intravenous ganciclovir. Human Gene Ther. 1993;4:39–69.

Sterman DH, Recio A, Vachani A, Sun J, Cheung L, DeLong P, et al. Long-term follow-up of patients with malignant pleural mesothelioma receiving high-dose adenovirus herpes simplex thymidine kinase/ganciclovir suicide gene therapy. Clin Cancer Res. 2005;11:7444–53.

Kaufman HL, Kohlhapp FJ, Zloza A. Oncolytic viruses: a new class of immunotherapy drugs. Nat Rev Drug Discov. 2015;14:642–62.

Thorne SH, Hermiston T, Kirn D. Oncolytic virotherapy: approaches to tumor targeting and enhancing antitumor effects. Semin Oncol. 2005;32:537–48.

Gujar SA, Marcato P, Pan D, Lee PW. Reovirus virotherapy overrides tumor antigen presentation evasion and promotes protective antitumor immunity. Mol Cancer Ther. 2010;9:2924–33.

Woller N, Gurlevik E, Fleischmann-Mundt B, Schumacher A, Knocke S, Kloos AM, et al. Viral infection of tumors overcomes resistance to PD-1-immunotherapy by broadening neoantigenome-directed T-cell responses. Mol Ther. 2015;23:1630–40.

Willmon CL, Saloura V, Fridlender ZG, Wongthida P, Diaz RM, Thompson J, et al. Expression of IFN-beta enhances both efficacy and safety of oncolytic vesicular stomatitis virus for therapy of mesothelioma. Cancer Res. 2009;69:7713–20.

Kucharczuk JC, Randazzo B, Chang MY, Amin KM, Elshami AA, Sterman DH, et al. Use of a "replication-restricted" herpes virus to treat experimental human malignant mesothelioma. Cancer Res. 1997;57:466–71.

https://oncologypro.esmo.org/Meeting-Resources/ESMO-2017-Congress/Oncolytic-herpesvirus-therapy-for-mesothelioma-a-phase-I-IIa-trial-of-intrapleural-administration-of-HSV1716-NCT01721018.

Japan Agency for Medical Research and Development. https://www.amed.go.jp/news/release_20190213.html (2019). Accessed 13 Feb 2019.

Sterman DH, Alley E, Stevenson JP, et al. Pilot and feasibility trial evaluating immuno-gene therapy of malignant mesothelioma using intrapleural delivery of adenovirus-IFN combined with chemotherapy. Clin Cancer Res. 2016;22:3791–800.

DeLong P, Tanaka T, Kruklitis R, Henry AC, Kapoor V, Kaiser LR, Sterman DH, Albelda SM. Use of cyclooxygenase-2 inhibition to enhance the efficacy of immunotherapy. Cancer Res. 2003;63:7845–52.

Ranki T, Joensuu T, Jäger E, et al. Local treatment of a pleural mesothelioma tumor with ONCOS-102 induces a systemic antitumor CD8+ T-cell response, prominent infiltration of CD8+ lymphocytes and Th1 type polarization. Onco Targets Ther. 2014;3:e958937.

Ranki T, Pesonen S, Hemminki A, Partanen K, Kairemo K, Alanko T, Lundin J, Linder N, Turkki R, Ristimäki A, et al. Phase I study with ONCOS-102 for the treatment of solid tumors—an evaluation of clinical response and exploratory analyses of immune markers. J Immunother Cancer. 2016;4:17.

Belin LJ, Ady JW, Lewis C, et al. An oncolytic vaccinia virus expressing the human sodium iodine symporter prolongs survival and facilitates SPECT/CT imaging in an orthotopic model of malignant pleural mesothelioma. Surgery. 2013;154:486–95.

Tano AE, Chintala NK, Li X, Adusumilli PS. Novel immunotherapy clinical trials in malignant pleural mesothelioma. Ann Trans Med. 2017;5:245.

Yanagi Y, Takeda M, Ohno S. Measles virus: cellular receptors, tropism and pathogenesis. J Gen Virol. 2006;87:2767–79.

Peikert T, Mandrekar S, Mansfield A, Van Keulen V, Albelda S, Galanis E. Intrapleural modified vaccine strain measles virus therapy for patients with malignant pleural mesothelioma. J Thorac Oncol. 2017;12(1):S296.

Kaneda Y, Nakajima T, Nishikawa T, Yamamoto S, Ikegami H, Suzuki N, Nakamura H, Morishita R, Kotani H. Hemagglutinating virus of Japan (HVJ) envelope vector as a versatile gene delivery system. Mol Ther. 2002;6(2):219–26.

Kurooka M, Kaneda Y. Inactivated Sendai virus particles eradicate tumors by inducing immune responses through blocking regulatory T cells. Cancer Res. 2007;67(1):227–36.

Matsushima-Miyagi T, Hatano K, Nomura M, Li-Wen L, Nishikawa T, Kaneda Y, et al. TRAIL and Noxa are selectively up-regulated in prostate cancer cells downstream of the RIG-I/MAVS signaling pathway by non-replicating Sendai virus particles. Clin Cancer Res. 2012;26:6271–83.

Fujihara A, Kurooka M, Miki T, Kaneda Y. Intratumoral injection of inactivated Sendai virus particles elicits strong antitumor activity by enhancing local CXCL10 expression and systemic NK cell activation. Cancer Immunol Immunother. 2008;57(1):73–84.

Tanemura A, Kiyohara E, Katayama I, Kaneda Y. Recent advances and developments in the antitumor effect of the HVJ envelope vector on malignant melanoma: from the bench to clinical application. Cancer Gene Ther. 2013;20:599–605.

Fujita K, Nakai Y, Kawashima A, Lee CM, Kaneda Y, Nonomura N, et al. Phase I/II clinical trial to assess safety and efficacy of intratumoral and subcutaneous injection of HVJ-E in castration-resistant prostate cancer patients. Cancer Gene Ther. 2017;24:277–81.
Copyright information

© 2021 Springer Nature Singapore Pte Ltd.
About this chapter
Cite this chapter
Sakura, K., Shintani, Y., Okumura, M. (2021). Viral Immune Therapy and Other Virotherapies for Advanced Mesothelioma: Are We Ready for Clinical Trials of Viral Immune Therapy?. In: Nakano, T., Kijima, T. (eds) Malignant Pleural Mesothelioma. Respiratory Disease Series: Diagnostic Tools and Disease Managements. Springer, Singapore. https://doi.org/10.1007/978-981-15-9158-7_25
DOI: https://doi.org/10.1007/978-981-15-9158-7_25

Published:

Publisher Name: Springer, Singapore

Print ISBN: 978-981-15-9157-0

Online ISBN: 978-981-15-9158-7

eBook Packages: MedicineMedicine (R0)