Abstract

The design and implementation of a controller for a solar photovoltaic system interfacing to the grid with shunt active power filter functionality are discussed in this paper. An inner harmonic current compensation loop and an outer dc voltage control loop constituted the control system. The inner loop is realized using a self-tuning filter (STF) based on instantaneous power theory, and the outer loop is realized using backstepping algorithm. The control algorithm is simulated under dynamic system conditions namely change in solar irradiation and change in load, in Matlab/Simulink environment. To ensure the effectiveness of the controller in mitigating the harmonic currents and interfacing solar PV system with distribution grid for real power exchange, the control algorithm is tested under steady-state and dynamic conditions and validated with the simulation results. The control algorithm is then implemented using a single all on-chip FPGA. Hardware co-simulation is carried out with the control system implemented in FPGA, and shunt active filter power circuit simulated in Matlab/Simulink. The hardware co-simulation results obtained are matching with the Matlab simulation results under dynamic system conditions and the controller design using FPGA is validated.
Keywords
Shunt active filter

Self-tuning filter

Backstepping control

Solar energy

Field programmable gate array

Hardware co-simulation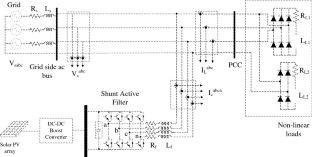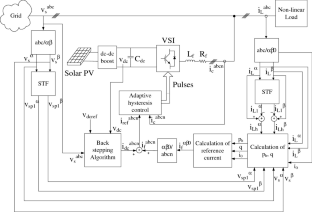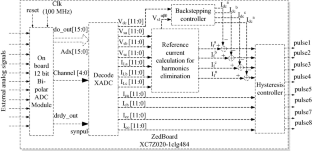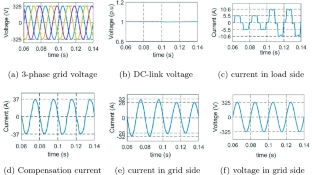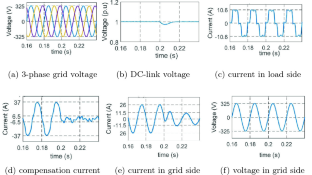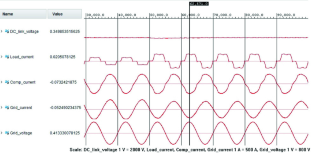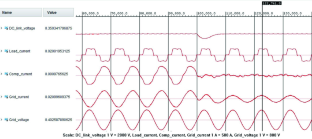 References
S. Mikkili, A. Padamati, PHC, id-iq and p-q control strategies for mitigation of current harmonics in three-phase three-wire shunt active filter with pi controller. Int. J. Emerg. Electric Power Syst. 18(2), 1–29 (2017). https://doi.org/10.1515/ijeeps-2016-0055

H. Akagi, E. Watanabe, M. Aredes, Shunt Active Filters, chap. 4 (Wiley-Blackwell, 2017), pp. 111–236. https://doi.org/10.1002/9781119307181.ch4

H. Akagi, The state-of-the-art of active filters for power conditioning, in Power Electronics and Applications, 2005 European Conference on (2005), pp. 1–15

F. Nejabatkhah, Y.W. Li, B. Wu, Control strategies of three-phase distributed generation inverters for grid unbalanced voltage compensation. IEEE Trans. Power Electron. 31(7), 5228–5241 (2016). https://doi.org/10.1109/TPEL.2015.2479601

M. Benchouia, I. Ghadbane, A. Golea, K. Srairi, M.E.H. Benbouzid, Implementation of adaptive fuzzy logic and pi controllers to regulate the dc bus voltage of shunt active power filter. Appl. Soft Comput. 28, 125–131 (2015)

Y. Hoon, M.A. Mohd Radzi, M.K. Hassan, N.F. Mailah, A refined self-tuning filter-based instantaneous power theory algorithm for indirect current controlled three-level inverter-based shunt active power filters under non-sinusoidal source voltage conditions. Energies 10, 3 (2017). https://doi.org/10.3390/en10030277

S. Biricik, S. Redif, C. Ozerdem, S.K. Khadem, M. Basu, Real-time control of shunt active power filter under distorted grid voltage and unbalanced load condition using self-tuning filter. IET Power Electron. 7(7), 1895–1905 (2014). https://doi.org/10.1049/iet-pel.2013.0924

S. Mikkili, A.K. Panda, Instantaneous active and reactive power and current strategies for current harmonics cancellation in 3-ph 4wire shaf with both pi and fuzzy controllers. Energy Power Eng. 3(03), 285–298 (2011)

A. Ghamri, T. Mahni, M. Benchouia, K. Srairi, A. Golea, Comparative study between different controllers used in three-phase four-wire shunt active filter. Energy Procedia 74, 807–816 (2015)

R.L.D.A. Ribeiro, T.D.O.A. Rocha, R.M. de Sousa, E.C. dos Santos, A.M.N. Lima, A robust dc-link voltage control strategy to enhance the performance of shunt active power filters without harmonic detection schemes. IEEE Trans. Indus. Electron. 62(2), 803–813 (2015). https://doi.org/10.1109/TIE.2014.2345329

T. Demirdelen, R.I. Kayaalp, M. Tümay, Pso-pi based dc link voltage control technique for shunt hybrid active power filter, in 2016 International Conference on Systems Informatics, Modelling and Simulation (SIMS) (2016), pp. 97–102. https://doi.org/10.1109/SIMS.2016.18

F. Li, Y. Zou, W. Chen, J. Zhang, Comparison of current control techniques for single-phase voltage-source pwm rectifiers, in 2008 IEEE International Conference on Industrial Technology (2008), pp. 1–4 . https://doi.org/10.1109/ICIT.2008.4608485

H. Vahedi, Y.R. Kukandeh, M.G. Kashani, A. Dankoob, A. Sheikholeslami, Comparison of adaptive and fixed-band hysteresis current control considering high frequency harmonics, in 2011 IEEE Applied Power Electronics Colloquium (IAPEC) (2011), pp. 185–188. https://doi.org/10.1109/IAPEC.2011.5779858

Y. Xiaojie, L. Yongdong, A shunt active power filter using dead-beat current control, in IEEE 2002 28th Annual Conference of the Industrial Electronics Society. IECON 02, vol. 1 (2002), pp. 633–637. https://doi.org/10.1109/IECON.2002.1187581

S. Charles, C. Vivekanandan, An efficient fpga based real-time implementation shunt active power filter for current harmonic elimination and reactive power compensation. J. Electr. Eng. Technol. 4, 4 (2015). https://doi.org/10.5370/JEET.2015.10.4.1655

P. Karuppanan, K.K. Mahapatra, Active harmonic current compensation to enhance power quality. Int. J. Electr. Power Energy Syst. 62, 144–151 (2014). https://doi.org/10.1016/j.ijepes.2014.04.018

M. Salimi, J. Soltani, A. Zakipour, Experimental design of the adaptive backstepping control technique for single-phase shunt active power filters. IET Power Electron. 10(8), 911–918 (2017). https://doi.org/10.1049/iet-pel.2016.0366

A. Mahfouz, S. Zaid, S. Saad, A. Hagras, Sensorless dc voltage control with backstepping design scheme for shunt active power filter. J. Electr. Eng. 15, 303–312 (2015)

IEEE-519, IEEE recommended practice and requirements for harmonic control in electric power systems. IEEE Std 519-2014 (Revision of IEEE Std 519-1992) pp. 1–29 (2014). https://doi.org/10.1109/IEEESTD.2014.6826459
Copyright information

© 2021 The Author(s), under exclusive license to Springer Nature Singapore Pte Ltd.
About this paper
Cite this paper
Jayasankar, V.N., Vinatha, U. (2021). FPGA-Based Implementation of Backstepping Controller for Three-Phase Shunt Active Power Filter Interfacing Solar Photovoltaic System to Distribution Grid. In: Kumar, J., Jena, P. (eds) Recent Advances in Power Electronics and Drives. Lecture Notes in Electrical Engineering, vol 707. Springer, Singapore. https://doi.org/10.1007/978-981-15-8586-9_39
DOI: https://doi.org/10.1007/978-981-15-8586-9_39

Published:

Publisher Name: Springer, Singapore

Print ISBN: 978-981-15-8585-2

Online ISBN: 978-981-15-8586-9

eBook Packages: EnergyEnergy (R0)