Abstract

The human microbiota is a concoction of bacteria, archaea, fungi, and other microorganisms. It is necessary to maintain a partnership between the host and the microbiota in order to maintain the different aspects of human physiology, such as nutrient absorption, immune function and metabolism. The microbiota can contribute to both progression and suppression of the disease, including cancer. A disturbance in this interspecies balance called microbiome dysbiosis becomes a reason for the host to be more prone to issues such as immunodeficiency and cancer. Gut microbiota could potentially influence the factors that govern cancer susceptibility and progression through mechanisms such as immunomodulation, by producing metabolites, such as, bacteriocins, antimicrobial peptides involved in tumor suppression, and short-chain fatty acids (SCFA), and through enzymatic degradation. It is now an established fact that the host physiology as well as risk of diseases such as cancer could be greatly modulated by these commensal microbes and the regulation of cancer development, progression as well as response to anticancer therapy is greatly dependent on the host microbiota. Therefore, it is being envisaged that by the involvement of microbiome in augmenting antitumor responses to therapeutic approaches, potentially a new era of research with potentially broad implication on cancer treatment could be established. Better cancer treatment responsiveness can be achieved by understanding the role of the "tumor microbiome" in shaping the tumor microenvironment. This will help us to develop personalized anticancer solution with the goal to discover a bacterial species or a combination of species that decreases systemic toxicity and helps in anticancer therapy. This chapter is written in same context, which focuses on the association of the gut microbiome with the suppression and progression of cancers, the role of the immune system in this interaction, the utilization of these organisms for the treatment of cancers, and future perspectives.
Keywords
Bacteriocins

Cancer

Dysbiosis

Probiotics

Microbiome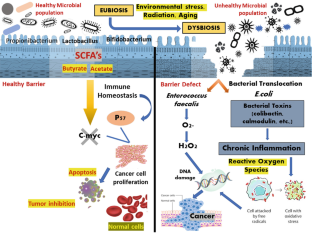 References
Aghazadeh Z, Pouralibaba F, Khosroushahi AY (2017) The prophylactic effect of Acetobacter syzygii probiotic species against squamous cell carcinoma. J Dent Res Dent Clin Dent Prospect 11(4):208

Andersen MH, Schrama D, Thor Straten P, Becker JC (2006) Cytotoxic: T cells. J Invest Dermatol 126(1):32–41

Apostolou P, Tsantsaridou A, Papasotiriou I, Toloudi M, Chatziioannou M, Giamouzis G (2011) Bacterial and fungal microflora in surgically removed lung cancer samples. J Cardiothorac Surg 6:1

Arun KB, Madhavan A, Thomas S, Nisha P (2019) Short chain fatty acids enriched fermentation metabolites of soluble dietary fibre from Musa paradisiaca drive HT29 colon cancer cells to apoptosis. PLoS ONE 14(5):e0216604

Bascones-Martinez A, Mattila R, Gomez-Font R, Meurman JH (2014) Immunomodulatory drugs: oral and systemic adverse effects. Med Oral Patol Oral Cir Bucal 19(1):e24–e31

Bashirdas S, Tuganbaev T, Federici S, Elinav E (2017) The microbiome in anti-cancer therapy. Semin Immunol 32:74–81

Belkaid Y, Naik S (2013) Compartmentalized and systemic control of tissue immunity by commensals. Nat Immunol 14(7):646–653

Berdanier C (2018) The human microbiota. Nutr Today 53(3):125–131

Bik EM, Eckburg PB, Gill SR, Nelson KE, Purdom EA, Francois F, Relman DA (2006) Molecular analysis of the bacterial microbiota in the human stomach. PNAS 103(3):732–737

Bindels L, Porporato P, Dewulf E, Verrax J, Neyrinck A, Martin J, Scott K, Buc Calderon P, Feron O, Muccioli G, Sonveaux P, Cani P, Delzenne N (2012) Gut microbiota-derived propionate reduces cancer cell proliferation in the liver. Br J Cancer 107(8):1337–1344

Brady L, Gallaher D, Busta F (2000) The role of probiotic cultures in the prevention of colon cancer. J Nutr 130(2):410S–414S

Chen Z, Hsieh Y, Huang C, Tsai C (2017) Inhibitory effects of probiotic Lactobacillus on the growth of human colonic carcinoma cell line HT-29. Molecules 22(1):107

Chondrou P, Karapetsas A, Kiousi D, Tsela D, Tiptiri-Kourpeti A, Anestopoulos I, Kotsianidis I, Bezirtzoglou E, Pappa A, Galanis A (2018) Lactobacillus paracasei K5 displays adhesion, anti-proliferative activity and apoptotic effects in human colon cancer cells. Benefic Microbes 9(6):975–983

Commane D, Shortt C, Silvi S, Cresci A, Hughes R, Rowland I (2005) Effects of fermentation products of pro- and prebiotics on trans-epithelial electrical resistance in an in vitro model of the colon. Nutr Cancer 51(1):102–109

Daillère R, Vétizou M, Waldschmitt N, Yamazaki T, Isnard C, Poirier-Colame V, Duong C, Flament C, Lepage P, Roberti M, Routy B, Jacquelot N, Apetoh L, Becharef S, Rusakiewicz S, Langella P, Sokol H, Kroemer G, Enot D, Roux A, Eggermont A, Tartour E, Johannes L, Woerther P, Chachaty E, Soria J, Golden E, Formenti S, Plebanski M, Madondo M, Rosenstiel P, Raoult D, Cattoir V, Boneca I, Chamaillard M, Zitvogel L (2016) Enterococcus hirae and Barnesiella intestinihominis facilitate cyclophosphamide induced therapeutic immunomodulatory effects. Immunity 45(4):931–943

Daley D, Mani V, Mohan N, Akkad N, Pandian G, Savadkar S, Lee K, Torres-Hernandez A, Aykut B, Diskin B, Wang W, Farooq M, Mahmud A, Werba G, Morales E, Lall S, Wadowski B, Rubin A, Berman M, Narayanan R, Hundeyin M, Miller G (2017) NLRP3 signaling drives macrophage-induced adaptive immune suppression in pancreatic carcinoma. J Exp Med 214(6):1711–1724

de Moreno de LeBlanc A, Matar C, Thériault C, Perdigón G (2005) Effects of milk fermented by R389 on immune cells associated with mammary glands in normal and a breast cancer model. Immunobiology 210(5):349–358

Desrouillères K, Millette M, Vu K, Touja R, Lacroix M (2015) Cancer preventive effects of a specific probiotic fermented milk containing Lactobacillus acidophilus CL1285, L. casei LBC80R and L. rhamnosus CLR2 on male F344 rats treated with 1,2-dimethylhydrazine. J Funct Foods 17:816–827

Dicksved J, Lindberg M, Rosenquist M, Enroth H, Jansson JK, Engstrand L (2009) Molecular characterization of the stomach microbiota in patients with gastric cancer and in controls. J Med Microbiol 58(4):509–516

Dubey V, Ghosh A, Bishayee K, Khuda-Bukhsh A (2016) Appraisal of the anti-cancer potential of probiotic Pediococcus pentosaceus GS4 against colon cancer: in vitro and in vivo approaches. J Funct Foods 23:66–79

Elfahri K, Vasiljevic T, Yeager T, Donkor O (2016) Anti-colon cancer and antioxidant activities of bovine skim milk fermented by selected Lactobacillus helveticus strains. J Dairy Sci 99(1):31–40

Elinav E, Strowig T, Kau AL, Henao-Mejia J, Thaiss CA, Booth CJ, Flavell RA (2011) NLRP6 inflammasome regulates colonic microbial ecology and risk for colitis. Cell 145(5):745–757

Ferreira RM, Pereira-Marques J, Pinto-Ribeiro I, Costa JL, Carneiro F, Machado JC, Figueiredo C (2018) Gastric microbial community profiling reveals a dysbiotic cancer-associated microbiota. Gut 67(2):226–236

Fleming M, Ravula S, Tatishchev SF, Wang HL (2012) Colorectal carcinoma: Pathologic aspects. J Gastrointest oncol 3(3):153–173

Fox JG, Feng Y, Theve EJ, Raczynski AR, Fiala JL, Doernte AL, Tannenbaum SR (2010) Gut microbes define liver cancer risk in mice exposed to chemical and viral transgenic hepatocarcinogens. Gut 59(01):88–97

Gharaibeh RZ, Jobin C (2019) Microbiota and cancer immunotherapy: in search of microbial signals. Gut 68(3):385–388

Gopalakrishnan V, Spencer CN, Nezi L, Reuben A, Andrews MC, Karpinets TV, Cogdill AP (2018) Gut microbiome modulates response to anti-PD-1 immunotherapy in melanoma patients. Science 359(6371):97–103

Guha D, Banerjee A, Mukherjee R, Pradhan B, Peneva M, Aleksandrov G, Suklabaidya S, Senapati S, Aich P (2019) A probiotic formulation containing L. bulgaricus DWT1 inhibits tumour growth by activating pro-inflammatory responses in macrophages. J Funct Foods 56:232–245

Gui Q, Lu H, Zhang C, Xu Z, Yang Y (2015) Well-balanced commensal microbiota contributes to anti-cancer response in a lung cancer mouse model. Genet Mol Res 14(2):5642–5651

Gur C, Ibrahim Y, Isaacson B, Yamin R, Abed J, Gamliel M, Enk J, Bar-On Y, Stanietsky-Kaynan N, Coppenhagen-Glazer S, Shussman N, Almogy G, Cuapio A, Hofer E, Mevorach D, Tabib A, Ortenberg R, Markel G, Miklić K, Jonjic S, Brennan C, Garrett W, Bachrach G, Mandelboim O (2015) Binding of the Fap2 protein of Fusobacterium nucleatum to human inhibitory receptor TIGIT protects tumors from immune cell attack. Immunity 42(2):344–355

Hatakka K, Holma R, El-Nezami H, Suomalainen T, Kuisma M, Saxelin M, Poussa T, Mykkänen H, Korpela R (2008) The influence of L. rhamnosus LC705 together with Propionibacterium freudenreichii ssp. Shermanii JS on potentially carcinogenic bacterial activity in human colon. Int J Food Microbiol 128(2):406–410

Heydari Z, Rahaie M, Alizadeh A (2019) Different anti-inflammatory effects of Lactobacillus acidophilus and Bifidobactrum bifidioum in hepatocellular carcinoma cancer mouse through impact on microRNAs and their target genes. J Nutr Intermed Metabol 16:100096

Hooper SJ, Crean SJ, Fardy MJ, Lewis MA, Spratt DA, Wade WG, Wilson MJ (2007) A molecular analysis of the bacteria present within oral squamous cell carcinoma. J Med Microbiol 56(12):1651–1659

Horie H, Zeisig M, Hirayama K, Midtvedt T, Möller L, Rafter J (2003) Probiotic mixture decreases DNA adduct formation in colonic epithelium induced by the food mutagen 2-amino-9H-pyrido [2,3-b]indole in a human-flora associated mouse model. Eur J Cancer Prev 12(2):101–107

Iida N, Dzutsev A, Stewart CA, Smith L, Bouladoux N, Weingarten RA, Molina DA, Salcedo R, Back T, Cramer S, Dai RM, Kiu H, Cardone M, Naik S, Patri AK, Wang E, Marincola FM, Frank KM, Belkaid Y, Trinchieri G, Goldszmid RS (2013) Commensal bacteria control cancer response to therapy by modulating the tumor microenvironment. Science 342(6161):967–970

Jacouton E, Chain F, Sokol H, Langella P, Bermúdez-Humarán L (2017) Probiotic Strain Lactobacillus casei BL23 prevents colitis-associated colorectal cancer. Front Immunol 8:1553

Jobin C (2018) Precision medicine using microbiota. Science 359(6371):32–34

Jones C, Badger S, Regan M, Clements B, Diamond T, Parks R, Taylor M (2013) Modulation of gut barrier function in patients with obstructive jaundice using probiotic LP299v. Eur J Gastroenterol Hepatol 25(12):1424–1430

Kanmani P, Satish Kumar R, Yuvaraj N, Paari K, Pattukumar V, Arul V (2013) Probiotics and its functionally valuable products—a review. Crit Rev Food Sci Nutr 53(6):641–658

Kaur S, Kaur S (2015) Bacteriocins as potential anticancer agents. Front Pharmacol 6:272. https://doi.org/10.3389/fphar.2015.00272

Ko J (2007) Lactobacillus plantarum inhibits epithelial barrier dysfunction and interleukin-8 secretion induced by tumor necrosis factor-α. World J Gastroenterol 13(13):1962

Kolb R, Phan L, Borcherding N, Liu Y, Yuan F, Janowski A, Xie Q, Markan K, Li W, Potthoff M, Fuentes-Mattei E, Ellies L, Knudson C, Lee M, Yeung S, Cassel S, Sutterwala F, Zhang W (2016) Obesity-associated NLRC4 inflammasome activation drives breast cancer progression. Nat Commun 7:1

Konishi H, Fujiya M, Tanaka H, Ueno N, Moriichi K, Sasajima J, Ikuta K, Akutsu H, Tanabe H, Kohgo Y (2016) Probiotic-Derived Ferrichrome Inhibits Colon Cancer Progression via JNK-Mediated Apoptosis. Nat Commun 7:12365

Kumeria T, Maher S, Wang Y, Kaur G, Wang L, Erkelens M, Forward P, Lambert M, Evdokiou A, Losic D (2016) Naturally derived iron oxide nanowires from bacteria for magnetically triggered drug release and cancer hyperthermia in 2D and 3D culture environments: Bacteria biofilm to potent cancer therapeutic. Biomacromolecules 17(8):2726–2736

Lazar V, Ditu L, Pircalabioru G, Gheorghe I, Curutiu C, Holban AM, Chifiriuc CM (2018) Aspects of gut microbiota and immune system interactions in infectious diseases, immunopathology and cancer. Front Immunol 9:1830

Lazar V, Ditu LM, Pircalabioru GG, Picu A, Petcu L, Cucu N, Chifiriuc MC (2019) Gut microbiota, host organism, and diet trialogue in diabetes and obesity. Front Nutr 6(21):1–20

Lee N, Son S, Jeon E, Jung G, Lee J, Paik H (2015) The prophylactic effect of probiotic Bacillus polyfermenticus KU3 against cancer cells. J Funct Foods 14:513–518

Lee WH, Chen HM, Yang SF, Liang C, Peng CY, Lin FM, Yang T (2017) Bacterial alterations in salivary microbiota and their association in oral cancer. Sci Rep 7(1):16540

Lenoir M, del Carmen S, Cortes-Perez N, Lozano-Ojalvo D, Muñoz-Provencio D, Chain F, Langella P, de Moreno de LeBlanc A, LeBlanc J, Bermúdez-Humarán L (2016) Lactobacillus casei BL23 regulates Treg and Th17 T-cell populations and reduces DMH-associated colorectal cancer. J Gastroenterol 51(9):862–873

Leschner S, Westphal K, Dietrich N, Viegas N, Jablonska J, Lyszkiewicz M, Lienenklaus S, Falk W, Gekara N, Loessner H, Weiss S (2009) Tumor invasion of Salmonella typhimurium is accompanied by strong hemorrhage promoted by TNF-α. PLoS ONE 4(8):6692

Lin C, Cai X, Zhang J, Wang W, Sheng Q, Hua H, Zhou X (2019) Role of gut microbiota in the development and treatment of colorectal cancer. Digestion 100:72–78

Louis P, Hold G, Flint H (2014) The gut microbiota, bacterial metabolites and colorectal cancer. Nat Rev Microbiol 12(10):661–672

Low KB (2004) Construction of VNP20009: a novel genetically stable antibiotic sensitive strain of tumor targeting Salmonella for parenteral administration in humans. Methods Mol Med 90:47–60

Ma W, Mao Q, Xia W, Dong G, Yu C, Jiang F (2019) Gut microbiota shapes the efficiency of cancer therapy. Front Microbiol 10:1050

Mager DL (2006) Bacteria and cancer: cause, coincidence or cure? A review. J Transl Med 4(1):14

Mager DL, Haffajee AD, Devlin PM, Norris CM, Posner MR, Goodson JM (2005) The salivary microbiota as a diagnostic indicator of oral cancer: a descriptive, non-randomized study of cancer-free and oral squamous cell carcinoma subjects. J Transl Med 3(1):27

Maldonado-Contreras A, Goldfarb KC, Godoy-Vitorino F, Karaoz U, Contreras M, Blaser MJ, Dominguez-Bello MG (2011) Structure of the human gastric bacterial community in relation to Helicobacter pylori status. ISME J 5(4):574

Matson V, Fessler J, Bao R, Chongsuwat T, Zha Y, Alegre ML, Gajewski TF (2018) The commensal microbiome is associated with anti–PD-1 efficacy in metastatic melanoma patients. Science 359(6371):104–108

McLoed A, Sherrill T, Cheng D, Han W, Saxon J, Gleaves L, Wu P, Polosukhin V, Karin M, Yull F, Stathopoulos G, Georgoulias V, Zaynagetdinov R, Blackwell T (2016) Neutrophil-derived IL-1β impairs the efficacy of NF-κB inhibitors against lung cancer. Cell Rep 16(1):120–132

Meng C, Bai C, Brown TD, Hood LE, Tian Q (2018) Human gut microbiota and gastrointestinal cancer. Genomics Proteomics Bioinformatics 16(1):33–49

Nagpal R, Wang S, Ahmadi S, Hayes J, Gagliano J, Subashchandrabose S, Yadav H (2018) Human-origin probiotic cocktail increases short-chain fatty acid production via modulation of mice and human gut microbiome. Sci Rep 8(1):12649

Nagy KN, Sonkodi I, Szöke I, Nagy E, Newman HN (1998) The microflora associated with human oral carcinomas. Oral Oncol 34(4):304–308

Nasrollahzadeh D, Malekzadeh R, Ploner A, Shakeri R, Sotoudeh M, Fahimi S, Islami F (2015) Variations of gastric corpus microbiota are associated with early esophageal squamous cell carcinoma and squamous dysplasia. Sci Rep 5:8820

Neish A (2009) Microbes in gastrointestinal health and disease. Gastroenterology 136(1):65–80

Nekouian R, Rasouli B, Ghadimi-Darsajini A, Iragian G (2017) In vitro activity of probiotic Lactobacillus reuteri against gastric cancer progression by downregulation of urokinase plasminogen activator/urokinase plasminogen activator receptor gene expression. J Cancer Res Ther 13(2):246

Neuman H, Debelius J, Knight R, Koren O (2015) Microbial endocrinology: the interplay between the microbiota and the endocrine system. FEMS Microbiol Rev 39(4):509–521

Nurmi J, Puolakkainen P, Rautonen N (2005) Bifidobacterium lactis sp. 420 up-regulates cyclooxygenase (Cox)-1 and down-regulates Cox-2 gene expression in a Caco-2 cell culture model. Nutr Cancer 51(1):83–92

O'Keefe S (2016) Diet, microorganisms and their metabolites, and colon cancer. Nat Rev Gastroenterol Hepatol 13(12):691–706

Odamaki T, Sugahara H, Yonezawa S, Yaeshima T, Iwatsuki K, Tanabe S, Tominaga T, Togashi H, Benno Y, Xiao J (2012) Effect of the oral intake of yogurt containing Bifidobacterium longum BB536 on the cell numbers of enterotoxigenic Bacteroides fragilis in microbiota. Anaerobe 18(1):14–18

Ohland CL, Jobin C (2015) Microbial activities and intestinal homeostasis: a delicate balance between health and disease. Cell Mol Gastroenterol Hepatol 1(1):28–40

Petra CV, Rus A, Dumitrascu DL (2017) Gastric microbiota: tracing the culprit. Clujul Med 90(4):369–376

Qin J, Li R, Raes J, Arumugam M, Burgdorf K, Manichanh C, Nielsen T, Pons N, Levenez F, Yamada T, Mende D, Li J, Xu J, Li S, Li D, Cao J, Wang B, Liang H, Zheng H, Xie Y, Tap J, Lepage P, Bertalan M, Batto J, Hansen T, Le Paslier D, Linneberg A, Nielsen H, Pelletier E, Renault P, Sicheritz-Ponten T, Turner K, Zhu H, Yu C, Li S, Jian M, Zhou Y, Li Y, Zhang X, Li S, Qin N, Yang H, Wang J, Brunak S, Doré J, Guarner F, Kristiansen K, Pedersen O, Parkhill J, Weissenbach J, Bork P, Ehrlich S, Wang J (2010) A human gut microbial gene catalogue established by metagenomic sequencing. Nature 464(7285):59–65

Raza M, Gul K, Arshad A, Riaz N, Waheed U, Rauf A, Aldakheel F, Alduraywish S, Rehman M, Abdullah M, Arshad M (2018) Microbiota in cancer development and treatment. J Cancer Res Clin Oncol 145(1):49–63

Reddy B (1997) Effect of dietary oligofructose and inulin on colonic preneoplastic aberrant crypt foci inhibition. Carcinogenesis 18(7):1371–1374

Reid G, Jass J, Sebulsky MT, McCormick JK (2003) Potential uses of probiotics in clinical practice. Clin Microbiol Rev 16:658–672

Riaz Rajoka M, Zhao H, Lu Y, Lian Z, Li N, Hussain N, Shao D, Jin M, Li Q, Shi J (2018) Anticancer potential against cervix cancer (HeLa) cell line of probiotic Lactobacillus casei and Lactobacillus paracasei strains isolated from human breast milk. Food Funct 9(5):2705–2715

Roberts NJ, Zhang L, Janku F, Collins A, Bai RY, Staedtke V, Rusk AW, Tung D, Miller M, Roix J, Khanna KV, Murthy R, Benjamin RS, Helgason T, Szvalb AD, Bird JE, Roy-Chowdhuri S, Zhang HH, Qiao Y, Karim B, Zhou S (2014) Intratumoral injection of Clostridium novyi-NT spores induces antitumor responses. Sci Transl Med 6(249):249. https://doi.org/10.1126/scitranslmed.3008982

Roller M, Femia A, Caderni G, Rechkemmer G, Watzl B (2004) Intestinal immunity of rats with colon cancer is modulated by oligofructose-enriched inulin combined with Lactobacillus rhamnosus and Bifidobacterium lactis. Br J Nutr 92(6):931–938

Routy B, Le Chatelier E, Derosa L, Duong CP, Alou MT, Daillère R, Fidelle M (2018) Gut microbiome influences efficacy of PD-1–based immunotherapy against epithelial tumors. Science 359(6371):91–97

Roy S, Trinchieri G (2017) Microbiota: a key orchestrator of cancer therapy. Nat Rev Cancer 17(5):271

Rubinstein MR, Wang X, Liu W, Hao Y, Cai G, Han YW (2013) Fusobacterium nucleatum promotes colorectal carcinogenesis by modulating E-cadherin/β-catenin signaling via its FadA adhesin. Cell Host Microbe 14(2):195–206

Ryan R, Green J, Williams P, Tazzyman S, Hunt S, Harmey J, Kehoe S, Lewis C (2009) Bacterial delivery of a novel cytolysin to hypoxic areas of solid tumors. Gene Ther 16(3):329–339

Saber A, Alipour B, Faghfoori Z, Yari Khosroushahi A (2017) Secretion metabolites of dairy Kluyveromyces marxianus AS41 isolated as probiotic, induces apoptosis in different human cancer cell lines and exhibit anti-pathogenic effects. J Funct Foods 34:408–421

Sadhu A, Ganguly KK (2017) Lactobacillus sp.—a threat to pathogenic microorganisms and tumor cells. J Cancer Ther 8(2):96–111. https://doi.org/10.4236/jct.2017.82009

Salcedo R, Worschech A, Cardone M, Jones Y, Gyulai Z, Dai R, Wang E, Ma W, Haines D, O'hUigin C, Marincola F, Trinchieri G (2010) MyD88-mediated signaling prevents development of adenocarcinomas of the colon: role of interleukin 18. J Exp Med 207(8):1625–1636

Sasaki M, Yamaura C, Ohara-Nemoto Y, Tajika S, Kodama Y, Ohya T, Kimura S (2005) Streptococcus anginosus infection in oral cancer and its infection route. Oral Dis 11(3):151–156

Saus E, Iraola-Guzmán S, Willis J, Brunet-Vega A, Gabaldón T (2019) Microbiome and colorectal cancer: roles in carcinogenesis and clinical potential. Mol Asp Med 69:93–106

Saxami G, Karapetsas A, Lamprianidou E, Kotsianidis I, Chlichlia A, Tassou C, Zoumpourlis V, Galanis A (2016) Two potential probiotic lactobacillus strains isolated from olive microbiota exhibit adhesion and anti-proliferative effects in cancer cell lines. J Funct Foods 24:461–471

Scott K, Gratz S, Sheridan P, Flint H, Duncan S (2013) The influence of diet on the gut microbiota. Pharmacol Res 69(1):52–60

Seidel JA, Otsuka A, Kabashima K (2018) Anti-PD-1 and anti-CTLA-4 therapies in cancer: mechanisms of action, efficacy, and limitations. Front Oncol 8:86

Sender R, Fuchs S, Milo R (2016) Are we really vastly outnumbered? Revisiting the ratio of bacterial to host cells in humans. Cell 164(3):337–340

Sharma P, Allison JP (2015) The future of immune checkpoint therapy. Science 348(6230):56–61

Singh J, Hamid R, Reddy BS (1997) Dietary fat and colon cancer: modulating effect of types and amount of dietary fat on ras-p21 function during promotion and progression stages of colon cancer. Cancer Res 57(2):253–258

Sivan A, Corrales L, Hubert N, Williams JB, Aquino-Michaels K, Earley ZM, Chang EB (2015) Commensal Bifidobacterium promotes antitumor immunity and facilitates anti–PD-L1 efficacy. Science 350(6264):1084–1089

Stenken JA, Poschenrieder AJ (2015) Bioanalytical chemistry of cytokines–a review. Anal Chim Acta 853:95–115

Stern C, Kasnitz N, Kocijancic D et al (2015) Induction of CD4 (+) and CD8(+) antitumor effector T cell responses. Int J Cancer 137:2019–2028

Takeda K, Okumura K (2007) Effects of a fermented milk drink containing Lactobacillus casei strain shirota on the human NK-Cell Activity. J Nutr 137(3):791–793

Tarrah A, Castilhos J, Rossi R, Duarte V, Ziegler D, Corich V, Giacomini A (2018) In vitro probiotic potential and anti-cancer activity of newly isolated folate-producing Streptococcus thermophilus strains. Front Microbiol 9:2214

Todorov S, de Melo Franco B, Tagg J (2019) Bacteriocins of gram-positive bacteria having activity spectra extending beyond closely-related species. Benefic Microbes 10(3):315–328

van Nood E, Vrieze A, Nieuwdorp M, Fuentes S, Zoetendal E, de Vos W, Visser C, Kuijper E, Bartelsman J, Tijssen J, Speelman P, Dijkgraaf M, Keller J (2013) Duodenal infusion of donor feces for recurrent Clostridium difficile. N Engl J Med 368(5):407–415

Vétizou M, Pitt JM, Daillère R, Lepage P, Waldschmitt N, Flament C, Poirier-Colame V (2015) Anticancer immunotherapy by CTLA-4 blockade relies on the gut microbiota. Science 350(6264):1079–1084

Viaud S, Saccheri F, Mignot G, Yamazaki T, Daillere R, Hannani D, Enot D, Pfirschke C, Engblom C, Pittet M, Schlitzer A, Ginhoux F, Apetoh L, Chachaty E, Woerther P, Eberl G, Berard M, Ecobichon C, Clermont D, Bizet C, Gaboriau-Routhiau V, Cerf-Bensussan N, Opolon P, Yessaad N, Vivier E, Ryffel B, Elson C, Dore J, Kroemer G, Lepage P (2013) The intestinal microbiota modulates the anticancer immune effects of cyclophosphamide. Science 342(6161):971–976

Vivarelli S, Salemi R, Candido S, Falzone L, Santagati M, Stefani S, Libra M (2019) Gut microbiota and cancer: from pathogenesis to therapy. Cancer 11(1):38

Wall DM, Srikanth CV, McCormick BA (2010) Targeting tumors with Salmonella typhimurium-potential for therapy. Oncotarget 1(8):721

Wang G, Yu Y, Wang YZ, Wang JJ, Guan R, Sun Y, Fu XL (2019) Role of SCFAs in gut microbiome and glycolysis for colorectal cancer therapy. J Cell Physiol 234(10):17023–17049

Whiteman DC, Parmar P, Fahey P, Moore SP, Stark M, Zhao ZZ, Study AC (2010) Association of Helicobacter pylori infection with reduced risk for esophageal cancer is independent of environmental and genetic modifiers. Gastroenterology 139(1):73–83

Wong S, Kwong T, Wu C, Yu J (2019) Clinical applications of gut microbiota in cancer biology. Semin Cancer Biol 55:28–36

Wu HJ, Wu E (2012) The role of gut microbiota in immune homeostasis and autoimmunity. Gut Microbes 3(1):4–14

Yang J, Yu J (2018) The association of diet, gut microbiota and colorectal cancer: what we eat may imply what we get. Protein Cell 9(5):474–487

Yang L, Lu X, Nossa CW, Francois F, Peek RM, Pei Z (2009) Inflammation and intestinal metaplasia of the distal esophagus are associated with alterations in the microbiome. Gastroenterology 137(2):588–597

Yang L, Francois F, Pei Z (2012) Molecular pathways: pathogenesis and clinical implications of microbiome alteration in esophagitis and Barrett esophagus. Clin Cancer Res 18(8):2138–2144

Yeh KY, Wang HM, Chang JW, Huang JS, Lai CH, Lan YJ, Wu TH, Chang PH, Wang H, Wu CJ, Hsia S, Wang CH (2013) Omega-3 fatty acid-, micronutrient-, and probiotic-enriched nutrition helps body weight stabilization in head and neck cancer cachexia. Oral Surg Oral Med Oral Pathol Oral Radiol 116(1):41–48. https://doi.org/10.1016/j.oooo.2013.01.015

Yu A, Li L (2016) The potential role of probiotics in cancer prevention and treatment. Nutr Cancer 68(4):535–544

Zaki M, Vogel P, Body-Malapel M, Lamkanfi M, Kanneganti T (2010) IL-18 production downstream of the Nlrp3 inflammasome confers protection against colorectal tumor formation. J Immunol 185(8):4912–4920

Zhang X, Liu F, Cheng Z, Wang W (2009) Cell fate decision mediated by p53 pulses. PNAS 106(30):12245–12250

Zhang M, Wang F, Jiang L, Liu R, Zhang L, Lei X, Li J, Jiang J, Guo H, Fang B, Zhao L, Ren F (2013) Lactobacillus salivarius REN inhibits rat oral cancer induced by 4-nitroquioline 1-oxide. Cancer Prev Res 6(7):686–694

Zhou Z, Chen J, Yao H, Hu H (2018) Fusobacterium and colorectal cancer. Front Oncol 8:371
Acknowledgment

Dr. Alok Malaviya is thankful to Centre for Research Projects, CHRIST (Deemed to be University), Bangalore, for the generous research grant (MRPDSC—1829) on Probiotic development.
Copyright information

© 2021 Springer Nature Singapore Pte Ltd.
About this chapter
Cite this chapter
Malaviya, A., Paari, K.A., Malviya, S., Kondapalli, V.K., Ghosh, A., Samuel, R.A. (2021). Gut Microbiota and Cancer Correlates. In: Deol, P.K. (eds) Probiotic Research in Therapeutics. Springer, Singapore. https://doi.org/10.1007/978-981-15-8214-1_1
DOI: https://doi.org/10.1007/978-981-15-8214-1_1

Published:

Publisher Name: Springer, Singapore

Print ISBN: 978-981-15-8213-4

Online ISBN: 978-981-15-8214-1