Abstract

Due to the COVID-19 pandemic, many universities have decided to apply remote teaching in order to ensure the continuity of teaching and learning, as well as the safety of their students, teachers, and employees. However, not all teachers were prepared to go through this experience, and many of them have faced several challenges while teaching remotely. Therefore, this paper presents the most significant challenges that teachers may face during remote teaching and a number of proposed solutions for them. Two methods were used to identify these challenges as well as their proposed solutions, namely a comprehensive literature review and experts' feedback. Additionally, this paper presents a framework for teacher support during times of crisis. The proposed framework can be referred by universities and teachers to facilitate remote teaching in the future, especially in times of crisis.
Keywords
COVID-19

Crisis

Remote teaching

Distance education

Online learning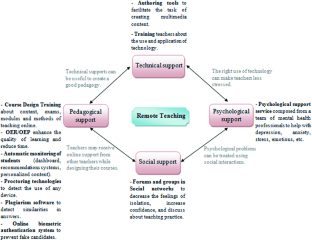 References
Ali, A., & Smith, D. (2015). Comparing social isolation effects on learners attrition in online versus face-to face courses in computer literacy. Issues in Informing Science and Information Technology, 12, 11–20. Retrieved from http://iisit.org/Vol12/IISITv12p011-020Ali1784.pdf

Bal, A., & Acharya, A. (2011). Biometric authentication and tracking system for online examination system. In 2011 International Conference on Recent Trends in Information Systems (pp. 209–213). IEEE.

BBC. (n.d). New mental health and wellbeing support for teachers. Retrieved from https://www.bbc.co.uk/teach/teacher-support/new-mental-health-and-wellbeing-support-for-teachers/z4g4scw

Bezukladnikov, K., & Kruze, B. (2012). An outline of an ESP teacher training course. World Applied Sciences Journal, 20 (P), 103.

Bolliger, D. U., Supnakorn, S., & Boggs, C. (2010). Impact of podcasting on learner motivation in the online learning environment. Computers & Education, 55, 714–722.

Bureau, E. (2016). School crisis management intervention and psychological support in the aftermath of crises handbook.

Chick, N. (2013). Teaching in times of crisis. Retrieved from https://cft.vanderbilt.edu/guides-sub-pages/crisis/

Clarke, A., Triggs, V., & Nielsen, W. (2014). Cooperating teacher participation in teacher.

Cohut, M. (2018, February). What are the health benefits of being social? Retrieved from https://www.medicalnewstoday.com/articles/321019

Cubillo, J., Martin, S., Castro, M., & Boticki, I. (2015). Preparing augmented reality learning content should be easy: UNED ARLE—An authoring tool for augmented reality learning environments. Computer Applications in Engineering Education, 23(5), 778–789.

Denden, M., Tlili, A., Essalmi, F., & Jemni, M. (2018). Implicit modeling of learners' personalities in a game-based learning environment using their gaming behaviors. Smart Learning Environments, 5(1), 29.

Denden, M., Tlili, A., Essalmi, F., Jemni, M., Chang, M., & Huang, R. (2019). iMoodle: An intelligent gamified moodle to predict "at-risk" students using learning analytics approaches. In data analytics approaches in educational games and gamification systems (pp. 113–126). Springer, Singapore.

Dlamini, R., & Mbatha, K. (2018). The discourse on ICT teacher professional development needs: The case of a South African teachers' union. International Journal of Education and Development using ICT, 14 (2).

Fan, L. (2019). Indonesian teachers' knowledge of ICT and the use of ICT in secondary mathematics teaching. EURASIA Journal of Mathematics, Science and Technology Education, 16 (1), em1799.

Gherbi, M. (2015). ICT and the reality in Algeria. In International Academic Conference on Education, Teaching and E-learning, (IAC-ETeL 2015), Prague.

Gorman, W., Oster, S., & Kniffin, B. (2003). U.S. Patent Application No. 09/917,435.

Hamdy, A. (2007). ICT in education in Algeria. SURVEY OF ICT AND EDUCATION IN AFRICA: Algeria Country Report. Retrieved from https://www.infodev.org/infodev files/resource/InfodevDocuments_384.pdf

Haßler, B., Khalayleh, A., McBurnie, C. (2020). A five-part education response to the COVID-19 pandemic (EdTech Hub Helpdesk Response No. 5). https://doi.org/10.5281/zenodo.3756012. Available at https://docs.edtechhub.org/lib/JLEWADHF. Available under Creative Commons Attribution 4.0 International, https://creativecommons.org/licenses/by/4.0/

Hodges, C., Moore, S., Lockee, B., Trust, T., & Bond, A. (2020). The difference between emergency remote teaching and online learning. EDUCAUSE Review. https://er.educause.edu/articles/2020/3/the-difference-between-emergency-remote-teachingand-online-learning.

Huang, R., Tlili, A., Chang, T. W., Zhang, X., Nascimbeni, F., & Burgos, D. (2020a). Disrupted classes, undisrupted learning during COVID-19 outbreak in China: Application of open educational practices and resources. Smart Learning Environments (in press).

Huang, R. H., Liu, D. J., Tlili, A., Yang, J. F., Wang, H. H., et al. (2020b). Handbook on facilitating flexible learning during educational disruption: The Chinese experience in maintaining undisrupted learning in COVID-19 outbreak. Beijing: Smart Learning Institute of Beijing Normal University.

Kanchan, R. (2020). 5 clever ways students cheat on online exams and how to stop them. Retrieved from https://blog.mettl.com/assessment-technology/5-unique-ways-students-cheat-in-online-examination-and-how-to-prevent-it

Kelly, N., & Antonio, A. (2016). Teacher peer support in social network sites. Teaching and Teacher Education, 56, 138–149.

Kidman, G., & Chang, C. H. (2020). What does "crisis" education look like? International Research in Geographical and Environmental Education, 29(2), 107–111.

Mandernach, B. J., Hudson, S., & Wise, S. (2013). Where has the time gone? Faculty activities and time commitments in the online classroom. Journal of Educators Online, 10(2), 1–15.

Millman, J. T., Beattie, V., Zaorski, T., & Hill, J. M. (2008). U.S. Patent Application No. 11/608,184.

Nonaka, I., & Takeuchi, H. (1995). The knowledge-creating company: How Japanese companies create the dynamics of innovation. Cambridge: Cambridge University Press.

OPAL. (2011). Beyond OER: Shifting focus to open educational practices: Open Education Quality Initiative [Report]. Retrieved from http://duepublico.uni-duisburg-essen.de/servlets/DerivateServlet/Derivate-25907/OPALReport2011-Beyond-OER.pdf

Schaeffer, C. E., & Konetes, G. D. (2010). Impact of learner engagement on attrition rates and learner success in online learning. International Journal of Instructional Technology & Distance Learning, 7(5), 3–9.

Sheridan, R. (2006). Reducing the online instructor's workload. EDUCAUSE Quarterly, 29(3), 65–67.

Siemens, G. (2010). What are learning analytics? Retrieved August 12, 2016, from http://www.elearnspace.org/blog/2010/08/25/what-are-learning-analytics/

Taconis, R., Bekker, T., Bakker, S., & van der Sande, A. (2018, January). Developing the teach21 online authoring tool supporting primary school teachers in designing 21st century design based education. In 10th International Conference on Computer Supported Education (CSEDU 2018) (pp. 91–98). SCITEPRESS-Science and Technology Publications, Lda.

Tlili, A., Essalmi, F., Jemni, M., & Chen, N. S. (2018). A complete validated learning analytics framework: Designing issues from data preparation perspective. International Journal of Information and Communication Technology Education (IJICTE), 14(2), 1–16.

Tlili, A., Essalmi, F., Jemni, M., & Chen, N. S. (2019). A complete validated learning analytics framework: designing issues from data use perspective. International Journal of Information and Communication Technology Education (IJICTE), 15(3), 42–59.

Tosato, P., & Bodi, G. (2011). Collaborative environments to foster creativity, reuse and sharing of OER. European Journal of Open, Distance and E-learning, 14 (2).

UNHCR. (n.d). Mental health and psychosocial support. Retrieved from https://emergency.unhcr.org/entry/49304/mental-health-and-psychosocial-support

United Nations Educational, Scientific, and Cultural Organization (UNESCO). (2020). COVID-19 Educational disruption and response. https://en.unesco.org/themes/education-emergencies/coronavirus-school-closures

Wenk, B. (2010, April). Open educational resources (OER) inspire teaching and learning. In IEEE EDUCON 2010 conference (pp. 435–442). IEEE.

World Health Organization. (2019). Mental health in emergencies. Retrieved from https://www.who.int/news-room/fact-sheets/detail/mental-health-in-emergencies

Zhenming, Y., Liang, Z., & Guohua, Z. (2003, November). A novel web-based online examination system for computer science education. In 33rd ASEE/IEEE Frontiers in Education Conference (pp. 5–8).
Copyright information

© 2021 The Author(s), under exclusive license to Springer Nature Singapore Pte Ltd.
About this chapter
Cite this chapter
Denden, M. et al. (2021). Framework for Teacher Support During Remote Teaching in a Crisis: COVID-19, as a Case Study. In: Burgos, D., Tlili, A., Tabacco, A. (eds) Radical Solutions for Education in a Crisis Context. Lecture Notes in Educational Technology. Springer, Singapore. https://doi.org/10.1007/978-981-15-7869-4_10
DOI: https://doi.org/10.1007/978-981-15-7869-4_10

Published:

Publisher Name: Springer, Singapore

Print ISBN: 978-981-15-7868-7

Online ISBN: 978-981-15-7869-4

eBook Packages: EducationEducation (R0)