Abstract

This is an overview of the potential of Haematococcus pluvialis for use in the commercial production of natural astaxanthin, along with a survey of mass culture methods that utilize the characteristics of H. pluvialis. The latest advancements in cultivation methods that incorporate new technologies, such as light-emitting diodes (LEDs), are outlined. Furthermore, the differences in culture conditions that may affect the product quality required to meet the standards for its use as a health supplement ingredient are discussed. Additionally, insights are provided on some of the current avenues of research and the future of astaxanthin cultivation.
Keywords
Haematococcus pluvialis

Mass cultivation

Tubular reactor

 Light-emitting diode (LED)

Quality management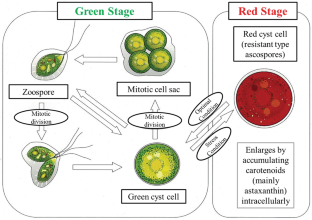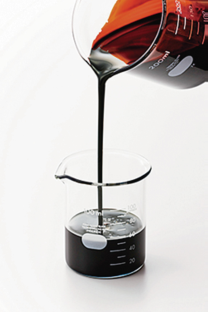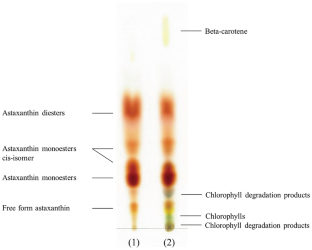 References
Collins AM, Jones HD, Han D, Hu Q, Beechem TE, Timlin JA (2011) Carotenoid distribution in living cells of Haematococcus pluvialis (Chlorophyceae). PLoS One 6(9):e24302

Domínguez-Bocanegra AR, Guerrero Legarreta I, Martinez Jeronimo F, Tomasini Campocosio A (2004) Influence of environmental and nutritional factors in the production of astaxanthin from Haematococcus pluvialis. Bioresour Technol 92(2):209–214

Göksan T, Ak İ, Kılıç C (2011) Growth characteristics of the alga Haematococcus pluvialis Flotow as affected by nitrogen source, vitamin, light and aeration. Turk J Fish Aquat Sci 11:377–383

Ishiki M, Nishida Y, Ishibashi H, Wada T, Fujisaka S, Takikawa A, Urakaze M, Sasaoka T, Usui I, Tobe K (2013) Impact of divergent effects of astaxanthin on insulin signaling in L6 cells. Endocrinology 154(8):2600–2612

Kaewpintong K, Shotipruk A, Powtongsook S, Pavasant P (2007) Photoautotrophic high-density cultivation of vegetative cells of Haematococcus pluvialis in airlift bioreactor. Bioresour Technol 98(2):288–295

Katagiri M, Satoh A, Tsuji S, Shirasawa T (2012) Effects of astaxanthin-rich Haematococcus pluvialis extract on cognitive function: a randomized, double-blind, placebo-controlled study. J Clin Biochem Nutr 51:102–107

Li F, Cai M, Lin M, Huang X, Wang J, Ke H, Zheng X, Chen D, Wang C, Wu S, An Y (2019) Differences between motile and nonmotile cells of Haematococcus pluvialis in the production of astaxanthin at different light intensities. Mar Drugs 17(1):E39

Liu SZ, Ali AS, Campbell MD, Kilroy K, Shankland EG, Roshanravan B (2018) Building strength, endurance, and mobility using an astaxanthin formulation with functional training in elderly. J Cachexia Sarcopenia Muscle 9(5):826–833

Miki W (1982) Abstracts of the symposium of the Japanese Society of Scientific Fisheries

Miki W (1991) Biological functions and activities of animal carotenoids. Pure Appl Chem 63:141–146

Nagaki Y, Tsukahara H, Yoshimoto T, Masuda K (2010) Effect of astaxanthin on accommodation and asthenopia. Foli Ophthalmol Jpn 3:461–468

Nakajima Y, Inokuchi Y, Shimazawa M, Otsubo K, Ishibashi T, Hara H (2008) Astaxanthin, a dietary carotenoid, protects retinal cells against oxidative stress in-vitro and in mice in-vivo. J Pharm Pharmacol 60(10):1365–1374

Ni Y, Nagashimada M, Zhuge F, Zhan L, Nagata N, Tsutsui A, Nakanuma Y, Kaneko S, Ota T (2015) Astaxanthin prevents and reverses diet-induced insulin resistance and steatohepatitis in mice: a comparison with vitamin E. Sci Rep 5:17192

Olaizola M (2000) Commercial production of astaxanthin from Haematococcus pluvialis using 25,000-liter outdoor photobioreactors. J Appl Phycol 12(3):499–506

Ranga Rao A, Sarada R, Ravishankar GA (2007) Stabilization of astaxanthin in edible oils and its use as an antioxidant. J Sci Food Agric 87(6):957–965

Ranga Rao A, Sarada R, Baskaran V, Ravishankar GA (2009) Identification of carotenoids from green alga Haematococcus pluvialis by HPLC and LC-MS (APCI) and their antioxidant properties. J Microbiol Biotechnol 19(11):1333–1341

Ranga Rao A, Raghunath Reddy RL, Baskaran V, Sarada R, Ravishankar GA (2010) Characterization of microalgal carotenoids by mass spectrometry and their bioavailability and antioxidant properties elucidated in rat model. J Agric Food Chem 58(15):8553–8559

Shah MMR, Liang Y, Cheng JJ, Daroch M (2016) Astaxanthin-producing green microalga Haematococcus pluvialis: from single cell to high value commercial products. Front Plant Sci 7:531

Sipaúba-Tavares LH, Millan RN, Berchielli-Morais FA (2013) Effects of some parameters in upscale culture of Haematococcus pluvialis Flotow. Braz J Biol 73(3):585–591

Tominaga K, Hongo N, Karato M, Yamashita E (2012) Cosmetic benefits of astaxanthin on humans subjects. Acta Biochim Pol 59:43–47

Tominaga K, Hongo N, Fujishita M, Takahashi Y, Adachi Y (2017) Protective effects of astaxanthin on skin deterioration. J Clin Biochem Nutr 61(1):33–39

Yoshida H, Yanai H, Ito K, Tomono Y, Koikeda T, Tsukahara H, Tada N (2010) Administration of natural astaxanthin increases serum HDL-cholesterol and adiponectin in subjects with mild hyperlipidemia. Atherosclerosis 209(2):520–523

Zhang L, Su F, Zhang C, Gong F, Liu J (2017) Changes of photosynthetic behaviors and photoprotection during cell transformation and astaxanthin accumulation in Haematococcus pluvialis grown outdoors in tubular photobioreactors. Int J Mol Sci 18(1):E33

Zuluaga M, Gueguen V, Letourneur D, Pavon-Djavid G (2018) Astaxanthin-antioxidant impact on excessive reactive oxygen species generation induced by ischemia and reperfusion injury. Chem Biol Interact 279:145–158
Copyright information

© 2021 Springer Nature Singapore Pte Ltd.
About this chapter
Cite this chapter
Miyakawa, K. (2021). Commercial Production of Astaxanthin from the Green Alga Haematococcus pluvialis. In: Misawa, N. (eds) Carotenoids: Biosynthetic and Biofunctional Approaches. Advances in Experimental Medicine and Biology, vol 1261. Springer, Singapore. https://doi.org/10.1007/978-981-15-7360-6_1