Abstract

Chemically, flavonoids are phenolic compounds. These are natural substances that have several pharmacological properties like anti-oxidative, anti-inflammatory, antimutagenic, and anti-carcinogenic and modulate key cellular enzyme function. Potent enzyme inhibitors for several enzymes like xanthine oxidase (XO), cyclooxygenase (COX), lipoxygenase, and phosphoinositide 3-kinase. Honey is a natural source of flavonoids. Non-alcoholic fatty liver disease (NAFLD) includes several diseases, ranging from steatosis to non-alcoholic steatohepatitis (NASH), fibrosis, cirrhosis, and hepatocellular carcinoma. Flavonoids have been used for the treatment of NAFLD. Groups of pathways involved in the pathogenesis of NAFLD support the treatment. Flavonoids have positive effects on insulin resistance, lipid metabolism, inflammation, and oxidative stress that are prominent pathophysiological pathways in NAFLD.
Keywords
Flavonoids

NAFLD

Enzyme inhibitors

Carcinogenic

Fibrosis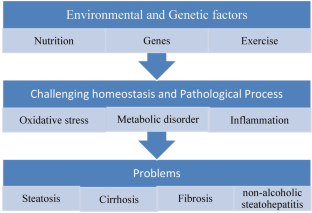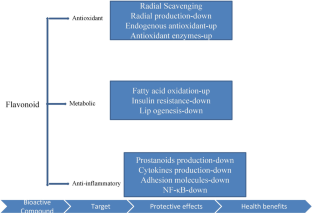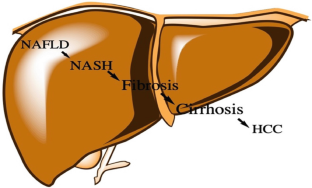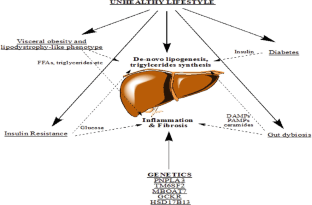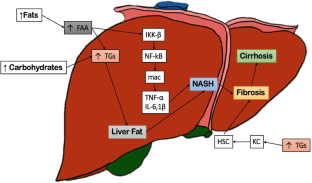 References
Abdulrhman M, El-Hefnawy M, Ali R, El-Goud AA (2008) Honey and type 1 diabetes mellitus. In: Liu CP (ed) Type-1 diabetes—complications, pathogenesis, and alternative treatments. Open InTech, Croatia

Adebolu TT (2005) Effect of natural honey on local isolates of diarrhea causing bacteria in Southwestern Nigeria. Afr J Biotechnol 4:1172–1174

Akhlaghi M (2016) Non-alcoholic fatty liver disease: beneficial effects of flavonoids. Phytother Res 30(10):1559–1571

Al-Mamary M, Al-Meeri A, Al-Habori M (2002) Antioxidant activities and total phenolics of different types of honey. Nutr Res 22:1041–1047

Alvarez-Suarez JM, Tulipani S, Romandini S, Bertoli E, Battino M (2010) Contribution of honey in nutrition and human health: a review. Mediterr J Nutr Metab 3:15–23

Anand S, Deighton M, Livanos G et al (2019) Agastache honey has superior antifungal activity in comparison with important commercial honeys. Sci Rep 9:181–197

Angulo P, Kleiner DE, Dam-Larsen S et al (2015) Liver fibrosis, but no other histologic features, is associated with long-term outcomes of patients with nonalcoholic fatty liver disease. Gastroenterology 149:389–397

Ashrafi S, Mastronikolas S, Wu CD (2005) Use of honey in treatment of aphthous ulcers IADR/AADR/CADR 83rd general session. Baltimore, MD, USA, pp 9–12

Attia WY, Gabry MS, El-Shaikh KA, Othman GA (2008) The anti-tumor effect of bee honey in Ehrlich ascitetumor model of mice is coincided with stimulation of the immune cells. J Egypt Public Health Assoc 15:169–183

Ayonrinde OT, Olynyk JK, Marsh JA, Beilin LJ, Mori TA, Oddy WH et al (2015) Childhood adiposity trajectories and risk of nonalcoholic fatty liver disease in adolescents. J Gastroenterol Hepatol 30:163–171

Azman KF, Zakaria R, Othman Z, Aziz CBA (2018) Neuroprotective effects of Tualang honey against oxidative stress and memory decline in young and aged rats exposed to noise stress. J Taibah Univ Sci 12(3):273–284

Babacan S, Rand AG (2007) Characterization of honey amylase. J Food Sci 72:C050–C055

Bansal V, Medhi B, Pandhi P (2005) Honey—a remedy rediscovered and its therapeutic utility. Kathmandu Univ Med J (KUMJ) 3:305–309

Bilsel Y, Bugra D, Yamaner S, Bulut T, Cevikbas U, Turkoglu U (2002) Could honey have a place in colitis therapy? Effects of honey, prednisolone, and disulfiram on inflammation, nitric oxide, and free radical formation. Dig Surg 19:306–311

Buzzetti E, Pinzani M, Tsochatzis EA (2016) The multiple-hit pathogenesis of non-alcoholic fatty liver disease (NAFLD). Metabolism 65(8):1038–1048

Cairns SR, Peters TJ (1983) Biochemical analysis of hepatic lipid in alcoholic and diabetic and control subjects. Clin Sci (Lond)() 65:645–652

Candiracci M, Piatti E, Dominguez-Barragán M, García-Antrás D, Morgado B, Ruano D et al (2012) Anti-inflammatory activity of a honey flavonoid extract on lipopolysaccharide-activated N13 microglial cells. J Agric Food Chem 60:12304–12311

Chen WEI, Wang X, Huang LI, Liu BO (2016) Hepcidin in non-alcoholic fatty liver disease regulated by the TLR4/NF-κBsignaling pathway. Exp Ther Med 11:73–76

Cianciosi D, Forbes-Hernández TY, Afrin S et al (2018) Phenolic compounds in honey and their associated health benefits: a review. Molecules 23(9):2322

Clark JM (2006) The epidemiology of nonalcoholic fatty liver disease in adults. J Clin Gastroenterol 40:S5–S10

Dattaroy D, Seth RK, Das S, Alhasson F, Chandrashekaran V, Michelotti G et al (2016) Sparstolonin B attenuates early liver inflammation in experimental NASH by modulating TLR4 trafficking in lipid rafts via NADPH oxidase activation. Am J Physiol Gastrointest Liver Physiol 310:G510–GG25

De Vito R, Alisi A, Masotti A, Ceccarelli S, Panera N, Citti A et al (2012) Markers of activated inflammatory cells correlate with severity of liver damage in children with nonalcoholic fatty liver disease. Int J Mol Med 30:49–56

Dowman JK, Tomlinson JW, Newsome PN (2010) Pathogenesis of non-alcoholic fatty liver disease. QJM 103(2):71–83

Ekstedt M, Hagström H, Nasr P et al (2015) Fibrosis stage is the strongest predictor for disease-specific mortality in NAFLD after up to 33 years of follow-up. Hepatology 61:1547–1554

Erejuwa OO, Sulaiman SA, Wahab MS (2014) Effects of honey and its mechanisms of action on the development and progression of cancer. Molecules 19(2):2497–2522

Estevinho L, Pereira AP, Moreira L, Dias LG, Pereira E (2008) Antioxidant and antimicrobial effects of phenolic compounds extracts of Northeast Portugal honey. Food Chem Toxicol 46:3774–3779

Fernandez-Cabezudo MJ, El-Kharrag R, Torab F, Bashir G, George JA, El-Taji H et al (2013) Intravenous administration of manuka honey inhibits tumor growth and improves host survival when used in combination with chemotherapy in a melanoma mouse model. PLoS One 8:e55993

Ghosh S, Playford RJ (2003) Bioactive natural compounds for the treatment of gastrointestinal disorders. Clin Sci (Lond) 104:547–556

Hassapidou M, Fotiadou E, Maglara E, Papadopoulou SK (2006) Energy intake, diet composition, energy expenditure, and body fatness of adolescents in Northern Greece. Obesity (Silver Spring) 14:855–862

Holterman A-XL, Guzman G, Fantuzzi G, Wang H, Aigner K, Browne A et al (2013) Nonalcoholic fatty liver disease in severely obese adolescent and adult patients. Obesity 21:591–597

Hussein SZ, Mohd Yusoff K, Makpol S, Mohd Yusof YA (2012) Gelam honey inhibits the production of proinflammatory, mediators NO, PGE (2), TNF-a, and IL-6 in carrageenan-induced acute paw edema in rats. Evid Based Complement Alternat Med 2012:109636

Inglett GE (1976) A history of sweeteners—natural and synthetic. J Toxicol Environ Health 2:207–214

Johnston JE, Sepe HA, Miano CL, Brannan RG, Alderton AL (2005) Honey inhibits lipid oxidation in ready-to-eat ground beef patties. Meat Sci 70:627–631

Kamaruzaman NA, Sulaiman SA, Kaur G, Yahaya B (2014) Inhalation of honey reduces airway inflammation and histopathological changes in a rabbit model of ovalbumin-induced chronic asthma. BMC Complement Altern Med 14:176

Khalil I, Moniruzzaman M, Boukraâ L, Benhanifia M, Islam A, Islam N et al (2012) Physicochemical and antioxidant properties of Algerian honey. Molecules 17:11199–11215

Koo SH (2013) Nonalcoholic fatty liver disease: molecular mechanisms for the hepatic steatosis. Clin Mol Hepatol 19:210–215

Leong AG, Herst PM, Harper JL (2012) Indigenous New Zealand honeys exhibit multiple anti-inflammatory activities. Innate Immun 18:459–466

Mouralidarane A, Soeda J, Visconti-Pugmire C, Samuelsson A-M, Pombo J, Maragkoudaki X et al (2013) Maternal obesity programs offspring nonalcoholic fatty liver disease by innate immune dysfunction in mice. Hepatology 58:128–138

Neuschwander-Tetri BA (2010) Nontriglyceride hepatic lipotoxicity: the new paradigm for the pathogenesis of NASH. Curr Gastroenterol Rep 12:49–56

Nobili V, Carpino G, Alisi A, Franchitto A, Alpini G, De Vito R et al (2012) Hepatic progenitor cells activation, fibrosis, and adipokines production in pediatricnonalcoholic fatty liver disease. Hepatology 56:2142–2153

Pataca LC, Borges Neto W, Marcucci MC, Poppi RJ (2007) Determination of apparent reducing sugars, moisture and acidity in honey by attenuated total reflectance Fourier transform infrared spectrometry. Talanta 71:1926–1931

Paul IM, Beiler J, McMonagle A, Shaffer ML, Duda L, Berlin CM Jr (2007) Effect of honey, dextromethorphan, and no treatment on nocturnal cough and sleep quality for coughing children and their parents. Arch Pediatr Adolesc Med 161(12):1140–1146

Peverill W, Powell LW, Skoien R (2014) Evolving concepts in the pathogenesis of NASH: beyond steatosis and inflammation. Int J Mol Sci 15:8591–8638

Rakha MK, Nabil ZI, Hussein AA (2008) Cardioactive and vasoactive effects of natural wild honey against cardiac malperformance induced by hyperadrenergic activity. J Med Food 11:91–98

Samarghandian S, Farkhondeh T, Samini F (2017) Honey and health: a review of recent clinical research. Pharm Res 9(2):121

Stefan N, Häring HU, Cusi K (2019) Non-alcoholic fatty liver disease: causes, diagnosis, cardiometabolic consequences, and treatment strategies. Lancet Diabetes Endocrinol 7(4):313–324

Stienstra R, Saudale F, Duval C, Keshtkar S, Groener JEM, van Rooijen N et al (2010) Kupffer cells promote hepatic steatosis via Interleukin-1 beta-dependent suppression of peroxisome proliferator-activated receptor alpha activity. Hepatology 51:511–522

Townsend SA, Newsome PN (2016) Non-alcoholic fatty liver disease in 2016. Br Med Bull 119:143–156

Turkmen N, Sari F, Poyrazoglu ES, Velioglu YS (2006) Effects of prolonged heating on antioxidant activity and colour of honey. Food Chem 95:653–657

Ullah R, Rauf N, Nabi G, Ullah H, Shen Y, Zhou YD, Fu J (2019) Role of nutrition in the pathogenesis and prevention of non-alcoholic fatty liver disease: recent updates. Int J Biol Sci 15(2):265

Vallianou NG, Gounari P, Skourtis A, Panagos J, Kazazis C (2014) Honey and its anti-inflammatory, anti-bacterial and anti-oxidant properties. Gen Med (Los Angel) 2:2

Vernon G, Baranova A, Younossi ZM (2011) Systematic review: the epidemiology and natural history of non-alcoholic fatty liver disease and non-alcoholic steatohepatitis in adults. Aliment Pharmacol Ther 34:274–285

Viuda-Martos M, Ruiz-Navajas Y, Fernández-López J, Pérez-Alvarez JA (2008) Functional properties of honey, propolis, and royal jelly. J Food Sci 73:R117–R124

White JW (1962) Composition of American honeys. Agricultural Research Service, USDA, Washington, DC

White JW (1979) Composition of honey. In: Crane E (ed) Honey: a comprehensive survey. Heinemann, London, pp 157–192

Yeh MM, Brunt EM (2014) Pathological features of fatty liver disease. Gastroenterology 147:754–764

Zand RS, Jenkins DJ, Diamandis EP (2000) Steroid hormone activity of flavonoids and related compounds. Breast Cancer Res Treat 62:35–49
Copyright information

© 2020 Springer Nature Singapore Pte Ltd.
About this chapter
Cite this chapter
Taleuzzaman, M., Verma, R., Kala, C., Sharma, P., Gupta, D.K. (2020). Beneficial Effects of Honey Flavonoids in Nonalcoholic Fatty Liver Disease: An Update. In: Rehman, M.U., Majid, S. (eds) Therapeutic Applications of Honey and its Phytochemicals . Springer, Singapore. https://doi.org/10.1007/978-981-15-7305-7_17
DOI: https://doi.org/10.1007/978-981-15-7305-7_17

Published:

Publisher Name: Springer, Singapore

Print ISBN: 978-981-15-7304-0

Online ISBN: 978-981-15-7305-7