Abstract

Face recognition from an arbitrary image has been a standout amongst the most considered topic in image processing and computer vision. The human face is a convoluted multidimensional visual model and henceforth it is exceptionally hard to build up a computational model to recognize the face. This paper presents an approach depending on the attributes extracted from the image to identify the human face. The proposed approach combines both morphological image processing techniques and cascade object detector capabilities. This method is effective in face detection for arbitrary images.
Keywords
Face detection

Image processing

Object detection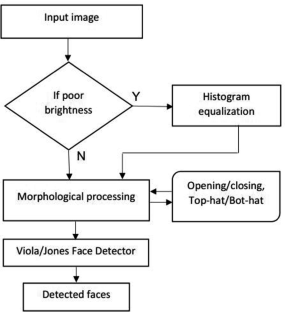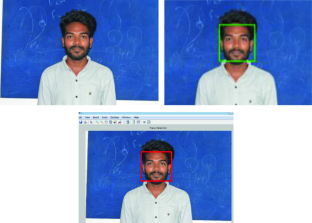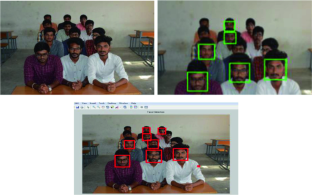 References
Craw I, Tock D, Bennett A (1992) Finding face features. In: Proceedings of 2nd European conferences on computer vision, pp 92-96

Lanitis A, Taylor CJ, Cootes TF (1995) An automatic face identification system using flexible appearance models. Image Vis Comput 13(5):393–401

Leung TK, Burl MC, Perona P (1995) Finding faces in cluttered scenes using random labeled graph matching. In: Proceedings of 5th IEEE international conferences on computer vision, pp 637–644

Moghaddam B, Pentland A (1997) Probabilistic visual learning for object recognition. IEEE Trans Pattern Anal Mach Intell 19(7):696–710

Turk M, Pentland A (1991) Eigenfaces for recognition. J Cogn Neurosci 3(1):71–86

Kirby M, Sirovich L (1990) Application of the Karhunen-Loeve procedure for the characterization of human faces. IEEE Trans Pattern Anal Mach Intell 12(1):103–108

Jolliffe IT (1986) Principal component analysis. Springer, New York

T, Agui, Y. Kokubo, H. Nagashi, and T. Nagao, "Extraction of face recognition from monochromatic photographs using neural networks," Proc. 2nd Int'l Conf. Automation, Robotics, and Computer Vision, vol.1, pp. 18.81–18.8.5, 1992

O. Bernier, M. Collobert, R. Feraud, V. Lemaried, J. E. Viallet, and D. Collobert, "MULTRAK: A system for automatic multiperson localization and tracking in real-time," Proc, IEEE. Int'l Conf. Image Processing, pp. 136–140, 1998

A. J. Colmenarez and T. S. Huang, "Face detection with information-based maximum discrimination," Proc. IEEE Conf. Computer Vision and Pattern Recognition, pp. 782–787, 1997

M. S. Lew, "Information theoretic view-based and modular face detection," Proc. 2nd Int'l Conf. Automatic Face and Gesture Recognition, pp. 198–203, 1996

R. Ranjan, A. Bansal, J. Zheng, H. Xu, J. Gleason, B. Lu, … & R. Chellappa, "A fast and accurate system for face detection, identification, and verification". IEEE Transactions on Biometrics, Behavior, and Identity Science, 1(2), 82–96, 2019

Hsu RL, Abdel-Mottaleb M, Jain AK (2002) Face detection in color images. IEEE Trans Pattern Anal Mach Intell 24(5):696–706

Viola P, Jones M (2001) Rapid object detection using a boosted cascade of simple features. In: CVPR 2001

Viola P, Jones M (2004) Robust real-time face detection. IJCV 57(2)
Copyright information

© 2021 Springer Nature Singapore Pte Ltd.
About this paper
Cite this paper
Rishikeshan, C.A., Rajesh Kumar Reddy, C., Nandimandalam, M.K.V. (2021). An Improved Approach for Face Detection. In: Gunjan, V.K., Zurada, J.M. (eds) Proceedings of International Conference on Recent Trends in Machine Learning, IoT, Smart Cities and Applications. Advances in Intelligent Systems and Computing, vol 1245. Springer, Singapore. https://doi.org/10.1007/978-981-15-7234-0_76
DOI: https://doi.org/10.1007/978-981-15-7234-0_76

Published:

Publisher Name: Springer, Singapore

Print ISBN: 978-981-15-7233-3

Online ISBN: 978-981-15-7234-0