Abstract

Conducting and monitoring skill training programs for rural population always involves a huge amount of administrative tasks and tracking processes. To ensure the effectiveness and efficiency of the program it is mandatory to implement a proper tracking and monitoring system. In this paper, we present a software application suite for monitoring and tracking of the PMKVY (Pradhan Mantri Kaushal Vikas Yojana) training programs in the rural settlements of India conducted by an NGO. We discuss the common challenges and the design considerations that were used while designing and implementing the application. Sentiment analysis was applied on the feedback received through the mobile application and it was observed that 66% of the feedback were of positive polarity. Also, the word frequency analysis on the same data revealed that the feedback was mostly about the students and that too on a daily basis. With these observations, the potential to apply NLP in the future is also discussed.
Keywords
Real-world applications of text mining

Deployment

Skill training program

Sentiment analysis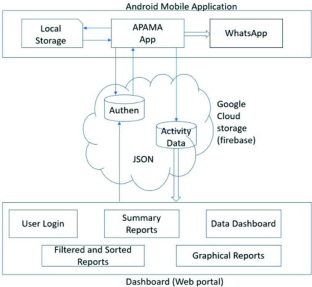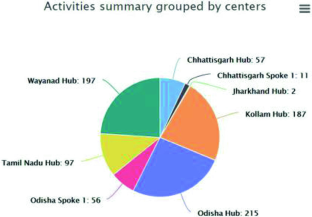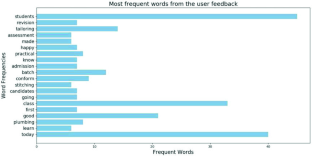 References
Bhavani B, Sheshadri S, Unnikrishnan R (2010) Vocational education technology: rural India. In: Proceedings of the 1st amrita ACM-W celebration on women in computing in India. ACM

Sachith KP et al (2017) Contextualizing ICT based vocational education for rural communities: addressing ethnographic issues and assessing design principles. In: IFIP conference on human-computer interaction. Springer, Cham

Khandker S, Koolwal GB, Samad H (2009) Handbook on impact evaluation: quantitative methods and practices. The World Bank, Washington, DC

Kang J-M, Seo S-S, Hong JW (2011) Usage pattern analysis of smartphones. In: 2011 13th Asia-Pacific network operations and management symposium. IEEE

Gandhewar N, Sheikh R (2010) Google android: an emerging software platform for mobile devices. Int J Comput Sci Eng 1(1):12–17

Nejmeh BA, Dean T (2010) The charms application suite: a community-based mo-bile data collection and alerting environment for HIV/AIDS orphan and vulnerable children in Zambia. Int J Comput ICT Res 4(2):46–63

Hamou A et al (2010) Data collection with iPhone web apps efficiently collecting patient data using mobile devices. In: The 12th IEEE international conference on e-health networking, applications and services. IEEE

Burdette SD, Herchline TE, Oehler R (2008) Practicing medicine in a technological age: using smartphones in clinical practice. Clin Infect Dis 47(1):117–122

Vaizman Y et al (2018) Extrasensory app: data collection in-the-wild with rich user inter-face to self-report behavior. In: Proceedings of the 2018 CHI conference on human factors in computing systems. ACM

Wang R et al (2014) StudentLife: assessing mental health, academic performance and behavioral trends of college students using smartphones. In: Proceedings of the 2014 ACM international joint conference on pervasive and ubiquitous computing. ACM

Nedungadi P, Mulki K, Raman R (2018) Improving educational outcomes & reducing absenteeism at remote villages with mobile technology and WhatsAPP: Findings from rural India. Edu Inf Technol 23(1):113–127

Zhang J et al Advantages and challenges in using mobile apps for field experiments: a systematic review and a case study. Mobile Media Commun 6(2): 179–196

Ministry of Skill Development and Entrepreneurship. Pradhan Mantri Kaushal Vikas Yojana (PMKVY) (2015). http://pmkvyofficial.org/
Copyright information

© 2021 Springer Nature Singapore Pte Ltd.
About this paper
Cite this paper
Menon, B.M., Aswathi, P., Lekha, S. (2021). An Application Suite: Effectiveness in Tracking and Monitoring of Skill Training Programs. In: Gunjan, V.K., Zurada, J.M. (eds) Proceedings of International Conference on Recent Trends in Machine Learning, IoT, Smart Cities and Applications. Advances in Intelligent Systems and Computing, vol 1245. Springer, Singapore. https://doi.org/10.1007/978-981-15-7234-0_38
DOI: https://doi.org/10.1007/978-981-15-7234-0_38

Published:

Publisher Name: Springer, Singapore

Print ISBN: 978-981-15-7233-3

Online ISBN: 978-981-15-7234-0