Abstract
The posterior cerebral arteries (PCAs) are the terminal branches of the basilar artery and supply blood to the rostral midbrain, the thalamus, the occipital lobes, and part of the parietal and temporal lobes including the hippocampus. Classically, it has been distinguished a proximal or deep PCA territory (including the thalamus) and a distal or superficial PCA territory (including the occipital and temporoparietal lobes).
Posterior cerebral artery (PCA) territory infarctions represent 5–10% of all ischaemic strokes. Of these, the involvement of the thalamus has been reported up to 60–70% of patients, while pure superficial PCA strokes seem less frequent.
In this chapter, we reviewed the stroke syndromes related to thalamic infarctions and other PCA territory infarctions. Even if it can be difficult to determine the vascular territory of an acute posterior circulation stroke on purely clinical grounds, this knowledge may be useful to determine the most appropriate acute treatment and prevention strategy.
The clinical features of thalamic infarction vary according to the vascular topography. We describe the four classical stroke syndromes related to the anterior, paramedian, inferolateral and posterior thalamic infarctions, which correspond, respectively, to the vascular territory of the polar, paramedian, thalamogeniculate and posterior choroidal arteries. Inferolateral territory infarction is the most common type of thalamic infarction, and the main clinical features are hemisensory deficits. The main clinical features of anterior and paramedian territory infarctions are neuropsychiatric disturbances including somnolence, memory deficits, and visuospatial neglect.
The most important clinical feature of cortical PCA infarction is visual field defect, especially homonymous hemianopia. Memory deficits and visual-related cognitive dysfunction are also frequently encountered.
Outcome after PCA territory infarct is usually regarded as more favourable than in anterior circulation strokes, mostly due to lower mortality and lower incidence of motor deficits. However, in the long term, patients with thalamic strokes may be affected by sensory-related sequelae (including central pain syndrome) or cognitive disturbances, while visual field defect and neuropsychological deficits may remain as troublesome consequences in patients with superficial PCA strokes.
Keywords
Posterior cerebral artery

Thalamus

Visual field defects

Amnesia

Central pain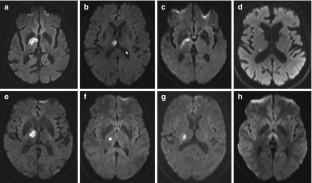 References
Caplan LR, Wityk RJ, Glass TA, Tapia J, Pazdera L, Chang HM, et al. New England Medical Center posterior circulation registry. Ann Neurol. 2004;56(3):389–98.

Michel P, Odier C, Rutgers M, Reichhart M, Maeder P, Meuli R, et al. The Acute STroke Registry and Analysis of Lausanne (ASTRAL): design and baseline analysis of an ischemic stroke registry including acute multimodal imaging. Stroke. 2010;41(11):2491–8.

Arboix A, Arbe G, Garcia-Eroles L, Oliveres M, Parra O, Massons J. Infarctions in the vascular territory of the posterior cerebral artery: clinical features in 232 patients. BMC Res Notes. 2011;4:329.

Yamamoto Y, Georgiadis AL, Chang HM, Caplan LR. Posterior cerebral artery territory infarcts in the New England Medical Center Posterior Circulation Registry. Arch Neurol. 1999;56(7):824–32.

Lee E, Kang DW, Kwon SU, Kim JS. Posterior cerebral artery infarction: diffusion-weighted MRI analysis of 205 patients. Cerebrovasc Dis. 2009;28(3):298–305.

Cals N, Devuyst G, Afsar N, Karapanayiotides T, Bogousslavsky J. Pure superficial posterior cerebral artery territory infarction in The Lausanne Stroke Registry. J Neurol. 2002;249(7):855–61.

Kumral E, Bayulkem G, Atac C, Alper Y. Spectrum of superficial posterior cerebral artery territory infarcts. Eur J Neurol. 2004;11(4):237–46.

Tao WD, Liu M, Fisher M, Wang DR, Li J, Furie KL, et al. Posterior versus anterior circulation infarction: how different are the neurological deficits? Stroke. 2012;43(8):2060–5.

Zurcher E, Richoz B, Faouzi M, Michel P. Differences in ischemic anterior and posterior circulation strokes: a clinico-radiological and outcome analysis. J Stroke Cerebrovasc Dis. 2019;28(3):710–8.

Chambers BR, Brooder RJ, Donnan GA. Proximal posterior cerebral artery occlusion simulating middle cerebral artery occlusion. Neurology. 1991;41(3):385–90.

North K, Kan A, de Silva M, Ouvrier R. Hemiplegia due to posterior cerebral artery occlusion. Stroke. 1993;24(11):1757–60.

Maulaz AB, Bezerra DC, Bogousslavsky J. Posterior cerebral artery infarction from middle cerebral artery infarction. Arch Neurol. 2005;62(6):938–41.

Vanacker P, Faouzi M, Eskandari A, Maeder P, Meuli R, Michel P. Large arterial occlusive strokes as a medical emergency: need to accurately predict clot location. Eur J Emerg Med. 2017;24(5):353–8.

Tatu L, Moulin T, Bogousslavsky J, Duvernoy H. Arterial territories of the human brain: cerebral hemispheres. Neurology. 1998;50(6):1699–708.

Percheron G. The anatomy of the arterial supply of the human thalamus and its use for the interpretation of the thalamic vascular pathology. Z Neurol. 1973;205(1):1–13.

Brandt T, Steinke W, Thie A, Pessin MS, Caplan LR. Posterior cerebral artery territory infarcts: clinical features, infarct topography, causes and outcome. Multicenter results and a review of the literature. Cerebrovasc Dis. 2000;10(3):170–82.

Chaves CJ, Caplan LR. Posterior cerebral artery. In: Caplan LR, editor. Stroke syndromes. Cambridge: Cambridge University Press; 2012. p. 405–18.

Schmahmann JD. Vascular syndromes of the thalamus. Stroke. 2003;34(9):2264–78.

Fisher CM. The posterior cerebral artery syndrome. Can J Neurol Sci. 1986;13(3):232–9.

Jongen JC, Franke CL, Soeterboek AA, Versteege CW, Ramos LM, van Gijn J. Blood supply of the posterior cerebral artery by the carotid system on angiograms. J Neurol. 2002;249(4):455–60.

Nouh A, Remke J, Ruland S. Ischemic posterior circulation stroke: a review of anatomy, clinical presentations, diagnosis, and current management. Front Neurol. 2014;5:30.

de Monye C, Dippel DW, Siepman TA, Dijkshoorn ML, Tanghe HL, van der Lugt A. Is a fetal origin of the posterior cerebral artery a risk factor for TIA or ischemic stroke? A study with 16-multidetector-row CT angiography. J Neurol. 2008;255(2):239–45.

Okahara M, Kiyosue H, Mori H, Tanoue S, Sainou M, Nagatomi H. Anatomic variations of the cerebral arteries and their embryology: a pictorial review. Eur Radiol. 2002;12(10):2548–61.

Gasecki AP, Fox AJ, Lebrun LH, Daneault N. Bilateral occipital infarctions associated with carotid stenosis in a patient with persistent trigeminal artery. The collaborators of the North American Carotid Endarterectomy Trial (NASCET). Stroke. 1994;25(7):1520–3.

Guberman A, Stuss D. The syndrome of bilateral paramedian thalamic infarction. Neurology. 1983;33(5):540–6.

Bogousslavsky J, Regli F, Uske A. Thalamic infarcts: clinical syndromes, etiology, and prognosis. Neurology. 1988;38(6):837–48.

Carrera E, Michel P, Bogousslavsky J. Anteromedian, central, and posterolateral infarcts of the thalamus: three variant types. Stroke. 2004;35(12):2826–31.

Bogousslavsky J, Regli F, Assal G. The syndrome of unilateral tuberothalamic artery territory infarction. Stroke. 1986;17(3):434–41.

Ghika-Schmid F, Bogousslavsky J. The acute behavioral syndrome of anterior thalamic infarction: a prospective study of 12 cases. Ann Neurol. 2000;48(2):220–7.

Carrera E, Bogousslavsky J. The thalamus and behavior: effects of anatomically distinct strokes. Neurology. 2006;66(12):1817–23.

von Cramon DY, Hebel N, Schuri U. A contribution to the anatomical basis of thalamic amnesia. Brain. 1985;108(Pt 4):993–1008.

Clarke S, Assal G, Bogousslavsky J, Regli F, Townsend DW, Leenders KL, et al. Pure amnesia after unilateral left polar thalamic infarct: topographic and sequential neuropsychological and metabolic (PET) correlations. J Neurol Neurosurg Psychiatry. 1994;57(1):27–34.

Castaigne P, Lhermitte F, Buge A, Escourolle R, Hauw JJ, Lyon-Caen O. Paramedian thalamic and midbrain infarct: clinical and neuropathological study. Ann Neurol. 1981;10(2):127–48.

Graff-Radford NR, Eslinger PJ, Damasio AR, Yamada T. Nonhemorrhagic infarction of the thalamus: behavioral, anatomic, and physiologic correlates. Neurology. 1984;34(1):14–23.

Rossetti AO, Reichhart MD, Bogousslavsky J. Central Horner's syndrome with contralateral ataxic hemiparesis: a diencephalic alternate syndrome. Neurology. 2003;61(3):334–8.

Amonoo-Kuofi HS. Horner's syndrome revisited: with an update of the central pathway. Clin Anat. 1999;12(5):345–61.

Dejerine J, Roussy J. Le syndrome thalamique. Rev Neurol. 1906;14:521–32.

Fisher CM. Thalamic pure sensory stroke: a pathologic study. Neurology. 1978;28(11):1141–4.

Kim JS. Pure sensory stroke. Clinical-radiological correlates of 21 cases. Stroke. 1992;23(7):983–7.

Déjerine J, Roussy G. Le syndrome thalamique. Rev Neurol (Paris). 1906;14:521.

Masdeu JC, Gorelick PB. Thalamic astasia: inability to stand after unilateral thalamic lesions. Ann Neurol. 1988;23(6):596–603.

Foix CH, P. Les syndromes de la région thalamique. Presse Med. 1925;1:113–7.

Neau JP, Bogousslavsky J. The syndrome of posterior choroidal artery territory infarction. Ann Neurol. 1996;39(6):779–88.

Frisen L, Holmegaard L, Rosencrantz M. Sectorial optic atrophy and homonymous, horizontal sectoranopia: a lateral choroidal artery syndrome? J Neurol Neurosurg Psychiatry. 1978;41(4):374–80.

Ghika J, Bogousslavsky J, Henderson J, Maeder P, Regli F. The "jerky dystonic unsteady hand": a delayed motor syndrome in posterior thalamic infarctions. J Neurol. 1994;241(9):537–42.

Clark JM, Albers GW. Vertical gaze palsies from medial thalamic infarctions without midbrain involvement. Stroke. 1995;26(8):1467–70.

Annoni JM, Khateb A, Gramigna S, Staub F, Carota A, Maeder P, et al. Chronic cognitive impairment following laterothalamic infarcts: a study of 9 cases. Arch Neurol. 2003;60(10):1439–43.

Lazzaro NA, Wright B, Castillo M, Fischbein NJ, Glastonbury CM, Hildenbrand PG, et al. Artery of percheron infarction: imaging patterns and clinical spectrum. AJNR Am J Neuroradiol. 2010;31(7):1283–9.

de la Cruz-Cosme C, Marquez-Martinez M, Aguilar-Cuevas R, Romero-Acebal M, Valdivielso-Felices P. Percheron artery syndrome: variability in presentation and differential diagnosis. Rev Neurol. 2011;53(4):193–200.

Reilly M, Connolly S, Stack J, Martin EA, Hutchinson M. Bilateral paramedian thalamic infarction: a distinct but poorly recognized stroke syndrome. Q J Med. 1992;82(297):63–70.

Arauz A, Patino-Rodriguez HM, Vargas-Gonzalez JC, Arguelles-Morales N, Silos H, Ruiz-Franco A, et al. Clinical spectrum of artery of Percheron infarct: clinical-radiological correlations. J Stroke Cerebrovasc Dis. 2014;23(5):1083–8.

Segarra JM. Cerebral vascular disease and behavior. I. the syndrome of the mesencephalic artery (basilar artery bifurcation). Arch Neurol. 1970;22(5):408–18.

Margolis MT, Newton TH, Hoyt WF. Cortical branches of the posterior cerebral artery.Anatomic-radiologic correlation. Neuroradiology. 1971;2(3):127–35.

Caplan LR. "Top of the basilar" syndrome. Neurology. 1980;30(1):72–9.

Aldrich MS, Alessi AG, Beck RW, Gilman S. Cortical blindness: etiology, diagnosis, and prognosis. Ann Neurol. 1987;21(2):149–58.

Kondziella D, Frahm-Falkenberg S. Anton's syndrome and eugenics. J Clin Neurol. 2011;7(2):96–8.

De Renzi E, Zambolin A, Crisi G. The pattern of neuropsychological impairment associated with left posterior cerebral artery infarcts. Brain. 1987;110(Pt 5):1099–116.

Servan J, Verstichel P, Catala M, Yakovleff A, Rancurel G. Aphasia and infarction of the posterior cerebral artery territory. J Neurol. 1995;242(2):87–92.

Leff AP, Spitsyna G, Plant GT, Wise RJ. Structural anatomy of pure and hemianopic alexia. J Neurol Neurosurg Psychiatry. 2006;77(9):1004–7.

Geschwind N. Disconnexion syndromes in animals and man. I. Brain. 1965;88(2):237–94.

Benton AL. Gerstmann's syndrome. Arch Neurol. 1992;49(5):445–7.

Benson DF, Marsden CD, Meadows JC. The amnesic syndrome of posterior cerebral artery occlusion. Acta Neurol Scand. 1974;50(2):133–45.

Bartsch T, Deuschl G. Transient global amnesia: functional anatomy and clinical implications. Lancet Neurol. 2010;9(2):205–14.

Michel P, Beaud V, Eskandari A, Maeder P, Demonet JF, Eskioglou E. Ischemic amnesia: causes and outcome. Stroke. 2017;48(8):2270–3.

Sedlaczek O, Hirsch JG, Grips E, Peters CN, Gass A, Wohrle J, et al. Detection of delayed focal MR changes in the lateral hippocampus in transient global amnesia. Neurology. 2004;62(12):2165–70.

Szabo K, Forster A, Jager T, Kern R, Griebe M, Hennerici MG, et al. Hippocampal lesion patterns in acute posterior cerebral artery stroke: clinical and MRI findings. Stroke. 2009;40(6):2042–5.

Larrabee GJ, Levin HS, Huff FJ, Kay MC, Guinto FC Jr. Visual agnosia contrasted with visual-verbal disconnection. Neuropsychologia. 1985;23(1):1–12.

Martinaud O, Pouliquen D, Gerardin E, Loubeyre M, Hirsbein D, Hannequin D, et al. Visual agnosia and posterior cerebral artery infarcts: an anatomical-clinical study. PLoS One. 2012;7(1):e30433.

Coslett HB, Saffran EM. Preserved object recognition and reading comprehension in optic aphasia. Brain. 1989;112(Pt 4):1091–110.

Landis T, Cummings JL, Christen L, Bogen JE, Imhof HG. Are unilateral right posterior cerebral lesions sufficient to cause prosopagnosia? Clinical and radiological findings in six additional patients. Cortex. 1986;22(2):243–52.

Zeki S. A century of cerebral achromatopsia. Brain. 1990;113(Pt 6):1721–77.

Meadows JC, Munro SS. Palinopsia. J Neurol Neurosurg Psychiatry. 1977;40(1):5–8.

Takahashi N, Kawamura M. Pure topographical disorientation--the anatomical basis of landmark agnosia. Cortex. 2002;38(5):717–25.

Botez SA, Carrera E, Maeder P, Bogousslavsky J. Aggressive behavior and posterior cerebral artery stroke. Arch Neurol. 2007;64(7):1029–33.

Pessin MS, Lathi ES, Cohen MB, Kwan ES, Hedges TR 3rd, Caplan LR. Clinical features and mechanism of occipital infarction. Ann Neurol. 1987;21(3):290–9.

Steinke W, Mangold J, Schwartz A, Hennerici M. Mechanisms of infarction in the superficial posterior cerebral artery territory. J Neurol. 1997;244(9):571–8.

Weber HD. A contribution to the pathology of the crura cerebri. Med Chir Trans. 1863;46:121–39.

Parinaud H. Paralysie des mouvements associés des yeux. Arch Neurol. 1883;5:145–72.

Hecaen H, De Ajuriaguerra J. Balint's syndrome (psychic paralysis of visual fixation) and its minor forms. Brain. 1954;77(3):373–400.

Levine DN, Warach J, Farah M. Two visual systems in mental imagery: dissociation of "what" and "where" in imagery disorders due to bilateral posterior cerebral lesions. Neurology. 1985;35(7):1010–8.

Steinke W, Sacco RL, Mohr JP, Foulkes MA, Tatemichi TK, Wolf PA, et al. Thalamic stroke. Presentation and prognosis of infarcts and hemorrhages. Arch Neurol. 1992;49(7):703–10.

Gogela SL, Gozal YM, Rahme R, Zuccarello M, Ringer AJ. Beyond textbook neuroanatomy: the syndrome of malignant PCA infarction. Br J Neurosurg. 2015;29(6):871–5.

Pfefferkorn T, Deutschlaender A, Riedel E, Wiesmann M, Dichgans M. Malignant posterior cerebral artery infarction. J Neurol. 2006;253(12):1640–1.

Milandre L, Brosset C, Botti G, Khalil R. A study of 82 cerebral infarctions in the area of posterior cerebral arteries. Rev Neurol (Paris). 1994;150(2):133–41.

Ntaios G, Spengos K, Vemmou AM, Savvari P, Koroboki E, Stranjalis G, et al. Long-term outcome in posterior cerebral artery stroke. Eur J Neurol. 2011;18(8):1074–80.

Strambo D, Bartolini B, Beaud V, Nannoni S, Marto JP, Sirimarco G, et al. Thrombectomy and thrombolysis of isolated posterior cerebral artery occlusion: cognitive, visual and disability outcomes. Eur Stroke J. 2019;4(1_suppl):501–2.

Gray CS, French JM, Bates D, Cartlidge NE, Venables GS, James OF. Recovery of visual fields in acute stroke: homonymous hemianopia associated with adverse prognosis. Age Ageing. 1989;18(6):419–21.

Romano JG. Progress in rehabilitation of hemianopic visual field defects. Cerebrovasc Dis. 2009;27(Suppl 1):187–90.

Zhang X, Kedar S, Lynn MJ, Newman NJ, Biousse V. Natural history of homonymous hemianopia. Neurology. 2006;66(6):901–5.

Klit H, Finnerup NB, Jensen TS. Central post-stroke pain: clinical characteristics, pathophysiology, and management. Lancet Neurol. 2009;8(9):857–68.

Krause T, Brunecker P, Pittl S, Taskin B, Laubisch D, Winter B, et al. Thalamic sensory strokes with and without pain: differences in lesion patterns in the ventral posterior thalamus. J Neurol Neurosurg Psychiatry. 2012;83(8):776–84.

Hansson P. Post-stroke pain case study: clinical characteristics, therapeutic options and long-term follow-up. Eur J Neurol. 2004;11(Suppl 1):22–30.

Kim JS. Post-stroke pain. Expert Rev Neurother. 2009;9(5):711–21.

Flaster M, Meresh E, Rao M, Biller J. Central poststroke pain: current diagnosis and treatment. Top Stroke Rehabil. 2013;20(2):116–23.

Lehericy S, Grand S, Pollak P, Poupon F, Le Bas JF, Limousin P, et al. Clinical characteristics and topography of lesions in movement disorders due to thalamic lesions. Neurology. 2001;57(6):1055–66.

Kim JS. Delayed onset mixed involuntary movements after thalamic stroke: clinical, radiological and pathophysiological findings. Brain. 2001;124(Pt 2):299–309.
Copyright information
© 2021 Springer Nature Singapore Pte Ltd.
About this chapter
Cite this chapter
Nannoni, S., Michel, P. (2021). Thalamic and Other Posterior Cerebral Artery Stroke Syndromes. In: Kim, J.S. (eds) Posterior Circulation Stroke. Springer, Singapore. https://doi.org/10.1007/978-981-15-6739-1_5
DOI: https://doi.org/10.1007/978-981-15-6739-1_5

Published:

Publisher Name: Springer, Singapore

Print ISBN: 978-981-15-6738-4

Online ISBN: 978-981-15-6739-1

eBook Packages: MedicineMedicine (R0)