Abstract

The principles of slope stability analysis embrace the mechanics of slope failure to develop methods of stability analysis, to predict factors of safety and corresponding slope movements. By equating the disturbing and resisting forces on potential slip surfaces, limit equilibrium method computes the corresponding factor of safety. These static stability methods can be used to calculate the minimum factor of safety, but they cannot predict pre- and post-failure movements of the system in case of failure. As an advanced numerical method, finite element method and the strength reduction technique take into consideration the stress distribution within the slope. This stress distribution controls the deformations, movements, and development of failure zones for a given slope. Along with the factor of safety, FEM also predicts these expected deformations/movements. These deformations in FEM are dependent heavily on the meshing of the whole system and suffer from mesh distortion and low accuracy in case of run-out/flow analysis where mesh deformations are relatively more significant. Run-out/flow failures (landslides, landfill failures), where the debris flows over a great distance, have been a prominent research topic for many years. Numerical methods have been developed such as the center of the mass method, FEM with updated mesh techniques, DAN/W, and meshless methods (SPH, DEM, and DDM). Smoothed particle hydrodynamics (SPH) is a meshless technique which discretizes continuous material into discrete particles. When combined with yield strength, SPH solves Navier–Stokes equations to predict the slip surfaces as well as run-out/flow of the slope. In this study, a comparison has been made between LEM, FEM, and SPH on slope failures taken from literature. The slip surfaces as obtained from these slope failures have been compared, and the deformations have been studied between FEM and SPH. The advantage of SPH in predicting flow failures has been highlighted.
Keywords
Slope stability

Flow failures

Smoothed particle hydrodynamics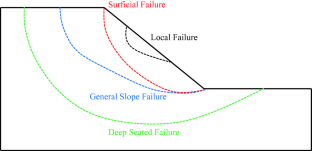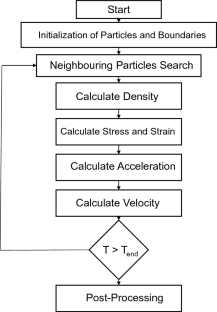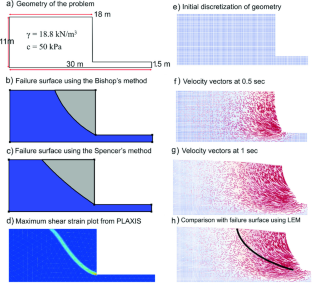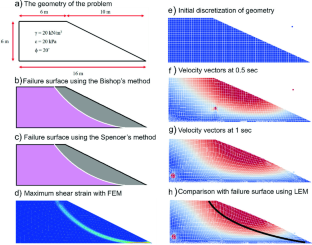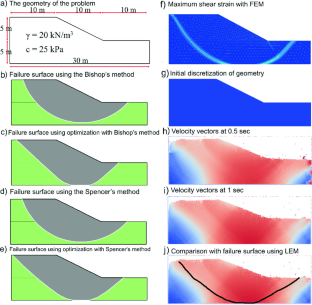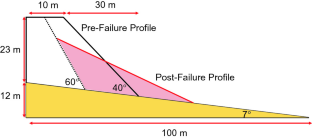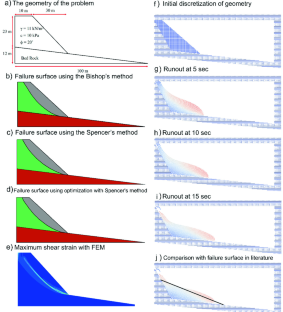 References
Bishop AW (1955) The use of the slip circle in the stability analysis of slopes. Géotechnique 5(1):7–17

Blight G (2008) Slope failures in municipal solid waste dumps and landfills: a review. Waste Manage Res 26:448–463

Chen W, Qiu T (2012) Numerical simulations for large deformation of granular materials using smoothed particle hydrodynamics method. Int J Geomech 12(April):127–135

Cheng YM, Lansivaara T, Wei WB (2007) Two-dimensional slope stability analysis by limit equilibrium and strength reduction methods. Comput Geotech 34(3):137–150

Crespo AJC, Domínguez JM, Rogers BD, Gómez-Gesteira M, Longshaw S, Canelas R, Vacondio R, Barreiro A, García-Feal O (2015) DualSPHysics: open-source parallel CFD solver based on smoothed particle hydrodynamics (SPH). Comput Phys Commun 187:204–216

Dawson EM, Roth WH, Drescher A (1999) Slope stability analysis by strength reduction. Géotechnique 49(6):835–840

Duncan JM (2013) Slope Stability Then and Now. In: Proceedings of the 2013 geo-congress: stability and performance of slopes and embankments III, pp 2191–2210

Duncan JM (1996) State of the art: limit equilibrium and finite-element analysis of slopes. J Geotech Eng 122(7):577–596

Gao W (2016) Determination of the noncircular critical slip surface in slope stability analysis by meeting ant colony optimization. J Comput Civil Eng 30(2)

Gingold RA, Monaghan JJ (1977) Smoothed particle hydrodynamics-theory and application to non-spherical stars. Monthly Notices Roy Astronom Soc 181:375–389

Gray JP, Monaghan JJ, Swift RP (2001) SPH elastic dynamics. Comput Methods Appl Mech Eng 190(49–50):6641–6662

Greco VR (1996) Efficient monte carlo technique for locating critical slip surface. J Geotech Eng 122(7):517–525

Griffiths DV, Lane PA (1999) Slope stability analysis by finite elements. Geotechnique 49(3):387–403

Huang Y, Dai Z, Zhang W (2014a) Geo-disaster modeling and analysis: an SPH-based approach. In: Geo-disaster modeling and analysis: an SPH-based approach

Huang Y, Dai Z, Zhang W (2014b) SPH modeling for flow behavior of liquefied soils. In: Geo-disaster modeling and analysis: an SPH-based approach, pp 1–189

Huang Y, Dai Z, Zhang W, Huang M (2013) SPH-based numerical simulations of flow slides in municipal solid waste landfills. Waste Manage Res 31(3):256–264

Liu MB, Liu GR (2010) Smoothed particle hydrodynamics (SPH): An overview and recent developments. Arch Comput Methods Eng 17(1):25–76

Matsui T, San K-C (1992) Finite element slope stability analysis by shear strength reduction technique. Soils Found 32(1):59–70

Merry SM, Kavazanjian E, Fritz WU (2005) Reconnaisance of the July 10 2000, Payatas landfill failure. ASCE J Perform Constr Facil 19:100–107

Monaghan JJ (1994) Simulating free surface flows with SPH. J Comput Phys 110(2):399–406

Nonoyama H, Moriguchi S, Sawada K, Yashima A (2015) Slope stability analysis using smoothed particle hydrodynamics (SPH) method. Soils Found 55(2):458–470

Rushbrook P, Pugh M (1999) Solid waste landfills in Middle- and Lower-income countries. A technical guide to planning, design, and operation. World Bank Tech Paper 426:1–248

Spencer E (1967) A method of analysis of the stability of embankments assuming parallel inter-slice forces. Géotechnique 17(1):11–26

Tschebotarioff GP (1973) Foundations, retaining and earth structures, 2nd edn. McGraw-Hill, New York

Zhu DY, Lee CF, Jiang HD (2003) Generalised framework of limit equilibrium methods for slope stability analysis. Geotechnique 53(4):377–395

Zienkiewicz OC, Humpheson C, Lewis RW (1977) Discussion: Associated and non-associated visco-plasticity and plasticity in soil mechanics. Géotechnique 27(1):101–102
Copyright information

© 2020 Springer Nature Singapore Pte Ltd.
About this paper
Cite this paper
Basson, M.S., Venkataraman, R., Ramana, G.V. (2020). Comparison of Slope Stability Using Smoothed Particle Hydrodynamics, Finite Element Method, and Limit Equilibrium Method. In: Latha Gali, M., P., R.R. (eds) Geotechnical Characterization and Modelling. Lecture Notes in Civil Engineering, vol 85. Springer, Singapore. https://doi.org/10.1007/978-981-15-6086-6_24
DOI: https://doi.org/10.1007/978-981-15-6086-6_24

Published:

Publisher Name: Springer, Singapore

Print ISBN: 978-981-15-6085-9

Online ISBN: 978-981-15-6086-6

eBook Packages: EngineeringEngineering (R0)