Abstract

Gas turbine aero engines are a specific class of turbomachinery wherein compression system and turbine are realized as spinning discs on an interconnecting shaft. Fan-bladed disc undergoes an unsteady aeroelastic phenomenon known as flutter during various operational regimes, which might lead to structural failure of blades. Study of this mode of flutter induced structural response by measuring casing vibration is of interest in health monitoring of aero engines. In this paper, authors present a novel application of detecting the rotating blade flutter based on the feature space constructed using statistical parameters, recurrence plots (RP) and recurrence quantification analysis (RQA) of engine casing vibration data. Feature vectors thus obtained are visualised in several 3D vector space plots to cluster the data points which separate flutter mode from the normal mode of operation. Results obtained through the proposed method have been compared with engine flutter test results obtained through dedicated rotating blade strain gauge instrumentation.
Keywords
Flutter

Recurrence plots

Bladed disc

Casing vibration

Low-pressure compressor (LPC)

High-pressure compressor (HPC)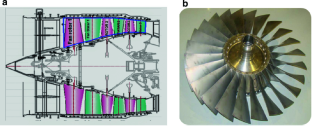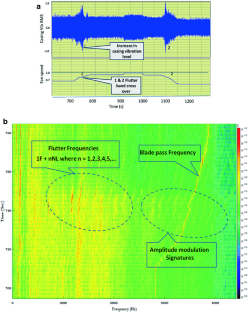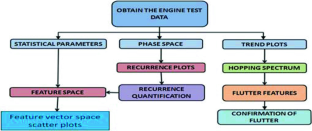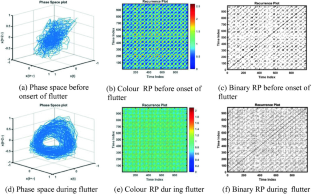 Abbreviations
1F :

First flexural mode

2F :

Second flexural mode

1T :

First torsional mode

N L :

LPC spool speed

N H :

HPC spool speed

RPS :

Revolutions per second

EO :

Engine orders

ksp/s:

Killo samples per second
References
Technology Focus Gas Turbine Research Bulletin of Defence Research and Development Organisation DRDO, Ministry of Defence, India, vol 17, no 5 October 2009. ISSN 0971-4413

Srinivasan AV (1997) Flutter and resonant vibration characteristics of engine blades. In: AnIGTI scholar paper, 97-GT-533, Presented at the international gas turbine &aero engine congress & exhibition, Orlando, FL 2–5 June 1997

Purushotaman K, Jeyaraman SK, Pratap A, Deshkulakarni KP (2017) Aeroelastic flutter investigation and stability enhancement of a transonic axial compressor rotor using casing treatment. In: Paper No. GTINDIA 2017–4767, pp V001 T0 1A015, https://doi.org/10.1115/gtindia2017-4767 presented during ASME 2017 gas turbine india conference, Bangalore, India, 7–8 Dec 2017. ISBN 978-0-7918-5850-9

Viswanatha Rao AN et al. Challenges in engine health monitoring instrumentation during developmental testing of gas turbine engines. In: Paper no 153, proceedings of the 2nd national aero propulsion conference, NAPC-2018 7–19 Dec 2018, IIT Kharagpur, West Bengal (proceedings yet to be released)

Riazet S et al (2017) Vibration feature extraction and analysis for fault diagnosis of rotating machinery—A literature survey. Asia Pac J Multi Research 5(1):103–110

Jha BK, Rao ANV, Mohana TR, Singh AK, Khorikov AA. Development of instrumentation to capture unsteady & flutter phenomena in the fan rotors of Gas Turbine Engines Book ISSN 1091-5281. ISBN 978-1-4244-7933-7 https://doi.org/10.1109/imtc.2011.5944006

Gill JD, Capece VR, Fost RB (2004) Experimental methods applied in a study of stall flutter in an axial flow fan. Shock Vib 11(2004):597–613. ISSN 1070-9622/04/2004 (IOS Press)

recommended practices for measurement of gas path pressures and temperatures for performance assessment of aircraft turbine engines and components, AGARD AR-245, 1990

Holanda R. Analysis of strain gage reliability in F-100Jet engine testing at NASA Lewis Research Centre, 1983 NASA Technical Memorandum 83325

Kumar D, Barad S, Suresh TN (2013) Gas turbine blade damper: a design optimization study to mitigate high resonance blade vibration. In: Proceedings of ASME. 35161; ASME 2013 gas turbine India conference, V001T05A018, 05 Dec 2013, GTINDIA2013-3748. https://doi.org/10.1115/gtindia2013-3748,

http://prosig.com/wp-content/uploads/pdf/datasheets/prosigDatsTimeFreq.pdf.Accessed on 22 Feb 2019

Marwan N, Carmen Romano M, Thiel M, Kurths J (2007) Recurrence plots for the analysis of complex systems. Elsevier Phys Rep 438(2007):237–329. Nonlinear Dynamics Group, Institute of Physics, University of Potsdam, Potsdam 14415, Germany

Marwan N, Saparin P, Kurths J (2005) Generalisation of recurrence plot analysis for spatial data international symposium on nonlinear theory and its applications (NOLTA2005) Bruges, Belgium, 18–21 Oct 2005
Acknowledgements

The authors are thankful to the director, Gas Turbine Research Establishment (GTRE), Bangalore, and National Aerospace Laboratories (NAL), Bangalore, who has given an opportunity to take up this research work. They also thank Mr. Vikas, scientist, working in the instrumentation and control engineering group of GTRE for helping in various data analysis work.
Copyright information

© 2021 Springer Nature Singapore Pte Ltd.
About this paper
Cite this paper
Viswanatha Rao, A.N., Naidu, V.P.S., Jana, S. (2021). Gas Turbine Engine Fan Blade Flutter Detection Using Casing Vibration Signals by Application of Recurrence Plots and Recurrence Quantification Analysis. In: Rao, J.S., Arun Kumar, V., Jana, S. (eds) Proceedings of the 6th National Symposium on Rotor Dynamics. Lecture Notes in Mechanical Engineering. Springer, Singapore. https://doi.org/10.1007/978-981-15-5701-9_31
DOI: https://doi.org/10.1007/978-981-15-5701-9_31

Published:

Publisher Name: Springer, Singapore

Print ISBN: 978-981-15-5700-2

Online ISBN: 978-981-15-5701-9

eBook Packages: EngineeringEngineering (R0)