Abstract

Different culture methods to grow microalgae could lead to different physical (light) and chemical environments in culture vessels. Photosynthetic carbon sequestration by the algae in light and their respiratory CO2 release in darkness, can affect stability of carbonate systems (pH, various forms of inorganic carbon, total alkalinity) in culture systems. Usually, pH could increase during light period with active photosynthesis, and decrease during dark period. Such changes in pH and associated carbonate chemistry depend on culture methods and cell biomass or densities of microalgae in water body. The greater the amount of carbon fixation in the water, the greater the changes of the carbonate system. In experiments on the influence of other environmental factors on algae, controlling pH and other carbonate system parameters within known stable ranges is one of the keys to obtain reliable data. This section introduces the seawater carbonate system, compares the existing several kinds of carbonate system control methods, and provides basic suggestions for ocean acidification simulation experiments on marine organisms.
Keywords
Algae

Carbonate chemistry

pH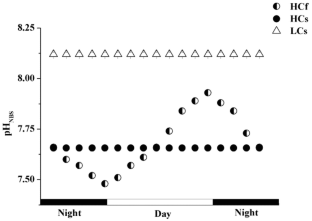 References
Gao KS, Aruga Y, Asada K, Ishihara T, Akano T, Kiyohara M (1991) Enhanced growth of the red alga Porphyrayezoensis Ueda in high CO2 concentrations. J Appl Phycol 3:355–362

Gao KS, Xu JT, Gao G, Li YH, Hutchins DA, Huang BQ, Wang L, Zheng Y, Jin P, Cai XN, Häder DP, Li W, Xu K, Liu NN, Riebesell U (2012) Rising CO2 and increased light exposure synergistically reduce marine primary productivity. Nat Clim Chang 2:519–523

Gattuso JP, Gao K, Lee K, Rost B, Schulz KG (2010) Approaches and tools to manipulate the carbonate chemistry. In: Riebesell U, Fabry VJ, Hansson L, Gattuso JP (eds) Guide to best practices for ocean acidification research and data reporting. European Commission, Belgium

Rost B, Zondervan I, Wolf-Gladrow D (2008) Sensitivity of phytoplankton to future changes in ocean carbonate chemistry: current knowledge, contradictions and research directions. Mar Ecol Prog Ser 373:227–237

Ruan ZX, Gao KS (2007) Relationship between algal calcification and elevating atmospheric CO2 centration. Plant Physiol Commun 43(4):773–778. (in Chinese)

Xu K, Gao KS (2012) Reduced calcification decreases photoprotective capability in the coccolithophorid Emiliania huxleyi. Plant Cell Physiol 53:1267–1274

Xu K, Gao KS, Villafañe VE, Helbling EW (2011) Photosynthetic responses of Emiliania huxleyi to UV radiation and elevated temperature: roles of calcified coccoliths. Biogeosciences 8:1441–1452

Zeebe RE, Wolf-Gladrow DA (2001) CO2 in seawater: equilibrium, kinetics, isotopes. Elsevier, Amsterdam, p 346
Copyright information

© 2021 Science Press and Springer Nature Singapore Pte Ltd.
About this chapter
Cite this chapter
Gao, K. (2021). Manipulation of Seawater Carbonate Chemistry. In: Gao, K., Hutchins, D.A., Beardall, J. (eds) Research Methods of Environmental Physiology in Aquatic Sciences. Springer, Singapore. https://doi.org/10.1007/978-981-15-5354-7_3