Abstract

Rubber materials are used in many pneumatic applications. Rubber has excellent damping characteristics and it experiences large reversible elastic deformation. For the safety and reliability of rubber components, it is important to predict the behaviour of rubber. In this research, fatigue life of rubber components is predicted by finite element analysis and developed fatigue life equation. Mechanical tests such as uniaxial tension, uniaxial compression and pure shear test were performed on NBR material for the material characterisation in ANSYS. A hyperelastic model was selected by performing the curve fitting in ANSYS. Fatigue tests on a standard dumbbell specimen of NBR material were performed at different strains, and fatigue life equation was derived with least square fit method and fatigue test data. Then the maximum principal elastic strain obtained through FEA was used as the fatigue damage parameter as mentioned in the literature. Maximum principal elastic strain was substituted in the obtained fatigue life equation and fatigue life of rubber spring was predicted. The results were validated by performing the fatigue test on rubber spring.
Keywords
Fatigue life equation

Finite element analysis (FEA)

Maximum principal elastic strain

Nitrile butadiene rubber (NBR)

ε-N curve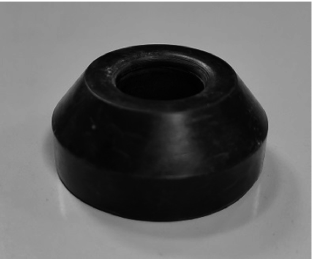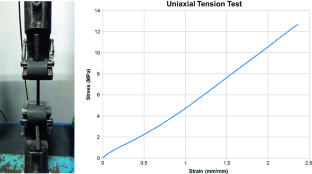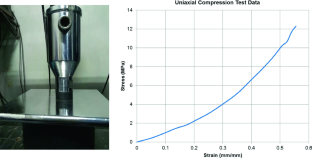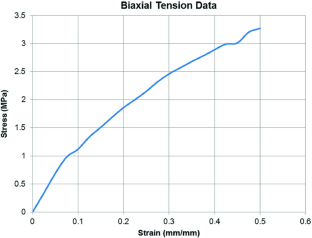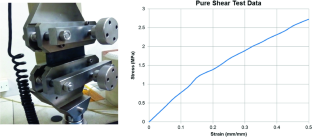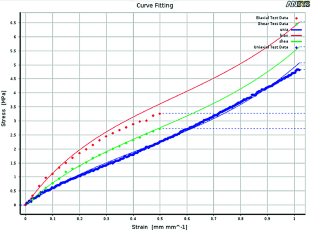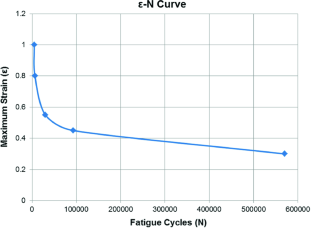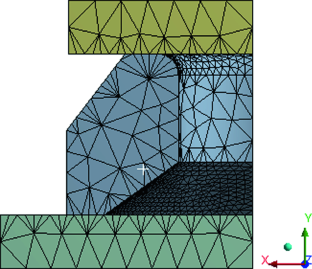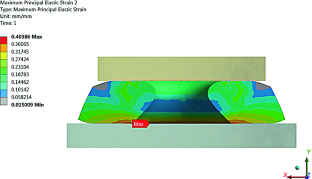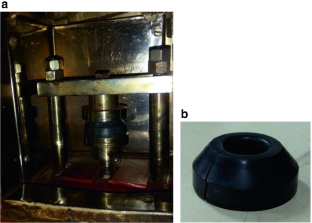 References
Kim WD, Lee HJ, Kim JY, Koh SK (2004) Fatigue life estimation of an engine rubber mount. Int J Fatigue 26:553–560

Bauman JT (2008) Fatigue stress and strain of rubber components—guide for design engineers. Hanser Publications

Ali A, Hosseini M, Sahari BB (2010) A review of constitutive models for rubber-like materials. Am J Eng Appl Sci 3, 232–239

Suryatal B (2015) Fatigue life estimation of an elastomeric pad by ε-N curve and FEA. J Surf Eng Mater Adv Technol 5:85–92

Li Q, Zhao J-C, Zhao B (2009) Fatigue life prediction of a rubber mount based on test of material properties and finite element analysis. Eng Fail Anal 16:2304–2310

Shitole RR, Chavan US, Dolse S, A review on methodology of material characterization and finite element modelling of rubber-like materials. IOSR J Eng (IOSRJEN), ISSN (e): 2250–3021, ISSN (p): 2278–8719

Lobdell M, Croop B, 5–7 Oct (2016) A mechanism for the validation of Hyperelastic materials in ANSYS. In: CADFEM ANSYS simulation conference

Moreira D, Nunes L (2013) Comparison of simple and pure shear for an incompressible isotropic hyperelastic material under large deformation. Polym Testing 32:240–248
Copyright information

© 2021 Springer Nature Singapore Pte Ltd.
About this paper
Cite this paper
Shitole, R.R., Haval, O.P., Pandharpurkar, L.G. (2021). Development of Fatigue Life Equation for NBR Material and Estimating Fatigue Life Using Fea. In: Seetharamu, S., Jagadish, T., Malagi, R. (eds) Fatigue, Durability, and Fracture Mechanics. Lecture Notes in Mechanical Engineering. Springer, Singapore. https://doi.org/10.1007/978-981-15-4779-9_30
DOI: https://doi.org/10.1007/978-981-15-4779-9_30

Published:

Publisher Name: Springer, Singapore

Print ISBN: 978-981-15-4778-2

Online ISBN: 978-981-15-4779-9

eBook Packages: EngineeringEngineering (R0)