Abstract

An integral subsystem of a satellite is its Electrical Power System (EPS). Spacecraft power systems have undergone significant new developments in the last decade and will continue to do so even at a faster rate in the current decade. The EPS functions to supply continuous power during the satellite mission life, control and distribute power, support power requirements for peak and average electrical load, and protect payload operations against failures within the EPS. The design of the solar panels and batteries depends on the payload/s power demand and the mission lifetime. This paper studies the design, management and characteristics of the power subsystem of small satellites. The EPS for small satellites is required to have high efficiencies and low masses because of volume and weight constraints. Based on the power utilized by onboard equipment and devices, this paper proposes an efficient and durable power system.
Keywords
Electrical power systems

Design

Satellite

Solar array

Battery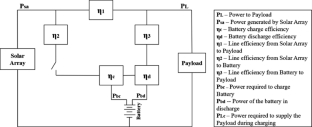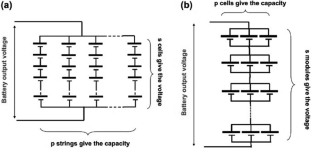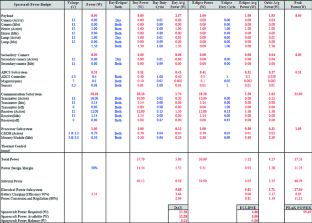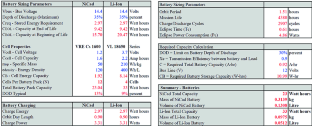 References
Lee J, Kim E, Shin KG (2013) Design and management of satellite power systems. In: IEEE 34th real-time systems symposium (2013)

Tan BL, Tseng KJ (2003) Intelligent and reliable power supply system for small satellites. In: The 25th international telecommunications energy conference, 2003, INTELEC '03

Patel MR (2005) Spacecraft power systems, 1st edn. CRC Press, 2000 N.W. Corporate Blvd., Boca Raton, Florida 33431 (2005)

Akagi JM (2003) Power generation and distribution system design for the Leonidas Cubesat network. In: Undergraduate fellowship reports, pp 1–6. Hawai'i Space Grant Consortium, Honolulu (2006)

Salim A, Dakermanji G Small satellite power system design. Fairchild Space Company, Germantown, Maryland 20874

Melon CW (2009) Preliminary design, simulation, and test of the electrical power subsystem of the Tinyscope Nanosatellite. Naval Postgraduate School

Borthomieu Y (2014) Lithium-ion batteries, 1st edn. Elsevier

How to (||): Size a satellite battery, https://www.valispace.com/how-to-size-a-satellite-battery/. Last accessed 19 October 2019

https://www.enfsolar.com/pv/celldatasheet/1825?utm_source=ENF&utm_medium=cell_list&utm_campaign=enquiry_product_directory&utm_content=14452. Last accessed 15 September 2019

Saft rechargeable battery systems, http://www.powerpack.com.sg/theme_clean/static/src/img/document/Saft_RBS_Handbook.pdf. Last accessed 20 October 2019

Lotfy A, Anis WR, Atalla MA, Halim JVM, Abouelatta M (2017) Design an optimum PV system for the satellite technology using high efficiency solar cells. Int J Comput Appl (0975–8887) 168(3) (2017)

Battery protection methods, https://www.mpoweruk.com/protection.htm. Last accessed 27 September 2019

Battery chargers and charging methods, https://www.mpoweruk.com/chargers.htm. Last accessed 27 September 2019

McKissock B, Loyselle P, Vogel E (2008) Guidelines on lithium-ion battery use in space applications. In: NASA aerospace flight battery program, Part 1 2 (2008)

Battery Management Systems (BMS), https://www.mpoweruk.com/bms.htm#smartbats. Last accessed 27 September 2019

Mahdi MC, Jaafer JS, Shehab AAR (2014) Design and implementation of an effective electrical power system for nanosatellite. Int J Sci Eng Res 5(5)

Mohammed HI, Ahmed HN, Eliwa AE, Sabry W, Mostafa R Innovative design of a cube satellite power distribution and control subsystem. Online J Electron Electr Eng (OJEEE) 1(1)

Aoudeche A, Zhao X, Kerrouche KD (2018) Design of a high-performance electrical power system for an earth observation nanosatellite. Association of Computing Machinery (2018)

Brown CD (2002) Elements of spacecraft design. American Institute of Aeronautics and Astronautics. Inc, 1801 Alexander Bell Drive, Reston, VA 20191–4344 (2002)
Copyright information

© 2020 Springer Nature Singapore Pte Ltd.
About this paper
Cite this paper
Kapoor, A., Abdul Rajak, A.R. (2020). Design of Electrical Power Systems for Satellites. In: Goel, N., Hasan, S., Kalaichelvi, V. (eds) Modelling, Simulation and Intelligent Computing. MoSICom 2020. Lecture Notes in Electrical Engineering, vol 659. Springer, Singapore. https://doi.org/10.1007/978-981-15-4775-1_33
DOI: https://doi.org/10.1007/978-981-15-4775-1_33

Published:

Publisher Name: Springer, Singapore

Print ISBN: 978-981-15-4774-4

Online ISBN: 978-981-15-4775-1

eBook Packages: Computer ScienceComputer Science (R0)