Abstract

A356 has its extensive applications in the fabrication of airplane wing parts, turbine blades for jet engine and other complex parts of the airplane which led to lightweight and hard material. TiB2 is a hard ceramic particle which has high hardness is reinforced in aluminium matrix to increase its mechanical properties. The material was fabricated through liquid metallurgy route by reinforcing different weight percentage of TiB2 (4 wt%, 8 wt% and 12 wt%). The mechanical properties and morphological studies are analysed. The result reveals that there is an increase in tensile strength, hardness and impact strength of the composite with the increase in reinforcement. SEM morphology shows the bonding between the reinforcing particle and the matrix alloy.
Keywords
A356

TiB2

Hardness

Tensile strength

Mechanical properties

SEM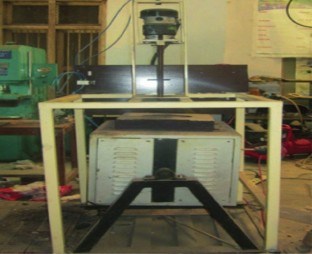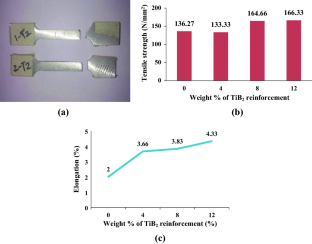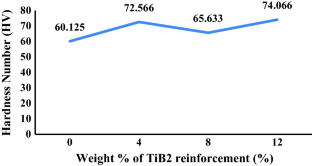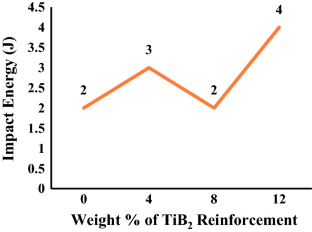 References
Sridhar Raja KS, Bupesh Raja VKKR, Vignesh, Ramana Rao SN (2015) Effect of steel slag on the impact strength of aluminium metal matrix composite. Appl Mech Mater 766–767:240–245

Wang XJ, Wang NZ, Wang LY, Hu XS, Wu K, Wang YQ, Huang YD (2014) Processing, microstructure and mechanical properties of micro-SiC particles reinforced magnesium matrix composites fabricated by stir casting assisted by ultrasonic treatment processing. Mater Des 57:638–645

Jayakumar A, Rangaraj M (2014) Property analysis of aluminium (LM-25) metal matrix composite. Int J Emerg Technol Adv Eng 4

Jebeen J, Moses (2014) A review on effect on properties of Al-SiC composites fabricated by stir casting method. Int J Res Eng Technol 5:283–287

Auradi V, Rajesh GL, Kori SA (2014) Processing of B4C particulate reinforced 6061 aluminium matrix composites by melt stirring involving two step addition. Procedia Mater Sci 6:1068–1076

Rebba B, Ramanaiah N (2014) Studies on mechanical properties of 2024 Al–B4C composites. Adv Mater Manuf Charact 4:42–46

Gopal Krishna UB, Sreenivas Rao KV, Vasudeva B (2013) Effect of boron carbide reinforcement on aluminium matrix composites. Int J Metall Mater Sci Eng 3:41–48

Rama Rao S (2012) Fabrication and mechanical properties of aluminium-boron carbide composites. Int J Mater Biomater Appl 3:15–18

Viswanatha BM, Prasanna Kumar M, Basavarajappa S, Kiran TS (2013) Mechanical property evaluation of A356/SiCp/Gr metal matrix composites. J Eng Sci Technol 8:754–763

Hajizamani M, Baharvandi H (2011) Fabrication and studying the mechanical properties of A356 alloy reinforced with Al2O3-10% Vol. ZrO2 nanoparticles through stir casting. Adv Mater Phys Chem 1:26–30
Copyright information

© 2021 Springer Nature Singapore Pte Ltd.
About this paper
Cite this paper
Sridhar Raja, K.S., Hemanandh, J., Mohan Krishna, J., Muni Sai Preetham, R. (2021). Effect of TiB2 on Mechanical Properties and Microstructural of Aluminium Composite. In: Arockiarajan, A., Duraiselvam, M., Raju, R. (eds) Advances in Industrial Automation and Smart Manufacturing. Lecture Notes in Mechanical Engineering. Springer, Singapore. https://doi.org/10.1007/978-981-15-4739-3_60
DOI: https://doi.org/10.1007/978-981-15-4739-3_60

Published:

Publisher Name: Springer, Singapore

Print ISBN: 978-981-15-4738-6

Online ISBN: 978-981-15-4739-3

eBook Packages: EngineeringEngineering (R0)