Abstract

In optimising a ship design for a reliable operational performance, it is important to obtain, in an early design stage, an accurate estimate of the resistance and propulsion characteristics in calm water as well as in the wave conditions encountered service. In this process CFD has become quite mature in quantifying the frictional and pressure drag in the calm water. In waves, CFD simulations are still less time efficient compared to potential flow methods which are still indispensable in covering large operational condition matrices required for a complete assessment of the operational performance.

The above problem does not mean that a CFD assessment of the added resistance is not relevant. As is shown in the present work, it offers quite important insight in the nature of the added resistance in waves, which offers a direct hint on ways to improve the hull form. A very important result of the present work is that it demonstrates that the traditionally assumed quadratic relationship between the wave amplitude and the added resistance is only partly valid. For both ships under consideration, CFD results as well as the results of experiments show a clear relative decrease in higher waves.

The above observations are based on a CFD analysis and experiments for two hull forms sailing in head waves. The two subject vessels are the parent hull form of the Fast Displacement Ship series (FDS), and the Kriso Container Ship (KCS).

The CFD calculations are performed with the URANS code ReFRESCO. The grid generation and solution method are described in detail and the convergence of the results is given adequate attention. The obtained heave and pitch RAOs and the added resistance are compared against calculations performed with the Rankine source potential flow solver FATIMA and results of dedicated experiments in MARIN's Seakeeping and Manoeuvring Basin.
Keywords
ReFRESCO

FATIMA

Resistance

RAW

QTF

Waves

URANS

Non-quadratic

FDS

KCS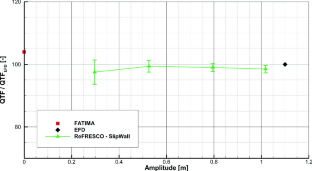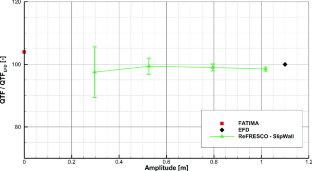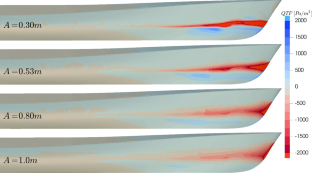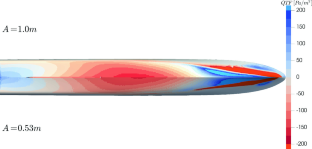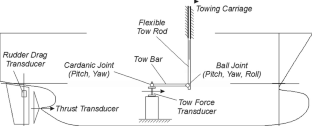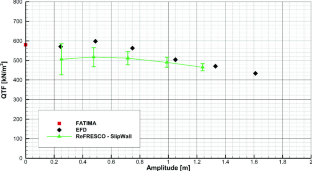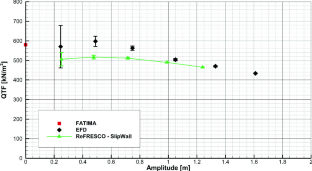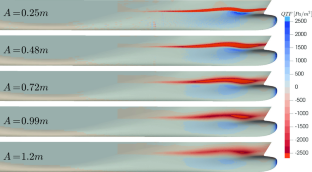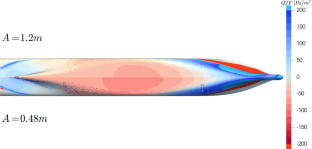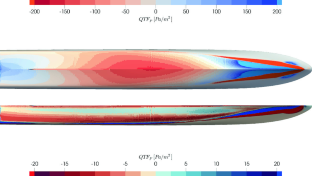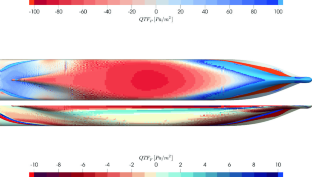 References
ReFRESCO. http://www.refresco.org

Bunnik, T.H.J.: Seakeeping calculations for ships, taking into account the non-linear steady waves, Ph.D. Thesis Technical University Delft (1999)

Bougis, J.: Asymptotic study of the wave field generated by a steadily moving pulsating source. http://scs-ingenierie.pagesperso-orange.fr/publications/Asymptotic%20Study%20of%20the%20Wave%20Field.pdf

Nakos, D.E., Sclavounos, P.D.: Ship motions by a three-dimensional Rankine panel method. In: 18th Conference on Naval Hydrodynamics. University of Michigan, Ann Arbor (1990)

Van't, V.R.: Behaviour of Catamarans in Waves, Ph.D. Thesis, Delft University of Technology (1998)

Larsson, L., Raven, H.C.: Ship resistance and flow. The Principles of Naval Architecture, SNAME (2010)

Rapuc, S., Crepier, P., Jaouen, F., Bunnik, T., Regnier, P.: Towards guidelines for consistent wave propagation in CFD simulations. In: 19th International Conference on Ship and Maritime Research, Trieste (2018)

Klaij, C.M., Hoekstra, M., Vaz, G.: Design, analysis and verification of a volume-of-fluid model with interface-capturing scheme. Comput. Fluids 170, 324–340 (2018)

Simonsen, C.D., Otzen, J.F., Nielsen, C., Stern, F.: CFD prediction of added resistance of the KCS in regular head and oblique waves. In: 30th Symposium On Naval Hydrodynamics, Australia (2014)

Sigmund, S., el Moctar, O.: Numerical and experimental investigation of added resistance of different ship types in short and long waves. Ocean Eng. (2017)
Acknowledgements

This research is partly funded from the TKI-allowance of the Dutch Ministry of Economic Affairs. The authors also gratefully acknowledge the RAW Working Groups in the MARIN Cooperative Research Ships. The intense discussions on the nature of the added resistance of ships in waves, and the accuracy of prediction methods have stimulated us in reaching the presented level of understanding.
Copyright information

© 2021 Springer Nature Singapore Pte Ltd.
About this paper
Cite this paper
Crepier, P., Rapuc, S., Dallinga, R.P. (2021). CFD Investigation into the Wave Added Resistance of Two Ships. In: Okada, T., Suzuki, K., Kawamura, Y. (eds) Practical Design of Ships and Other Floating Structures. PRADS 2019. Lecture Notes in Civil Engineering, vol 63. Springer, Singapore. https://doi.org/10.1007/978-981-15-4624-2_6
DOI: https://doi.org/10.1007/978-981-15-4624-2_6

Published:

Publisher Name: Springer, Singapore

Print ISBN: 978-981-15-4623-5

Online ISBN: 978-981-15-4624-2

eBook Packages: EngineeringEngineering (R0)