Abstract
It has often been claimed that pharmaceutical companies adopt unethical means to grow the market for antidepressants, with lavish gifts, conference supports, foreign travels for prescribing medicos, as well as institutional corruption by influencing the criteria for diagnosis of mental illnesses. In this paper, we use in-depth interviews using grounded theory approach to explore the issues around marketization of antidepressants in Kolkata, India, seeking a deeper understanding of the factors that have led to the epidemic growth of clinical depression. Initial results show that marketization is not the sole factor responsible for this phenomenon. Socioeconomic infrastructural issues like stigma around mental health, inability to afford psychotherapy, glaring shortage in licensed healthcare professionals along with Bourdieusian power issues that put pharmacotherapy at an advantage over psychotherapy drive the unnecessary over-usage of medicines. We also discuss issues related to prestige hierarchy in medicine and its consequent effect on diagnosis of mental illness. We propose a model based on our understanding of factors that drive over-prescription and undue reliance on antidepressants.
Keywords
Marketization

Bourdieusian framework

Antidepressants

Over-prescription

Stigma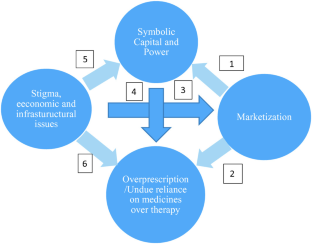 Notes
1.

'5 marks gone' means that usually there are written examinations that are evaluated out of 100. Of this, only 5 marks would be lost if they do not study topics related to psychiatry.
References
Adams, W. 2015. Conducting Semi-Structured Interviews. In Handbook of Practical Programme Evaluation, ed. E. Newcomer Kathryn, P. Hatry Harry, and S. Wholey Joseph, 492–505. Jossey Bass: A Wiley Imprint.

Album, D., and S. Westin. 2008. Do Diseases have a Prestige Hierarchy? A Survey among Physicians and Medical Students. Social Science and Medicine 66: 182–188.

Bekedam, H. 2016. The Importance of Psychological First-aid. http://www.searo.who.int/india/about/who_representative/wr_oped_mental_health_hbl_161016.pdf?ua=1. Last accessed on 20 Apr 2017.

Bourdieu, P. 1991. Language and Symbolic Power. Trans. Gino Raymond and Matthew Adamson. Cambridge, MA: Harvard University Press.

Bourdieu, P., and L.J.D. Wacquant. 1992. An Invitation to Reflexive Sociology. Cambridge, UK: Polity.

Bourdieu, P. 1986. The Forms of Capital. In Handbook of theory and Research for the Sociology of Education, ed. J.G. Richardson, 241–258. New York: Greenwood.

Bourdieu, P. 1984. Distinction: A Social Critique of the Judgement of Taste, Nice, R. (Trans.). London, UK: Routledge.

Charmaz, K. 2006. Constructing Grounded Theory: A Practical Guide Through Qualitative Analysis. London: Sage.

Corrigan, P.W., and A.C. Watson. 2002. Understanding the Impact of Stigma on People with Mental Illness. World Psychiatry 1 (1): 16–20.

Corrigan, P.W. 2004. How Stigma Interferes with Mental Health Care. American Psychologist 59 (7): 614–625.

Cosgrove, L. 2015. Psychiatry under Influence: Institutional Corruption and Diagnostic Guidelines. In PharmedOut 2015 Conference, The Real Risks of Rx Drugs, July 11–12 at Georgetown University, Washington. https://www.youtube.com/watch?v=Jwsmu2UdYGc, http://www.pharmedout.org/pdf/R3DSlides/Cosgrove.pdf. Last accessed on 27 July 2017.

Currie, J. 2005. The Marketization of Depression: The Prescribing of SSRI Antidepressants to Women. Women and Health Protection. http://www.whp-apsf.ca/pdf/SSRIs.pdf. Last accessed on 25 July 2017.

Cressey, D. 2011. Psychopharmacology in Crisis. http://www.nature.com/news/2011/110614/full/news.2011.367.html. Last accessed on 24 July 2017.

Ecks, S. 2005. Pharmaceutical Citizenship: Antidepressant Marketing and the Promise of Demarginalization in India. Anthropology & Medicine 12 (3): 239–254.

Ecks, S., and S. Basu. 2009. The Unlicensed Lives of Antidepressants in India: Generic Drugs, Unqualified Practitioners, and Floating Prescriptions. Transcultural Psychiatry 46 (1): 86–106.

Erlandson, D.A., E. Harris, B.L. Skipper, and S.D. Allen. 1993. Doing Naturalistic Inquiry: A Guide to Methods. Newbury Park, CA: Sage.

Fanon, F. 1961. The Wretched of the Earth. London: Penguin.

Fanon, F. 1967. Black Skin, White Masks. New York: Grove Press.

Firat, A.F., and A. Venkatesh. 1995. Liberatory Postmodernism and the Reenchantment of Consumption. Journal of Consumer Research 22 (3): 239–267.

Gellad, Z.F., and K.W. Lyles. 2007. Direct-to-Consumer Advertising of Pharmaceuticals. The American Journal of Medicine 120 (6): 475–480.

Goffman, E. 1963. Stigma: Notes on the Management of Spoiled Identity. Englewood Cliffs, NJ: Prentice-Hall.

Healy, D. 2004. Let them Eat Prozac. New York: New York University Press.

Hendrie, C., A. Pickles. 2015. Why Big Pharma is Not Addressing the Failure of Antidepressants. http://theconversation.com/why-big-pharma-is-not-addressing-the-failure-of-antidepressants-41868. Last accessed on 24 July 2017.

Hidaka, B.H. 2012. Depression as a Disease of Modernity: Explanations for Increasing Prevalence. Journal of Affective Disorders 140 (3): 205–214.

Hinze, S.W. 1999. Gender and the Body of Medicine or at least Some Body Parts: Re-Constructing the Prestige Hierarchy of Medical Specialties. The Sociological Quarterly 40 (2): 217–239.

Hollon, M. F. 2005. Direct-to-consumer advertising: A haphazard approach to health promotion. Journal of the American Medical Association 293: 2030–2033.

Horwitz, A.V., and J.C. Wakefield. 2007. The Loss of Sadness: How Psychiatry Transformed Normal Sorrow Into Depressive Disorder. New York: Oxford University Press.

Ihlen, Ø. 2018. Symbolic capital. In The International Encyclopedia of STRATEGIC Communication, ed. R.L. Heath and W. Johanesen. Malden, MA: Wiley-Blackwell.

Ihara, H. 2012. A Cold of the Soul: A Japanese Case of Disease Mongering in Psychiatry. International Journal of Risk and Safety in Medicine 24 (2): 115–120.

Iyer, M. 2017. One in Every Twenty Indians Suffer from Depression. https://timesofindia.indiatimes.com/life-style/health-fitness/health-news/one-in-every-20-indians-suffers-from-depression/articleshow/56867750.cms. Last accessed on 28 Oct 2018.

Jain, S. 2013. ICD11 and DSM5: The Indian Dilemma. Asian Journal of Psychiatry 6 (3): 269–270.

Jain, A. 2017. Depression and Mental Health: How India can Stop these Silent Deaths. http://www.dailyo.in/politics/mental-health-bill-modi-government-depression-who/story/1/16641.html. Last accessed 14 July 2017.

Kravtiz, R.L., R.M. Epstein, M.D. Feldman, C.E. Franz, R. Azari, M.S. Wilkes, L. Hinton, and P. Franks. 2005. Influence of Patients' Requests for direct-To-Consumer Advertised Antidepressants: A Randomized Controlled Trial. Journal of the American Medical Association 293 (16): 1995–2002.

Kirsch, I., B.J. Deacon, T.B. Huedo-Medina, A. Scorbia, T.J. Moore, and B.T. Johnson. 2008. Initial Severity and Antidepressant Benefits: A Meta Analysis of Data Submitted to the Food and Drug Administration. PloS Med 5: 260–268.

Lücke, C., J.M. Gschossmann, T.W. Grömer, S. Moeller, C.E. Schneider, A. Zikidi, A. Philipsen, and H.H.O. Müller. 2018. Off-Label Prescription of Psychiatric Drugs by Non-Psychiatrist Physicians in Three General Hospitals in Germany. Annals of General Psychiatry 17: 7.

McAlexander, J.H., B.L. Dufault, D.M. Martin, and J.W. Schouten. 2014. The Marketization of Religion: Field, Capital, and Consumer Identity. Journal of Consumer Research 41 (3): 858–875.

Medical Council of India. 2016a. Indian Medical Council (Professional Conduct, Etiquette and Ethics) Regulations, 2002 amended up to 8 October 2016. https://www.mciindia.org/documents/rulesAndRegulations/Ethics%20Regulations-2002.pdf. Last accessed on 13 Aug 2019.

Medical Council of India. 2016b. Code of Medical Ethics Regulations, 2002. https://www.mciindia.org/CMS/rules-regulations/code-of-medical-ethics-regulations-2002. Last accessed on 1 July 2019.

Mercier, A., I. Auger-Aubin, J.P. Lebeau, M. Schuers, P. Boulet, P. Van Royen, and L. Peremans. 2014. Why do general practitioners prescribe antidepressants to their patients? A pilot study. BioPsychoSocial Medicine 8: 17. https://doi.org/10.1186/1751-0759-8-17.

Mintzes, B. 2001. Direct-to-Consumer Advertising of Prescription Drugs: What do we Know thus far About its Effects on Health and Health Care Services? (Rep. No. HPR U 02:2D). Vancouver, British Columbia, Canada: University of British Columbia, Centre for Health Services and Policy Research

National Centre for Health Statistics. 2017. Antidepressant Use Among Persons Aged 12 and Over: United States, 2011–2014. NCHS Data Brief No. 283, August, https://www.cdc.gov/nchs/products/databriefs/db283.htm. Last accessed 2 July 2019.

NIMHANS. 2016. 2015–16 National Mental Health Survey of India: Mental Health Systems. http://www.nimhans.ac.in/sites/default/files/u197/NMHS%20Report%20%28Mental%20Health%20Systems%29%201.pdf. Last accessed on 20 April 2017.

Nunley, M. 1996. Why Psychiatrists in India Prescribe So Many Drugs. Culture, Medicine and Psychiatry 20: 165–197.

Olfson, M., and S.C. Marcus. 2009. National Patterns in Antidepressant Medication Treatment. Archives of General Psychiatry 66 (8): 848–856.

Rao, U.P., and N.S.S. Rao. 2017. The rural medical practitioner of India. Journal of Evolution of Medical and Dental Sciences 6 (74): 5321–5323.

Reid, I. C. 2013. Are Anti-Depressants Overprescribed? No. BMJ, 346. https://doi.org/10.1136/bmj.f19.

Robinson, A.R., K.B. Hohmann, J.I. Rifkin, D. Topp, C.M. Gilroy, J.A. Pickard, and R.J. Anderson. 2004. Direct-to-consumer pharmaceutical advertising: Physician and public opinion and potential effects on the physician–patient relationship. Archives of General Internal Medicine 164: 427–432.

Rosenthal, M.B., E.R. Berndt, J.M. Donohue, R.G. Frank, and A.M. Epstein. 2002. Promotion of prescription drugs to consumers. New England Journal of Medicine 346: 498–505.

Sarma, P.G. 1998. An Analysis of Non-psychiatrist's Prescription of Psychiatric Drugs. Journal of NTR University of Health Sciences 3: 49–52.

Sarma, P.G. 2016. Analysis of Psychotropic Drug Sales in India. Acta Medica International 3 (1): 122–125.

Sharma, D.C. 2015. India Still Struggles with Rural Doctor Shortages. The Lancet 386 (10011): 2381–2382.

Schafer, A. (-). Review of Healy D. (2003), Let them eat Prozac, James Lorimer and Co. https://umanitoba.ca/faculties/arts/departments/philosophy/ethics/media/Let_Them_Eat_Prozac.pdf. Last accessed on 28 July 2017.

Singh, A.C. 2012. High Dependency on Quacks—Is There a Gap in the Public Health Care Delivery System? Reflections from a District Located in the Thar Desert (India). Consilience: The Journal of Sustainable Development 8 (1): 128–141.

Smith, B.L. 2012. Inappropriate Prescribing. Monitor on Psychology 43 (6): 36.

Spence, D. 2013. Are Anti-Depressants Overprescribed? Yes. BMJ, 346. https://doi.org/10.1136/bmj.f190.

Stolzenburg, S., S. Freitag, S. Evans-Lacko, H. Muehlan, S. Schmidt, and G. Schomerus. 2017. The Stigma of Mental Illness as a Barrier to Self Labeling as Having a Mental Illness. The Journal of Nervous and Mental Disease 205 (12): 903–909.

The Gazette of India. 2017. The Mental Healthcare Act, 2017. https://www.prsindia.org/uploads/media/Mental%20Health/Mental%20Healthcare%20Act,%202017.pdf. Last accessed on 1 July 2019.

The Guardian. 2013. Medicalisation of Misery to Blame for Soaring Use of Antidepressants, say GPs. https://www.theguardian.com/society/2013/nov/21/prescribing-culture-blame-rise-antidepressants. Last accessed on 2 July 2019.

Timko, C.A., and A. Chowansky. 2008. Direct-to-Consumer Advertising of Psychotropic Medication and Prescription Authority for Psychologists. Professional Psychology: Research and Practice 39 (5): 512–518.

Varghese, J. 2010. The New Rural Doctor: Qualified Quack or Appropriate Healthcare Provider? Indian Journal of Medical Ethics 7 (2): 70–72.

Vijay, A., J. E. Becker, J. S. Ross. 2018. Patterns and Predictors of Off-Label Prescription of Psychiatric Drugs. https://journals.plos.org/plosone/article?id=10.1371/journal.pone.0198363. Last accessed on 2 July 2019.

Vikas, R.M., R. Varman, and R.W. Belk. 2015. Status, Caste, and Market in a Changing Indian Village. Journal of Consumer Research 42: 472–498.

Waltermire, R.D. 1998. Direct-to-consumer advertising of Rx drugs can be harmful to your health. Drug Benefit Trends 10: 60–61.

Watters E. 2010. How Big Pharma Changed the Nature of Depression in Japan. http://www.thescavenger.net/health-personal-development/general/466-how-big-pharma-changed-the-nature-of-depression-in-japan-78235.html. Last accessed on 16 January 2020.

Wazana, A. 2000. Physicians and the Pharmaceutical Industry: Is a Gift Ever Just a Gift? Journal of the American Medical Association 283 (3): 373–380.

WHO. 2014. India: Mental Health Atlas Country Profile 2014. http://www.who.int/mental_health/evidence/atlas/profiles-2014/ind.pdf?ua=1. Last accessed on 20 April 2017.

WHO. 2017a. Depression: Fact Sheet. http://www.who.int/mediacentre/factsheets/fs369/en/. Last accessed on 27 July 2017.

WHO. 2017b. Depression and Other Common. Mental Disorders: Global Health Estimates. http://apps.who.int/…/1…/254610/1/WHO-MSD-MER-2017.2-eng.pdf. Last accessed on 20 April 2017.

Young, R.C. 2001. Postcolonialism: A Historical Introduction. London: Blackwell.
Copyright information
© 2020 Springer Nature Singapore Pte Ltd.
About this chapter
Cite this chapter
Goswami, P., Chaudhuri, A. (2020). How Far Is Marketization Responsible for the Epidemic Growth of Clinical Depression? A Study in Kolkata, India. In: Roy Chaudhuri, H., Belk, R. (eds) Marketization. Springer, Singapore. https://doi.org/10.1007/978-981-15-4514-6_13